We are glad to share David Christopher's amazing story of SPARTATHLON 2017. For the uninitiated, Spartathlon is a 246 kilometre (153 mile) ultra-marathon race held annually in Greece. It began in 1983 and is run between Athens and Sparta. This year, it was held on the 29th and 30th of September 2017.
The historical context of this event is glorious. The Spartathlon race attempts to trace the footsteps of Pheidippides, the Athenian messenger sent to Sparta in 490 BC to seek support against the Persians in the Battle of Marathon. Pheidippides, according to the account of Greek historian Herodotus in The Persian Wars, arrived in Sparta the day after he departed from Athens.
Only 390 runners are allowed entry to participate from around the world. David was the only entrant from Malaysia this year and the only Malaysian to ever successfully finish Spartathlon.
PRELUDE
I did the 24H 2017 ultramarathon and managed to complete a distance of 187 km. I applied for Spartathlon 2017 and after a couple of months, the application results came back. I got in.
TRAINING
My training plan overwhelmingly focused on MILEAGE. The longest distances I've run are 187 km in 24 hours and 200 km in 32.5 hours which were 8 months and 2 ½ years before Spartathlon 2017 respectively. Thus, the emphasis of mileage.
The entire duration of the training plan was 14 weeks. This worked out to a planned weekly mileage in km of 76, 88, 103, 50 (easy), 119, 139, 50 (easy), 161, 161, 50 (easy), 161, 161, 31 & 13 (taper). The first few weeks comprised of daily single runs i.e. 7 runs/week. As the mileage increased, I scheduled Doubles for 5 days/week i.e. 12 runs in total per week. I forced myself to commit to these Long Runs by signing up to 4 local Ultramarathons and using these as training runs.
In addition to the running specific trainings, I wanted to drop weight from 70.8 kg (BMI 22.4) to 60.0 kg (BMI 19.0) in about 3 months. The changes that I made to my regular diet, which is largely a plant based high carbohydrate diet, were only in quantity. I managed to drop to 62.8 kg (BMI 19.9), which was nevertheless the lightest I've ever been in adulthood.
RACE STRATEGY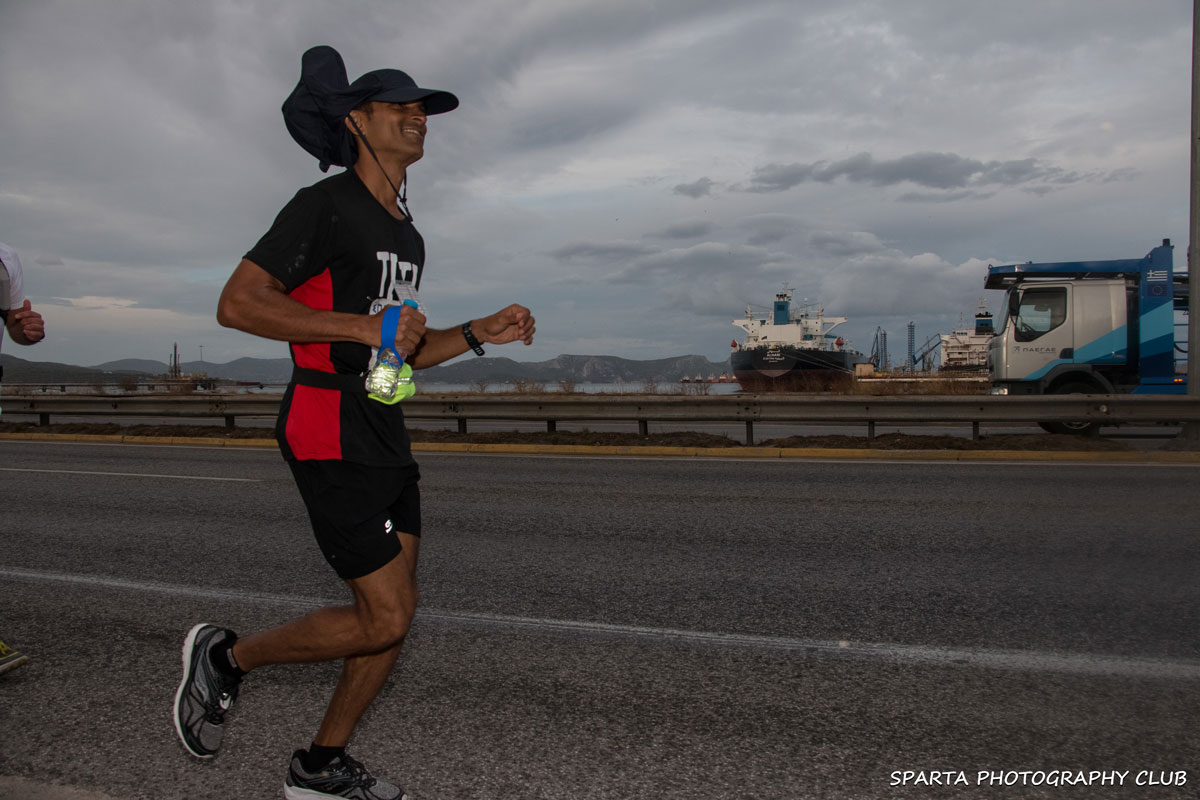 My thoughts: I cannot 'wing it'. I cannot go by feel and hope for the best. I will start slow and conservative and remain slow and conservative. I cannot be too close to the closing time of any of the Check Points (CP). I cannot afford to sleep because sleep takes time away from the course. I will either run or walk.
RACE DAY
On race morning, I woke up early and had my usual pre-race cup of coffee to get me started and made my way to the chartered bus which would take us runners to the start line. Soon after 6 am, we left for Acropolis, about 20 minutes away. The race starts at 7 am on Friday morning and ends at 7 pm on Saturday evening. 36 hours of running at most.
RACE
I ran based on a perceived low exertion level. The race begins at the main tourism parts of Athens and works its way to the main busy commercial areas of Athens city. After about 1 kilometer, trouble sets in! I feel distinct tightness in both my calves. I keep going, hoping for things to work out on its own. I reach the first CP at 4 km. The distress with my calves is not improving. This is a disastrous way to begin. I consumed 2 Panadols and hope for the best. Some minutes later, without me realising it, the pain in my calves just disappear. I figured that my calves and the rest of my legs were merely not warmed up.
The fuelling strategy was to consume the minimum amount of calories necessary to minimize the likelihood of GI distress. I planned to consume about 100 calories and no more than 150 calories per hour for as long as possible. The CPs were very well stocked with raisins, fruits, salty chips, biscuits, wafers, gummy candy, bread, chocolate, salted nuts, etc. For hydration, plain water and cola were ever-present.
I still diligently keep track of my splits at all CPs and reach the Half Marathon point in about 2:11 and the Full Marathon point in 4:19. More importantly, I felt great – full of energy, no physical pains, no GI distress, hydrating well and eating well.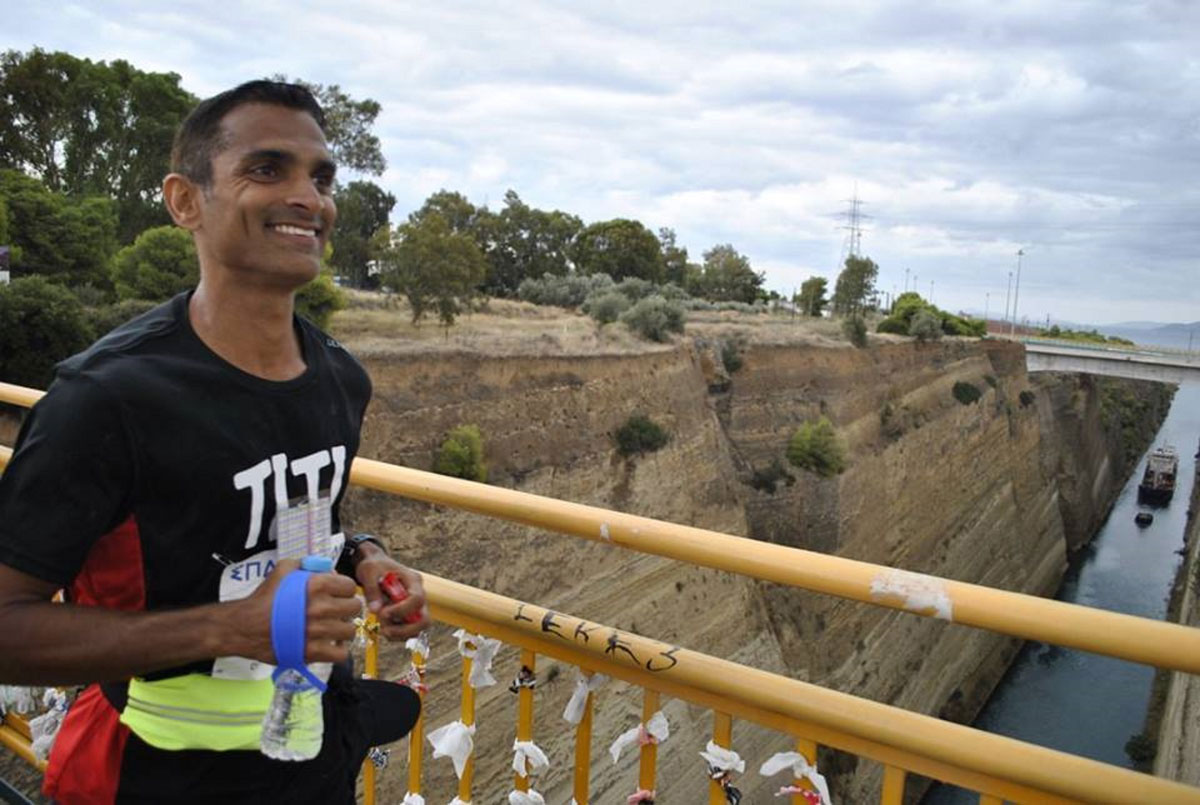 After a few hours of winding roads, I reach the small city of Elefsina. I am greeted with high-5s from the outstretched tiny hands of children from the nearby school. The children are given a release from school to cheer the runners through. This was very heart warming, memorable and energising. Hours later, I find myself running on coastal roads with the beautiful Saronic Gulf coastline on my left. As night fell, I reached the villages of Zevgolatio and Halkion. Children were lined up sporadically along the sides of the village roads with their notepads requesting for the runner's autograph. Another heart-warming moment.
After many long hours, at about 4am, I reached the 159 km mark which is the base of Mount Parthenion. Mount Parthenion measures almost 4 km in length, 1220 meters in elevation gain an at a 20% gradient. The path is rocky, narrow and with many sharp abrupt turns. Visibly was dreadful because of very harsh fog. Anything ahead beyond 2 meters is entirely a blur. It was getting strikingly cold now, with every breath exhale leaving a cloud of mist. After some time, I reach the mountain peak at CP48. With no time to waste, off I went to face the downhill section. The terrain on the downhill section is wide enough for a car, fully gravel with loose rocks the size of ping-pong balls. And as thought my problems weren't abundant enough, it began to rain! I reach the base.
As daybreaks, I was happy that I made it through the night. However, from about 9 am onwards, the ankle region of both my legs were weakening. Dorsiflexion and plantar flexion movements were very quickly getting impaired. Downhills were much more painful to negotiate. I had more than 60 km remaining; 1 ½ marathons remaining. I literally cannot walk-it-in to the end because I would never finish this race within the COT this way. Conversely, I have worked too hard & too long to quit. A small consolation for me is that I'm not alone in my misery. Every runner around me also seems to be struggling. I'm just running and walking for what feels like forever.
Upon reaching CP73 at 240.5 km, I did the math and figured out that at the current pace, I'll finish just minutes over 35 hours. I did not come to Greece to walk, jog or limp my way to the finish line, I'm here to run. If I can somehow manage a sub 6 min/km pace, I'll make the finish line in under 35 hours.
I start running and my ankles cooperate. I start overtaking many runners. I keep going; passing city roads, navigating traffic, crossing street blocks. Only about 2 km remaining! After a few more road crossings and turns, I see the race finish line about 200 meters away. I see national flags of the runners along the street. I run as fast as I can with a big goofy grin on my face. Ahead, I see a small staircase leading to the statue of King Leonidas and beside the statue are women dressed as ancient Greek priestesses and hundreds of people all around. I stopped running at the feet of the staircase, carefully walk up the stairs and cross over the timing mat to officially finish my Spartathlon race.
Then came the ceremonial finish rituals that I have been reading, dreaming & wishing about for months – a Greek priestess hands me a goblet filled with water to drink, and I drink from the goblet. She then crowns an olive wreath over me. She leads me to the statue of King Leonidas. I kiss the feet of King Leonidas (cover photo). This is the ceremonial finish of my Spartathlon race.
POST SPARTATHLON
Both my feet were swollen by at least 1 ½ shoe sizes from the morning after the race onwards. I intended to let the swelling go down on its own but after 12 days, I grew impatient and took some water pills (diuretics).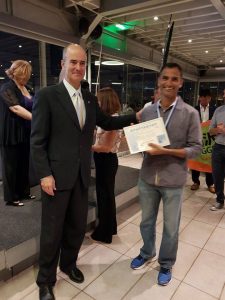 CLOSING
This has been the furthest I've run, the longest I've run & the fittest I've ever been. Everything about this race is BIG. Big distance, big length of time, big crowds, big support, big reputation and (very) big talents. By far, this is my proudest, favourite and most treasured running experience ever. I feel so honoured and privileged to have run in Spartathlon 2017.