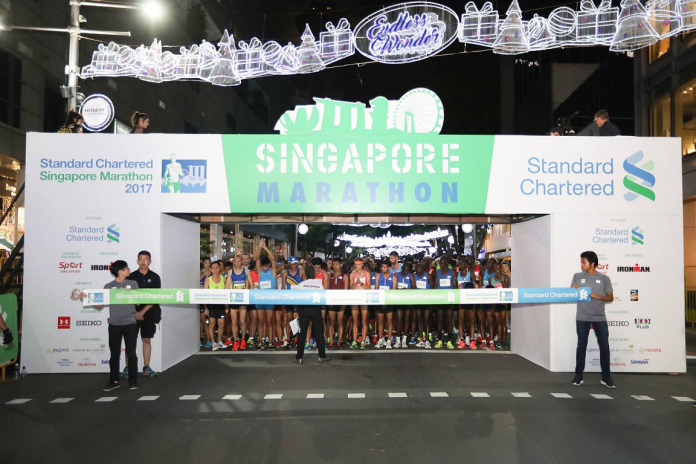 This is my 3rd time doing SCSM, I have never been a huge fan of the local annual marathon race largely due to the warm climate conditions as well as the route which includes a segment whereby the 42km route merges with the 21km crowd. These made it harder to run a personal best (PB) in Singapore. Adding on to the list is the inhuman flag-off time at 4.30am.
However, this year due to schedule clashes with other overseas marathon and the eagerness to join in the fun with my teammates who are joining the race. I decided to take the plunge.
D-day -1
Race Pack Collection
Sherlynn (my girlfriend), John (teammate) and I collected our race pack on Saturday, the day before the race. Despite reaching 20mins after the race expo opens, a queue has already formed up and we waited for approximately 20mins for our turn.
We ended up spending another 20-30mins at the collection booth, as the crew members were unable to find our teammate's bib, it turned out that someone else had collected the bib for him without informing him.
Pre-Race
In order to wake up at a later time on the race day, have a place to shower and relax, the team decided to have book rooms at Swissotel, which is just a stone's throw away from the finish line. We discovered after checking in that many other local runners had similar arrangements too, with Fairmount and Carlton Hotel as the other popular options.
D-day
Warm-up, Start pen
Getting to the start line was pretty straightforward, as we jogged down Orchard road from City hall to Somerset. After doing our individual warm-up routines, we entered the pen (pen A) about 15mins to flag-off. In my opinion, this year's arrangement was better than the previous as "serious" runners can easily manoeuvre their way towards the front even though we entered the pen late. Within a blink of an eye, the race was flagged-off.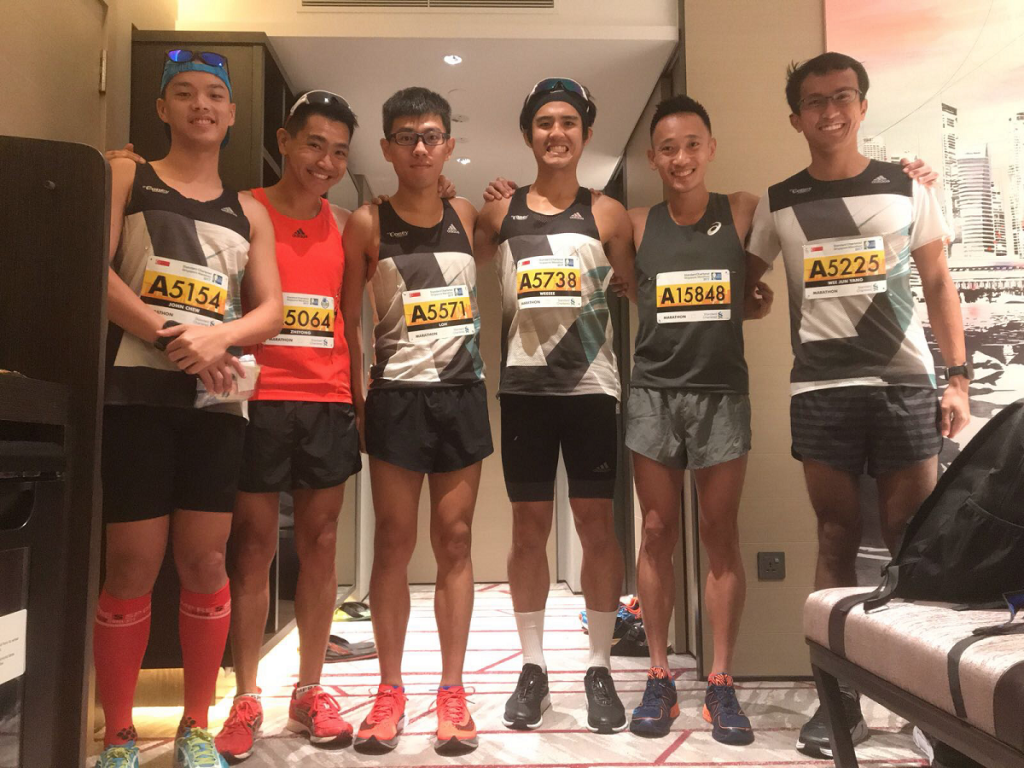 Race
Coming to the race, I had no expectation as this is my B race and 2 weeks before the race I had a minor hamstring strain. The plan was to start out conservatively at 4.45 – 4.40 min/km for the first 3k, decrease the pace to 4.35 – 4.30 and maintain it until 30k. Gradually then decreasing the pace at 30km until the finish.
I started the race as planned, ensuring that I remained relaxed, finding a smooth and comfortable rhythm. I bumped into Coached's Head Coach (Ben Pulham) whom then exclaimed "Good Boy! I see you are starting conservatively".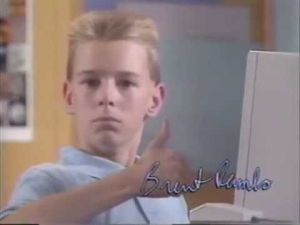 It wasn't until 6-7km that I caught up with my teammates (Sia, Ben & Mini mok) whose plan was to start off at 4.40 – 4.35min/km. Mini mok (Mok Ying Rong) was contending for the local women marathon championship, Sia was contending for the local veteran championship while Ben has planned to pace mini mok.
Sia dropped off the pack at about 12-13k while Ben, Mini mok and I stuck together until 35k. Being teammates, we took care of one another, taking drinks for one another and passing gels around. It was a true demonstration of running as a team sport and not an individual sport. We motivated one another, ensured that each of us got our drinks at the water station and maintained at a consistent pace.
In the middle of the race at a water-point, Ben exclaimed at Mini mok "Your race is more important than mine, take the drink". It made me reflected for a moment, this is just my B race, I had no expectations and surely won't be breaking any PB. Her race is indeed more important than mine, she was contending for the local marathon championship and had a high chance of getting on the podium. I then decided to embark on plan C which is to pace her for the race.
Gradually Mini mok crept her way to 2nd position overtaking Bao Ying, Anne and Jasmine.
Ben dropped off the pack at 35k just before Sheares bridge. He had been tanking more than us, such as being the pace-setter and speeding up slightly at water points so that the 3 of us would not collide with one another while taking drinks.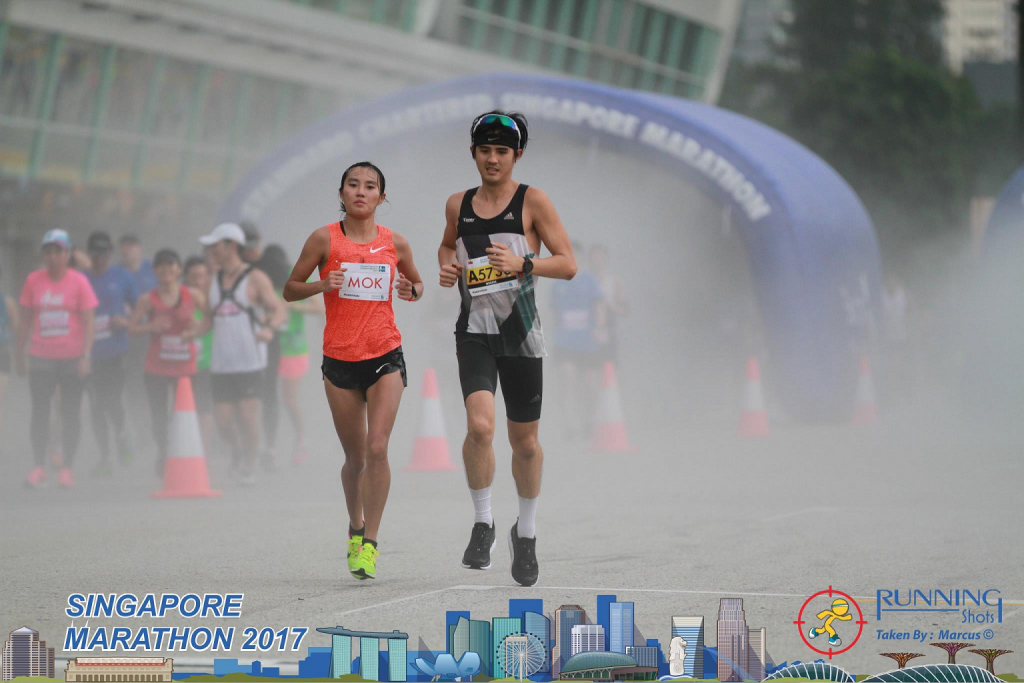 Mini mok's pace started to drop along Sheares bridge. It didn't help that we had to constantly shout at the 21km participants to make way as we weave through them on the up-slope.
We struggled past to 40km and she began asking "Where is the finish line?". For those who know, 2 out of her recent 3 races, she fainted within 1-2k from the finish line, namely CSC 21km and Real Run 10km, and for both races, she was in 1st position.
She always asks that question just before she faints. I was wary and worried that it will happen again. I yelled "you better don't faint! We can do it! ". In hindsight, I shouldn't have used negative words such as "faint". It is scientifically proven that our brain doesn't register negative words well. You could see her straining her facial muscles in the picture below.
Fortunately, we managed to crawl towards the finish line, not literally but figuratively. Upon crossing the finish line, she dropped to the ground and I heaved a sigh of relief. She stayed on the floor for the next 20mins.
Post Race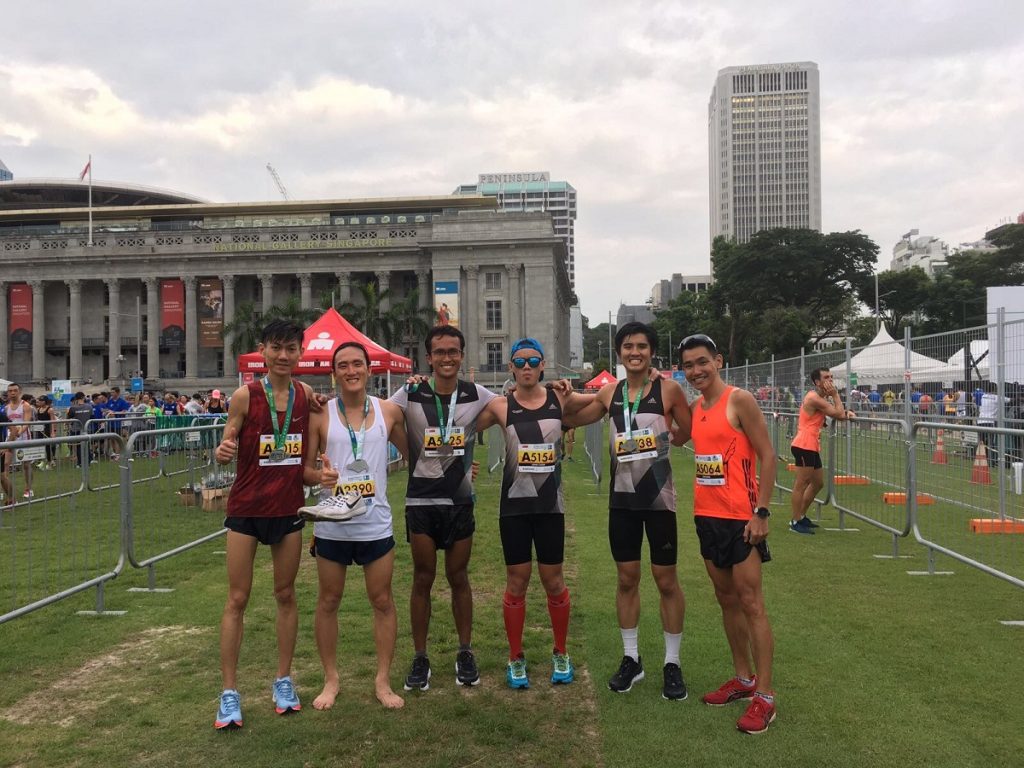 After the race, the team headed back to the hotel and some of us proceeded for a hot-spa for recovery. We were too afraid for a cold spa.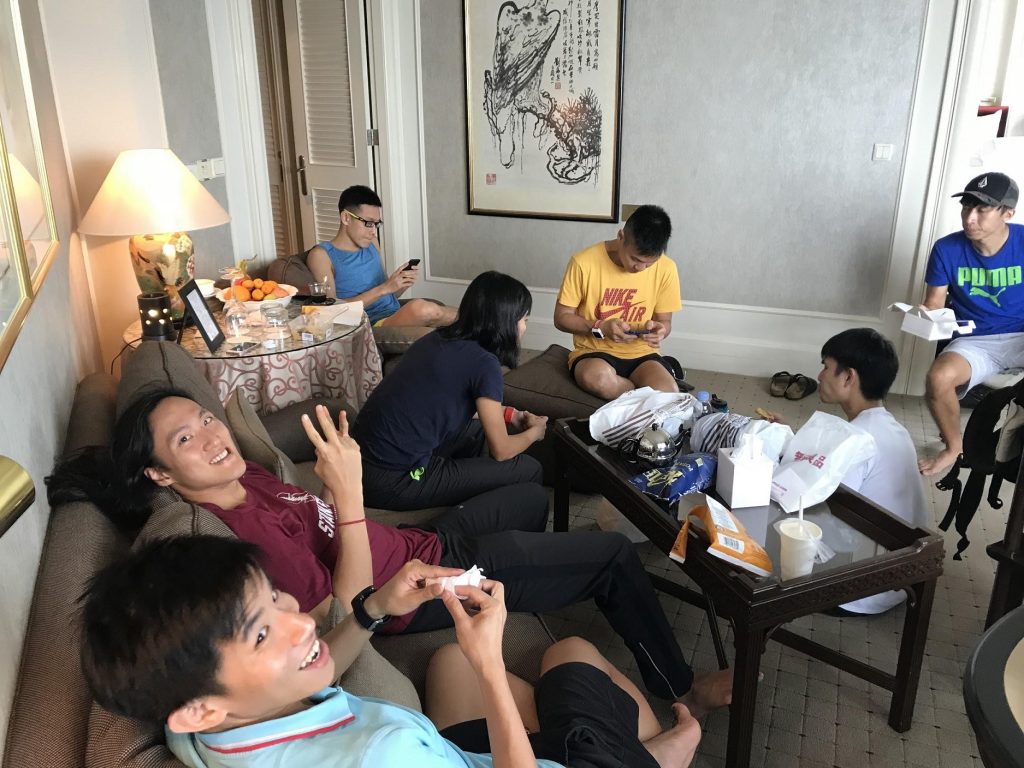 Race Review
In my opinion, the race was very well-organized.
● Ample water points (except from 30 – 42km)
● Enthusiastic volunteers who shouted words of encouragement (except some at 10km+ who shouted: "You're almost there!!" LOL)
● Good starting pen protocol (didn't have to squeeze to get near to the front)
● Start on time
Aspects that the organizers will need to improve on are
● Merger of the 42km and 21km route
● Mobile application that doesn't scale well with higher traffic
● Baggage collection (didn't experience it, only from hearsay)
Will I do the race again?
Yes, I will do it if the team does it.
REVIEW OVERVIEW

Race Entry Pack Location
Race Pack Contents
Race Site
Race Route
Hydration Points
Distance Markers
Finisher Entitlements
Overall Race Experience

SUMMARY