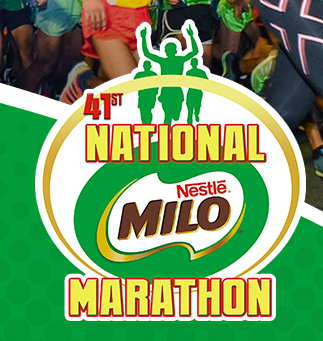 CEBU CITY – Mary Joy Tabal successfully defended her title by claiming the 41st National MILO Marathon Sunday, stretching her reign to five years.  The 2016 Rio de Janeiro Olympian blazed through the streets of her home city as she fought off emotions from the sudden death of her father on the eve of the race.
Rolando Tabal would not be at the Cebu City Sports Center finish line to greet his daughter but the younger Tabal did enough to win in 2:58:01.  The time may not be her fastest but it easily edged a pair of former MILO Marathon Queens Christabel Martes and Jho-An Banayag-Villarma who clocked 3:04:20 and 3:11:26 respectively.
While all eyes were on Tabal, Jeorge Andrade of Davao City emerged as the surprise winner of the Men's Division in a time of 2:39:34.  The new MILO King Andrade broke away and beat a star-studded pack that included Second Placer Erick Panique (2:42:10) and Third Placer and five-time MILO King Eduardo "Vertek" Buenavista (2:43:34).
Andrade qualified for the National Finals in General Santos last October 15 where he beat out Tabal's coach John Philip Duenas for Third Place.  Before that, Andrade's best MILO success was taking the championship of the 10-kilometer side event of the 2014 Davao qualifiers.
Meanwhile, Team Kenya stamped their class anew by ruling the Open Division led by overall top finisher Eric Chepsiror (2:25:09) and fellow podium finishers 2011 MILO King James Tallam (2:25:25) and Josphat Chobei (2:26:41).  Elizabeth Rumokol topped the distaff side in 2:41:32 followed by countrywoman Nancy Joan Rotich (2:50:35) while Tabal copped Third Place.
Both Chepsiror and Rumokol took home PHP 300,000.00 each while Andrade and Tabal won PHP 150,000.00 and will be sent to race in Incheon, South Korea in 2018 as the Philippines' official representatives.  Tabal also received an additional PHP 200,000.00 for her Third Place finish in the Open Category.
In the side events, the absence of foreign runners resulted in double prizes in the Open and Local Category of the 21-kilometers with Arlan Arbois (1:15:21) and Marychiel Morales (1:39:19) getting PHP 23,000.00 richer. Other winners include Ruel Algufera (35:01) and Melody Perez (42:13) for 10 kilometers, Peonilo Erlincito  and Mary Joy Loberanis (20:36) for five kilometers and Kent Lloyd Gabino (10:45) and Antonet Velayo (12:06) for three kilometers.