In the Open category, the Kenyans once again completed a podium sweep with Cosmas Kimutai winning the Men's race in 2:22:48 while Pamela Rotich was crowned the women's champion with a time of 2:38:31.
Reigning SEA Games marathon champion Soh Rui Yong was the first local Men to cross the line and was crowned Singapore's first national champion finishing in 2:35:55. Rachel See won the accolade in the local Women's race with a timing of 3:11:08 (unofficial).
Pierre de Coubertin World Fair Play Trophy Winner Ashley Liew and fellow Flexifitness teammate Evan Chee (both managed by ONEathlete) finished as 2nd and 3rd Singaporean male respectively at the Standard Chartered Singapore Marathon (SCSM) 2017 which also doubled up as the first Singapore National Championships marathon race.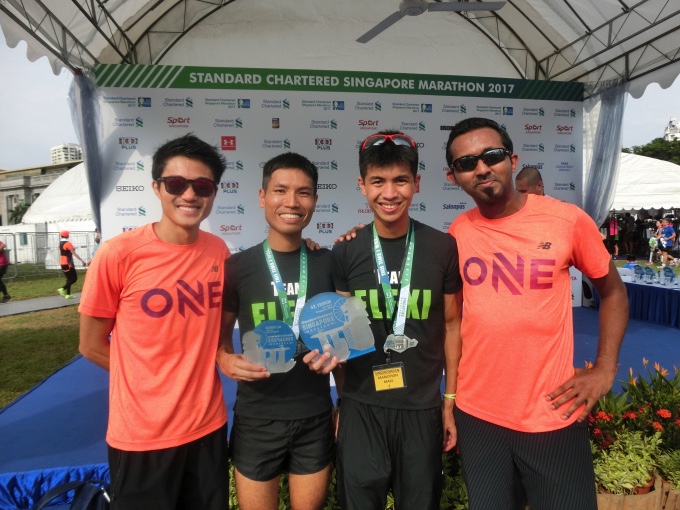 Ashley Liew, the latest Singapore elite marathoner to join ONEathlete few weeks ago, finished with a season-best timing of 2:50:21. While Evan Chee, wrapped up his 4th and final marathon race for 2017 (following Tokyo, Bangkok, Berlin) finishing in 2:54:38 on a humid but relatively cool and overcast December morning where the skies even looked threatening at one point during the race.
"I had to balance high mileage run training with serving patients six days a week as a Doctor of Chiropractic at Family Health Chiropractic Clinic. In addition, it is never easy racing under the heat and humidity in Singapore. Overall, I'm thankful to my coach, Mr Rameshon, Flexifitness teammates, my encouraging girlfriend Sandra, my father who ran the 10km today, my supportive sponsor Asics and my management agency ONEathlete. I couldn't have asked for more than to be taking part and racing among the very talented field today" – said Ashley Liew after completing his 28th Marathon today.
"Having raced 3 marathons earlier this year with the last being Berlin marathon just 9 weeks ago, my goals this morning had to be conservative and realistic much as I would have wanted to give it my all once the gun went off. Congratulations to Ashley who ran a superb race as well as all the runners who helped made this event a wonderful experience! It has been a fulfilling year of racing and travelling and I am looking forward to catching up with family and friends over this festive season" – Evan Chee
Also taking part in SCSM this morning were members of runONE & ONEathlete family. They enjoyed this year's revised route, revelling in the running community's camaraderie and taking turns to cheer fellow runners along the route.
While Mok had to give SCSM 2017 a miss due to his upcoming wedding banquet preparations. However, he turned up on race morning with a bright smile, this time as a supporter to give back the kind words and support he has received from the running community as well as family and friends all these years. Mok's wife Belinda completed her 10km run while his sister, Mok Ying Rong, came in 2nd in the local Women's marathon category.
Leading up to SCSM 2017, Mok also continued doing what he believed in, supporting fellow runners through his #RunwithMok 15-week training programme as part of a RunONE x Straits Times column which advocates getting active as a healthy lifestyle and also provides running tips such as injury prevention. Mok also provided hydration tips and strategies through his social media platforms such as Instagram and Facebook, having experienced first-hand the importance of hydration in the days before, and during, important races.
* Adapted from RunONE/ONEathlete Press Release