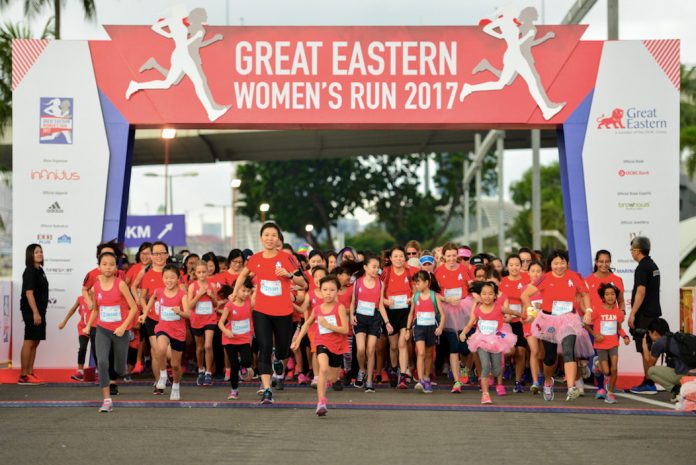 The Great Eastern Women's Run (GEWR), the region's largest all-women's running event, saw more than 13,000 women lace up their running shoes in celebration of health and happiness this Sunday morning.
Flagging off from the Singapore Flyer, the race took participants through some of Singapore's most iconic landmarks and scenery. The crowd of eager runners were joined by Guest-of-Honour Ms Grace Fu, Minister for Culture, Community and Youth, and Members of Parliament Tin Peiling, Foo Mee Har, and Rahayu Mahzam.
The Half Marathon (21.1km) saw Singapore bests such as SEA Games representatives Jasmine Goh and Rachel See, as well as  Mok Ying Rong, Anne Qihui and Jenny Huang among the field of runners. These local elites were joined by Olympians from the region, including Chen Yu-Hsuan from Chinese Taipei and Nary Ly from Cambodia, and SEA Games 2017 marathon champion Mary Joy Tabal from the Philippines.
In the face of fierce competition, Jin Ming Ming, 21, from China broke the finishing tape at the time of 1:20:34 and secured the title in the Elite Open Category.
"I came here with the goal of winning. There are many races in China but this is my first time in Singapore as well as my first international race. I feel pretty good and this is a very well-organised race. Running and winning races gives me great confidence and I also bring glory to my country," said Jin.
Not to be outdone, Mok Ying Rong, 24 years old, emerged victorious in the Elite Closed Category, with a winning time of 1:30:46. Mok said: "The competition was really stiff, I went into the race feeling pretty nervous actually. So I'm really happy about today's outcome. I didn't feel very pressured, instead it gave me that added adrenaline to push myself one step further today. The Run is always very organised and it's just good to be competing against so many of the region's best. I carried out my race strategy right from the start, which was to follow the lead pack and to break away only at the last few km. I'm really happy that my strategy worked."
This year, Great Eastern continued to enhance the race content, injecting new experiences for participants with a slew of refreshing elements to elevate the Run. Participants of the 5km Live Great! Fun Run were in for a treat, as they navigated between fun Instagrammable photo walls, mega-sized ball pits with 135,000 colourful balls to wade through, and a diamond sanctuary zone that presented the opportunity for lucky runners to win one 1-carat diamond solitaire necklace (worth $12,000) and two 0.3-carat diamond solitaire necklaces (worth $1,200 each) from IV Masterpiece.
The new 2km Mummy + Me Run category was another highlight of the morning, providing a unique platform for mothers to run with their daughters aged 7 to 12 and creating lasting memories. Jasmine Goh, national marathoner, also ran in this category with both her daughters, 10-year-old Cherish and Faith, 8-years-old.
Mr. Keith Chia, Great Eastern's Head of Group Brand and Marketing, commented, "We are delighted with the great turnout today. As a LIFE company, we are constantly championing healthy living and innovating to offer new experiences to our participants.
We introduced the GEWR mobile app, which enabled us to further enhance our engagement with participants, such as providing race information and updates.The app also enabled participants to do their part for charity by clocking their klicks on the app. S$10,000 was garnered through this initiative, with Great Eastern donating S$50 for every 1,000km collectively clocked.
This year participants were able to accessorise their outfits and contribute to charity by customising their race bibs and/or t-shirts, in addition to the popular 'Don a Tutu For A Cause' initiative.
In all, a total of S$ 57,662 was raised to support two causes – Breast Cancer Foundation and Women's Health Research and Education Fund.
Results of Great Eastern Women's Run 2017
21.1km Half Marathon Elite Category (Open)

Jin Mingming

China

1:20:34

Gong Lihua

China

1:21:12

Eriko Otsuka

Japan

1:23:19
21.1km Half Marathon Elite Category (Closed)

Mok Ying Rong

Singapore

1:30:46

Rachel See

Singapore

1:32:20

Anne Qihui

Singapore

1:32:57
From Press Release