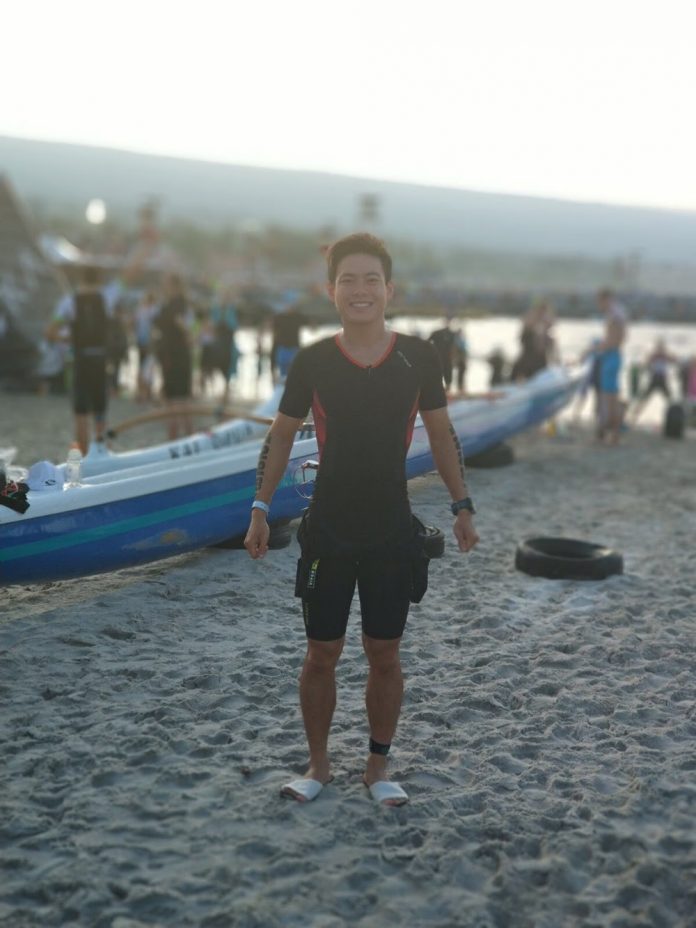 KONA, HAWAII – 24 year-old SMU student triathlete, Benjamin Ooi, had an amazing debut at the IRONMAN World Championship in Kona, Hawaii, and also his first ironman-distance event (3.9km swim, 180km bike and 42.2km marathon) to finish as top Singaporean male in an overall time of 10 hours 34 mins.
Joining Ben is also multiple Kona-qualifier and one of Singapore's best female triathlete Choo Ling Er, who finished in 10 hours 32 mins.
As an ex SMU Aquathlon captain and water polo player, Ben was introduced to triathlon 2 years ago as a way of keeping fit for his annual army physical proficiency test (IPPT). Within that short span of time, Ben has gone from learning to ride a bike to racing the very best at the IRONMAN World Championship, a qualifications-only holy grail of triathlons.
Race Morning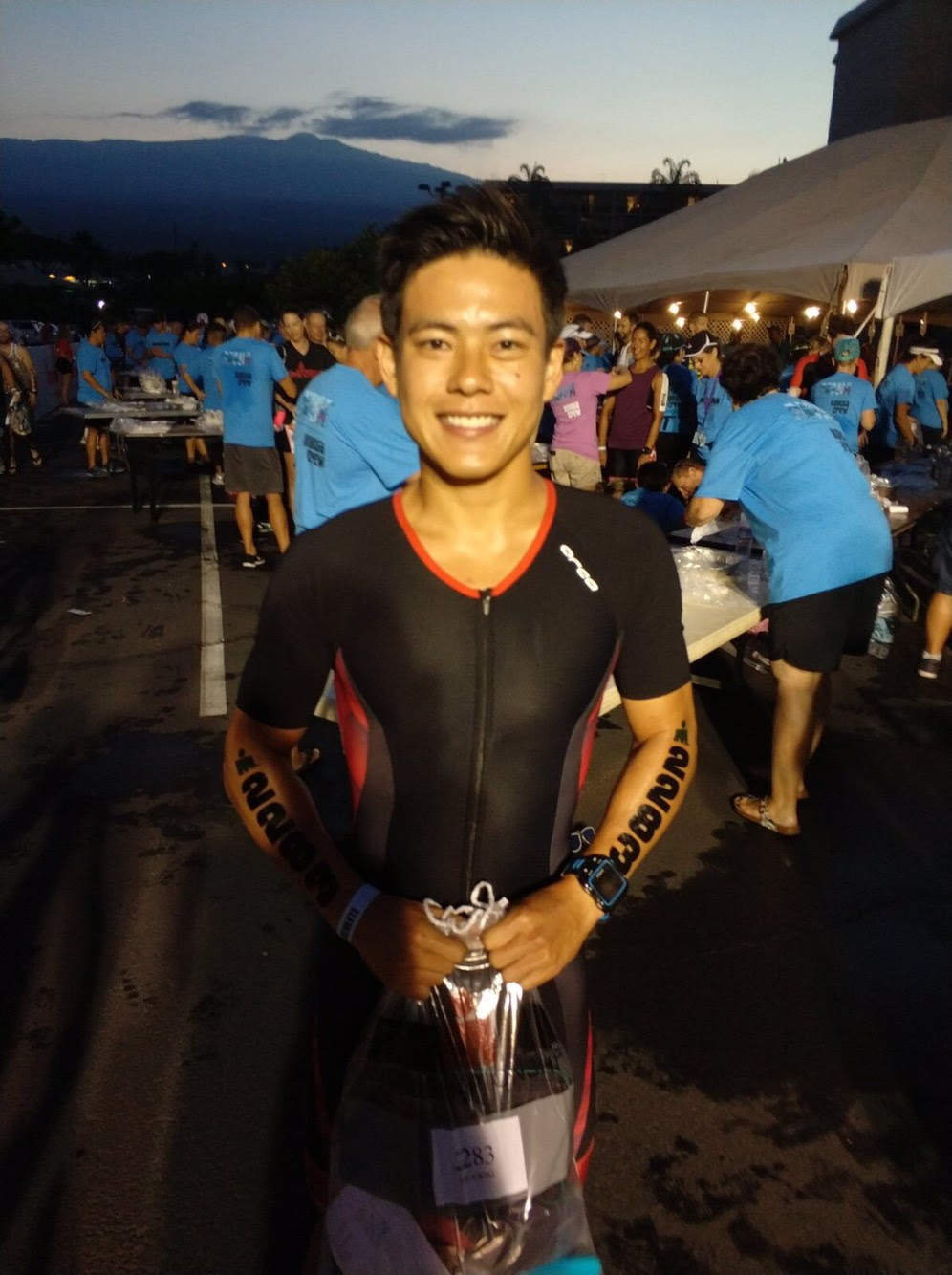 The day started positively as the age group athletes were flagged off in waves after the Pro Men's and Women's race began at 6:35am. Ben showed his pedigree and water polo background, exiting the 3.9km swim in just over 62 mins along with a large pack of race-eager age groupers vying for position.
Heading into transition 1, Ben knew that he was the first Singaporean out of the water and stood a good chance. After coming in 2nd at his Kona-qualifying Hefei 70.3 race last October (which also happened to be his first ever 70.3 race), Ben had dedicated the past year getting ready for Kona. He even brought his bike along for his 4-month overseas exchange programme in Sao Paulo, Brazil (as part of his overseas exchange programme), so that training can continue uninterrupted. It shows the dedication and commitment he has in his pursuit of the sport.
Biking Through The Lava Fields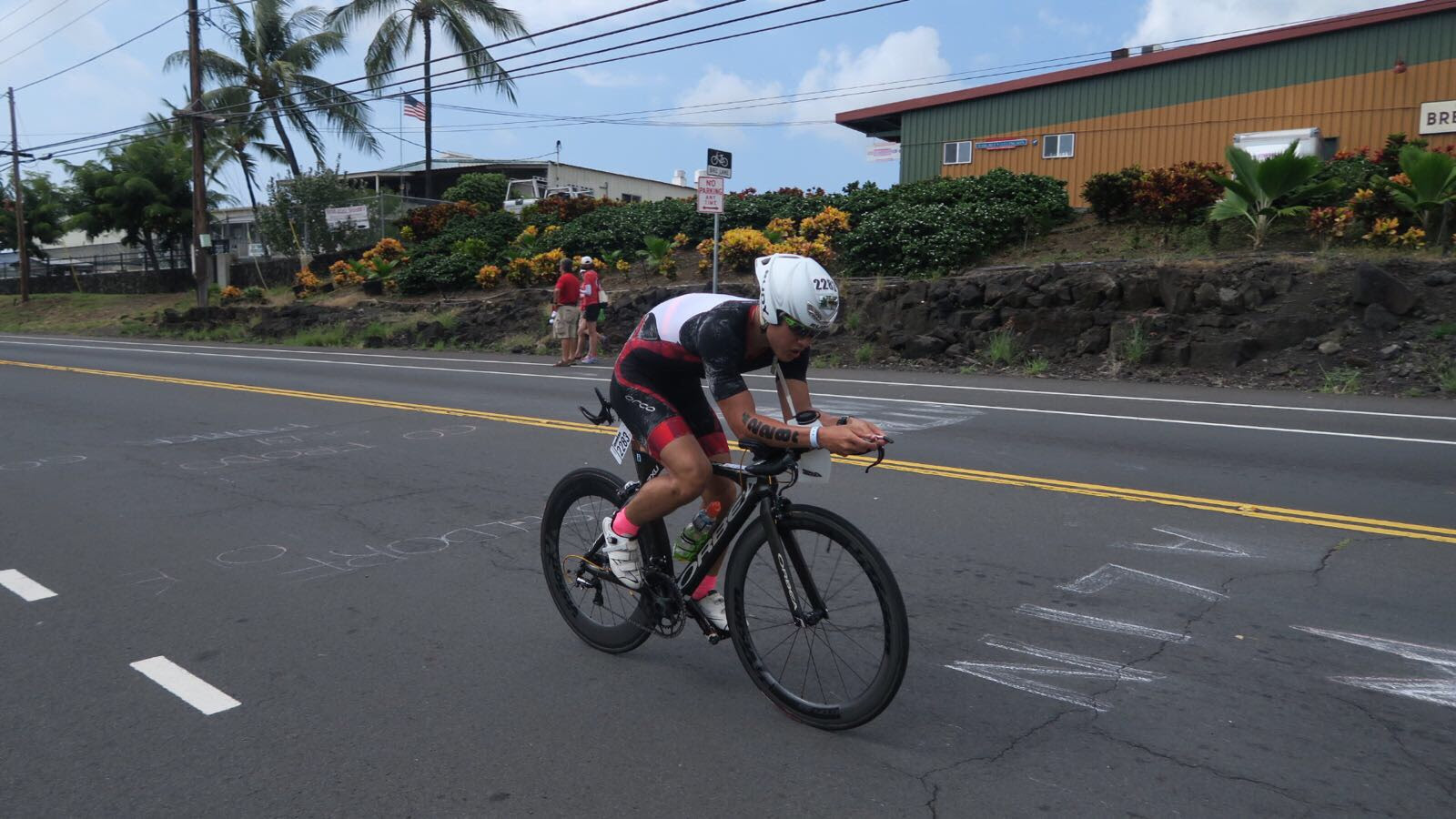 On the bike heading out to Hawi, the punishing headwinds and crosswinds were unforgiving and many athletes, including Ben, were starting to feel the effort. Uncharacteristically, Ben had to work hard to keep his focus just 40km into the bike. Perhaps the nerves were getting to this Kona debutante.
Although Ben had clocked training rides as long as 160km, his packed academic schedule and congested roads in Singapore had conspired for a less-than-ideal prep on the bike. Ben had to reassure himself he had the legs just as the scorching lava fields were sapping his energy. Working through his hydration and fueling provided some mental respite as Ben tackled the elements and his inner monsters.
As is always, the return leg from the turnaround at Hawi, and then the last 50km, is where the damage is done as stronger riders start to pile on the pressure  before entering transition 2. With big gaps slowly opening up, Ben once again found himself stranded in no man's land, mentally and physically, as he inched back towards transition. It was going to be a long day in office.
The Final Stretch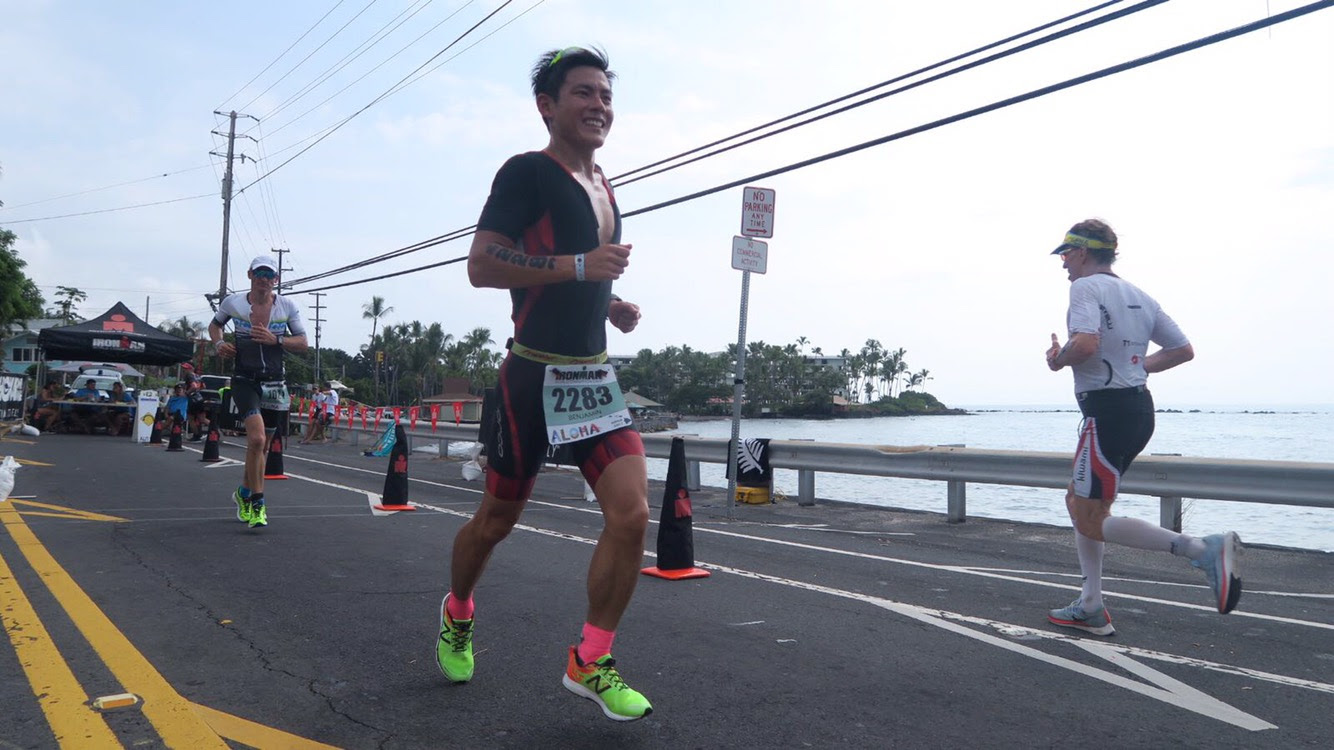 Once off the bike, Ben knew that he had his work cut out for him on the run. The abnormally hot weather at this year's race, with temperatures reaching 40 degrees at the Energy Lab, had turned the run into a game of survival. Back on the tarmac in his running shoes, Ben felt the punishing 180km bike in his brick-like legs where every step felt heavy as lead. He made quick work to follow a group of strong runners as he settled into a strong pace. The race was approaching noon at this point, the unforgiving sun and heat giving running in Kona its infamous nickname – the 'Ironman shuffle'.
Ben had flown into Hawaii earlier to acclimatize to the heat and humidity. His 20-hour training weeks, with runs that end as late as 1pm in Singapore and Sao Paulo, had also prepared him to face the tough and hot Kona. As a time crunched student-triathlete, Ben was always trodding a fine line between school, training, and the crucial 4th discipline of triathlon – recovery. Despite that, Ben professes it was not the allure of outgunning his competitors but bettering himself that drove him to this sport, and eventually led him to Kona.
"As an athlete, and in life, success is a matter of discipline and habit. Day in and day out, the open-ended challenge to better myself continues. I trusted my training and a little common sense to take me through the unknown come race day. Sometimes things don't go flowingly, but I know my efforts have still made me a better athlete."
Shortly after the 21km mark, Ben still managed to stick together with the group as they try to conserve energy, mentally and physically, for the second half of the marathon and the Energy Lab –  an infamous 5-km stretch of heat and destitute. At the 28km mark, runners turn off the Queen K highway to complete a loop around the Lab and when they leave, they're rarely the same. At this point, Ben knows it's about finishing the run before it finishes you. He digs deep and knows that he must hurry, but more haste can mean less speed too. It's a high-wire act of energy management in the last 10km, one that he has trained and rehearsed for the past year.
Finishing Down Ali'i Drive
As the Sun begins its gentle descent, Ben  finds the second wind he's been searching the whole day. Covering the last 3km at 4:10min/km pace and with a final right turn down Ali'i Drive towards the coveted finish, Ben was greeted by his sister, Belinda Ooi, as well as brother-in-law and national marathoner ONEathlete Mok Ying Ren. Both of them had turned up to lend their fullest support for Ben's Kona debut, providing valuable support as family and also professional advice as athlete, physiotherapist and doctor in company.
Ben is looking forward to enjoy the remaining of his vacation on the tropical sunny Hawaiian paradise before working towards a local race come year end, for a gratifying finish to what has been a long training season for him.
"Competing with the best here at Kona has given me an appreciation of the possibilities ahead. Very honoured to have raced with this bunch of dedicated triathletes. Last but not least, I'm unspeakably grateful to the throngs of supporters who lined the streets and livened up the race atmosphere, as well as to have had my family here cheering me on, and throughout the lengthy lead-up to this day!"
Benjamin will like to put on record his deep appreciation to his family and friends, as well as ONEathlete, whose unwavering support over the past year made today's result possible!
*Press release was written by Lester Tan (RunONE).