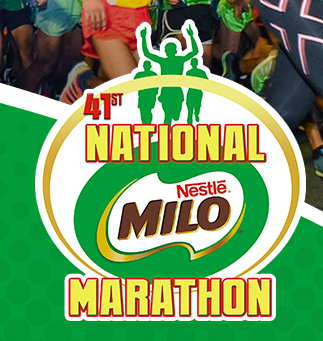 ILOILO CITY – After successfully hosting last year's National Finals, the 41st MILO National Marathon made a stop in Iloilo with another 21-kilometer qualifying race at the Iloilo Business Park last Sunday (October 8) that saw the crowning of another set of first-time champions in Romnick Dago and Alexandra Ganzon.  The duo will head the city's list of qualifiers to this year's National Finals set for December 3 in Cebu City.
After winning the five-kilometer side event two years ago, Dago completed his rise by topping the main event in 1:14:45.  The youngster beat out Second Placer Jero Matheus Jaro (1:15:02) and Third Placer John Ray Onifa (1:16:04).
Triathlete Ganzon showed promise in beating veteran runner and 2014 Bacolod champion Stephanie Cadosale.  Ganzon clocked 1:32:35 while Cadosale checked in at 1:38:38, just enough to edge Third Placer Helen Ison (1:39:33).
Both Dago and Ganzon received PHP 10,000.00 and a trophy.  As much as PHP 300,000.00 in cash awaits this year's MILO King and Queen plus the chance to represent the Philippines in an international race in 2018.
Other winners for the day include Edmark Galapin (35:37) and Jessa Mie Sustituedo (43:15) for 10 kilometers and Alfrence Braza (16:51) and Mary Joy Barcoma (20:06) for five kilometers.  The three-kilometer race for children aged 12 and under went to Khister Besa (11:11) and Lyka Angele Manimbayan (12:15).
The MILO Marathon will commence the Mindanao qualifiers next weekend (October 15) in General Santos City.  This will be followed by three more legs in the cities of Davao (October 22), Butuan (November 12) and Cagayan de Oro (November 19).