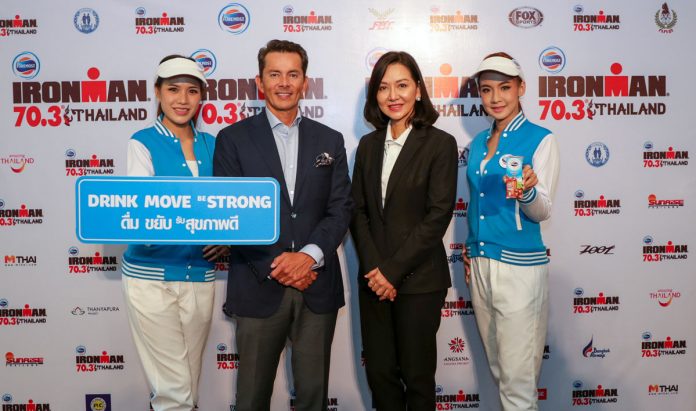 Triathletes from around the world are heading to Phuket Island for a weekend of swim-bike-run where 1,500 competitors from more than 60 countries are expected to compete in the Foremost IRONMAN 70.3 Thailand on 26th November, and up to 300 youngsters in the Foremost IRONKIDS Thailand. Built on the belief that Anything is Possible®, IRONMAN – the original triathlon brand – was founded in 1978 and today stages over 150 IRONMAN events in more than 50 countries each year including the annual IRONMAN World Championship (3.8km swim/ 180km bike/ 42km run) and IRONMAN 70.3 World Championship (1.9km swim/ 90km bike/ 21km run). With more than 1,000,000 people having completed an IRONMAN/ IRONMAN 70.3 since 1978, Thailand joins the largest global triathlon series for a second year with the Foremost IRONMAN 70.3 Thailand which will take place on the tropical island of Phuket at Angsana Laguna Phuket on the spectacular Bang Tao Beach.
"Phuket is one of Asia's top island destinations and an iconic triathlon venue with a pedigree stretching back more than 20 years. We are very excited to again be working with Phuket to host the Foremost IRONMAN 70.3 Thailand 2017, a race that has already earned a reputation as being one of the toughest and most beautiful courses on the IRONMAN 70.3 calendar," said Mr. Wilfred Steven Uytengsu, President of Sunrise Events Inc. and rights holder for IRONMAN in South East Asia.
"Phuket is well known for being a leading sports tourism destination and hosting this world-class event, the Foremost IRONMAN 70.3 Thailand, underscores the island's sports tourism credentials. We are looking forward to a very successful event and also to welcoming Thai and international participants from around the world," said Mr. Sanit Srivihok, Vice Governor of Phuket Province.
Former regional champions and in-form international Pros will compete for a US$15,000 (approx. 500,000THB) prize purse while the thirty age-group qualifying slots available for the 2018 IRONMAN 70.3 World Championship in South Africa will draw many of Asia's top age-groupers. Early sign-ups include Thailand's top male triathlete and first to compete at the IRONMAN World Championship in Kona (2011), Jaray Jearani, and Nampetch Porntharukcharoen, the most IRONMAN-decorated Thai female triathlete and first Thai female to compete in Kona (2014).
"Entries are already strong and the international Pros are confirming their attendance. While competing in an IRONMAN 70.3 is no easy feat, we are seeing more Thai age-groupers registering this year and we're very excited to help grow the sport in Thailand," added Mr. Uytengsu.
Also taking place for the second year is the Foremost IRONKIDS Thailand at Thanyapura Health & Sports Resort on Saturday 25th November. Welcoming up to 300 kids from 6-14 years old, this will be the second IRONKIDS event in Thailand this year, the first being held at the International School Bangkok on 10th September.
Ms. Pimjan Vimuktanonda , Marketing Director of FrieslandCampina Thailand, the producer and distributor of Foremost dairy products, said, "As the provider of quality dairy products from Thai farmers with international production standard that has been part of Thai daily life for more than 60 years, Foremost is proud to encourage Thai families to drink quality milk and take exercise regularly through our 'Drink.Move.BeStrong' campaign. This campaign has been promoting healthy and active lifestyles among Thai youngsters and consumers for 4 consecutive years.
"To extend the success of this campaign, Foremost continues to be the title sponsor of Foremost IRONKIDS Thailand and Foremost IRONMAN 70.3 Thailand 2017 for the second year running. With more than expected interest from junior athletes last year, we are expanding this year's Foremost IRONKIDS Thailand into two races: the first race was at the International School Bangkok (ISB) last Sunday, 10 September to fulfill the needs of kids in Bangkok, and the second race is at Thanyapura Health & Sports Resort in Phuket on Saturday, 25 November.
"Foremost IRONKIDS Thailand is a junior triathlon race for children 6 to 14 years old with the aim of promoting active lifestyles among children. It gives them the opportunity to test the limits of their physical and mental stamina and experience this challenging sport. Preparing oneself for triathlon calls for continuous training and good choice of food to ensure optimized diets for the body's needs while also building strength for the competition. Foremost has, therefore, prepared our chocolate flavoured milk to give away to participating triathletes of Foremost IRONKIDS Thailand and Foremost IRONMAN 70.3 Thailand 2017 to help energizing them throughout the race because a key to athletic excellence is to keep one's body fit and active."
The Foremost IRONMAN 70.3 Thailand starts with a one-loop 1.9km swim in the pristine waters off Bang Tao Beach, followed by a 90km bike traversing the island's northern hills and coastline, and finishes with an energy-sapping 21km two-loop run through the Cherng Talay area. Well known for its beauty, the course is also challenging and will push Individual and Team Relay participants to their limits.
Opening up the world of triathlon to more people, organisers have added a new event distance this year, the Sunrise Sprint, which comprises 750m swim/ 20km bike/ 5km run, also at Angsana Laguna Phuket.
"For a triathlete, IRONMAN is the peak of the sport. Completing an IRONMAN event is something all triathletes want to do and once you have, it is something you will be proud of for the rest of your life. We aim to make Foremost IRONMAN 70.3 Thailand a bucket list event for triathletes all over the world and with the edition of the new Sunrise Sprint this year we aim to make the sport more accessible for people of all abilities," concluded Mr. Uytengsu.
Organised by Sunrise Events (Thailand), the Title Sponsor is Foremost with Major Sponsors FBT and Fox Sports, and support from the Tourism Authority of Thailand, Sports Authority of Thailand and the Province of Phuket. Event Partners include Angsana Laguna Phuket, Bangkok Airways, Gatorade, UFC, Mthai and Phuket Cable.
For more information, visit www.ironman.com/triathlon/events/asiapac/ironman-70.3/thailand.aspx and www.ironkidsthai.com.