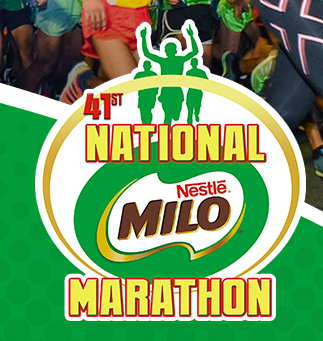 LIPA CITY – Rowel Galvero snatched the championship of the 41st National MILO Marathon Lipa qualifying race last Sunday (September 10) at SM City Lipa.  He was joined at the top of the podium by Nhea Ann Barcena who ruled the distaff side in the final race on Luzon this season.
Galvero clocked 1:15:42 over the 21-kilometer route.  He beat out the like of veteran runner Erineo Racquin (1:17:11) and third placer Jomari Jovelo (1:18:12).
Barcena (1:34:21) had a good seven-minute margin against closest pursuer Rona Lacanlale (1:41:24).  Taking third place was another former leg champion Janette Agura (1:47:24) who beat out her own daughter Devine Grace Agura who settled for fourth position.
The province held its qualifier last year in the capital Batangas City which was won by Jovelo and April Rose Diaz.  Technically, Raquin is the defending champion since he won the last race Lipa hosted in 2015 along with Women's winner Cellie Rose Jaro.
The MILO Marathon will now proceed to the Visayas for more qualifying races in the cities of Tagbilaran (September 24), Roxas (October 1) and lloilo (October 8).  The National Finals is set for December 3 in Cebu City.
Other runners who took home honors that day from Lipa were Leonalyn Raterta (43:28) and Lei Kipchirrutin (32:15) for10 kilometers and Jhe An Calis (16:12) and Jonathan Pulido (13:45) for five kilometers. The special three-kilometer race for kids aged 12 and below went to Mc Artney Rosales (10:54) and Jenna Valdez (12:14).