One kilometre into the race, I was panting like a bull.  It was starting to get brighter but we had started off in darkness.  This was when I realized the headlamp that was a mandatory item came in useful.  But still, I mused.  A torch could have done it for me since it would be for the next few minutes before the day brightened up.  It was also less cumbersome. The terrain was different from the hard familiar road run/race that I usually do since taking up running at age 51 just about 3 years ago.  I kept adjusting the headlamp and then the hydration belt.  I was in uncomfortable territory again.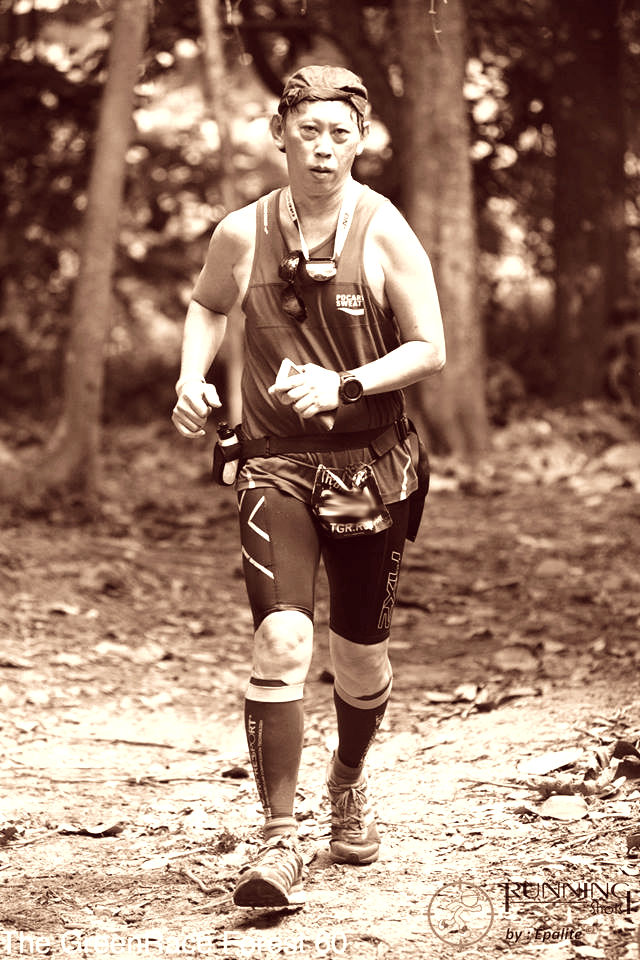 Maybe I should rollback a bit. This was a Saturday morning, the last weekend of August.  I was running the half marathon of GreenRace.  It was not planned.  About 4 weeks before that, based on my messenger conversation with Francis, I told him I would take over the trail run from him as he was going to be too busy.  Initially I thought it was a 10 km trail and then found out it was half marathon.  The thought at that time was still OK despite my persistent back pain.  I had been running regularly though not as frequently as before.  Having just completed the Gold Coast about a month before that, and then doing the 10 km ST Run (thanks to RunOne), I would be doing the Race Against Cancer 10 km just two days after that conversation.
I started to read up on the GreenRace and updates sent by Francis.  It was about trail race and zero waste.  There were the 21, 42 and 60 km categories.   I would be running with his friend, Tian as part of a team for 21 km.  I also passed my particulars for the transfer and was initially prepared to pay the administrative fees too.  Then somehow there wasn't any replies and as the date got closer, I started to feel a bit apprehensive.  Apprehensive because 1) there were so many items which were listed which had to be carried by the runner, 2) the pictures shown and the map indicated there would be a lot of elevation, 3) the rules state that for a team, the runners must cross the finishing line together.
As I am not a fast runner, I would not get lost because there were always faster runners ahead and in sight for all road races done so far.  But the organizer had kept emphasizing on the runner knowing the route and I guessed it made sense since it was the 'forest'.  But I wasn't a good map reader and I have gotten reliant on Google Maps these days.
Francis is a much stronger runner than me and younger.  His friend Tian (whom I will call TW) is even younger and faster.  I realized it was going to be a tough challenge if we have to finish together as a team and so this was my top concern.  But both of them were very kind and assured me that TW would just want to go for the experience and we would run together.
And after collecting the race pack, I stared at the hydration cup (ultra speed cup), the reusable jute bag and the number tag belt.  No pins should be used according to one of the points made in the many updates on the race.  Do I have to carry all these, and then more updates came emphasizing on the challenges of the trail and that we should also bring first aid stuff like plasters.  So till the day before the race, I was wondering if I should just carry the reusable jute bag with all the items thrown in.  It was a Green Race after all and I support the call for reusing the stuff but I wasn't looking forward to 'carrying' all the stuff. And I still had not gotten a headlamp that afternoon before the race.
A few days before the race, I also roped in another good running friend, Hock Chuan (HC) for advice. I befriended him on FB too; as a result of running and blogging.  In the Performance Series I, we met virtually. I had included his awesome photographs for some of the blogs since.  He had done a couple of recces for this race and advised us of the terrain 'surprises'.  I realized by then, that this trail run was going to be very different from the Compressport Trail Run or Green Corridor Race 10 km that I had done.  The last email received emphasized that for safety, the headlamp was mandatory and there would be checks to ensure safety etc.  I went to Decathlon that evening and bought the headlamp.
Two days before this race, while I was doing my routine on my bike to complete the TOGO817 challenge, my front tyre went right through the gap as I traversed the roundabout. I hit my right cheek on the ground, and had abrasions on the legs and elbow.   I picked myself up painfully and made my way back home.  But I was more sorrowful that my front tyre had been punctured as a result of the impact.  Had a slight headache after that but after a night's sleep, I felt alright.  Cheek was slightly swollen.  My elbow area hurt more as the day went by.  I wasn't able to bike that day so I stopped.  Guessed I would pick up on the challenge after settling this race.  Perhaps it was just God's way to get me to take a break too.  So I was 'free'.
I made two trips by public transport to check out the starting venue since I didn't want to end up miscalculating the trip and holding up my friend on that day.  I was quite surprised to see no banner or any set up two days before the race.  I contacted HC who confirmed that I was at the right venue with an exchange of photos on the phone.  On the evening before the race on way back from Decathlon, I took one last look to ensure I got the right place and was rewarded with the sight of the stage being set up.  So at least I know where the place was and able to give some specific advice to my friend who was taking a cab there.
Race morning, I still took a wrong turn in search of the nearest public car park.  Was able to make it and meet my friend albeit a few minutes later than I planned.  It was near pitch darkness once you leave the public street lights to walk through the path leading to the event area.  Still we were early.  I just looked around and tested my headlamp.  It was difficult to spot my other friend HC.  I wore the hydration belt provided in the National Geographic Run earlier this year, which contained two bottles of water.  I had some plasters in the pouch and one energy gel.  Last minute I had taken a shoe lace and tied that round my waist for the number tag so no pins.  I had my cap and my sunglasses in case the sun really got too harsh.
A lady was going around, announcing when each race would be starting and getting the runners ready.  As my friend HC later remarked, it was a rather cosy and relatively smaller group kind of setting.  Some runners looking rather experienced, were seated on chairs and chatting with their friends.  Most were standing and just chatting or quietly waiting. I tried to snap some pictures but they didn't turn out well in the darkness on my phone.  Queues were for the toilet and the baggage deposits.  The scenes I took in, was very much what I had seen in past random videos I had come across of overseas trail races, runners clad in hydration vest with mounted headlamps chatting and getting ready for a good race.
Soon, it was time to start (about 6.30 am) and we made our way to the start line.  Then we were flagged off.   We started off together for the initial part.  This consisted of going across the short bridge, which was actually the old railway.  It meant running across loose stones.  I was careful not to twist my ankles because I had completely torn my ankle ligaments in both ankles during the army days and it almost took a decade for them to heal.  The specialists then had recommended a surgery but I felt at that time that I didn't need someone to open up my legs from the knee down and going around on crutches for some time.  Still, my ankles were unusually flexible compared to others as a result. Pitter-patter with strobes of light flashing across the old railway track – we probably made quite a sight in the early dawn hours running across.
One km or so, I was panting.  I knew I was going too fast for my pace though I had not done a trail like this.  Second km or so, we came to the muddy patch that HC had mentioned.  TW had stopped and waited for me but I knew he was slowing down too much for this old man.  He ran like a rabbit hopping across but I could see his shoes were getting into the mud.  The more careful runners were slowly picking their way through the muddy trail, looking for the drier path.  I took my own path across.  I believed most of us if not all did get the mud into our shoes at that stretch, some kind of an initiation.  Still, it was such a relief to be on firm ground again as we made across.  I asked TW to go ahead and we could meet up again at the checkpoint.
Then we went into the trees and I seemed to be hiking rather than running.  Still, I kept telling myself to go faster.  There was this stretch where it was like a T-junction.  I ran after the runners ahead and turned right.  Two women were in front and apparently they were following someone else in front.  I heard one of them telling the other that some folks had stopped behind us and was wondering if we were in the right direction.  I stopped and looked back.  A few runners were gathered about 60 m behind.  I decided to run back and check, and also called out to the two ladies in front that maybe this was the wrong direction.
There, we found one person showing his map against the bigger map display and saying he thought the direction that we came from was the correct path.  I felt a little bit embarrassed for getting the two ladies to come back and check so I said 'sorry'.  Then one man stood out and said no, the other opposite direction was the correct path.  At this point, I also noticed an arrow and the pink ribbon on the side.  I said oh right, that was where the arrow was pointing to.  And the man said yes, and so off we went.  He turned out to be one of the organizer, I realized later.
Was glad that I ran back to check but I wondered if TW had gone the other way.  I took out my phone again which had been wet with sweat and was not working earlier on when I tried to take pictures.  I dialed my friend's number but he had set his phone off.  I left him a message and prayed he was on the right path.   I reached the first checkpoint, about 5 km into the trail. A volunteer scanned my wrist tag to get the split timing.  I saw my friend already there and resting, waiting for me.   I told him that he should just go ahead and finish the race.  I should be alright and I just wouldn't be able to keep up at a faster pace.
I took half a banana or a third of a banana.  They served 'cut' up parts of banana which was great (another way of reducing wastage).  There was water and even coke.  I took a bit of the coke and then refilled my water bottle.  I then started off again.  I wasn't sure how the coke would affect my system since I had not taken coke in a race.  Hopefully it would not make me feel thirstier.  I hope the caffeine would help.  By now I had gotten used to the undulating ups and downs, but was still breathing harder than usual.  I was getting a bit more relieved though as I knew my friend would be doing his own pace and I wasn't slowing him down for the rest of the journey.  My knees were holding up and though I felt my ankles going one way or the other it was still probably within the 'normal' range.  I did slip down a steeper slope and felt a tightening near the right elbow as back of my arm hit the ground.  The adrenaline rush suppressed what might have been another painful episode.
I loved the shades offered by the trees in the trail and was hoping the weather would hold.  Despite weather forecast that it would rain in this area for the days leading to the race, I was glad that as usual, the forecast was not too accurate.  The only hazard if you are unfortunate enough, would be the potential accidents with bikers on the trail route.  In some parts where it was steep or even narrow, the bikers were aggressively maintaining their usual weekend treks.  I just stopped to let them pass whenever I heard tyres from behind or voices.
There was another stretch where I found myself running without anyone in front of me but again, somehow intuitively I looked back and then figured out somehow that I better turned around.  I ran on and then spotted someone in front, so I was second time lucky.
Then I hit the second checkpoint and again had my wrist tag tapped.  I think it was on the way to this checkpoint that I bumped into HC finally but he was making his way back so we said hi and then went in opposite direction.  This time round, I stopped longer at the hydration point, as I had consumed my earlier gel and figured that I needed to last till the finishing point.  I took the half banana and the Lucho Dillitos All Energy Cubes which tasted fabulous.  I thought it would be too sweet but it was just nice and melted easily in the mouth.  Wished I had taken another one for the journey.  I took more coke this time.
Then the third time when I hit an ambiguous turning, I ran on but couldn't find any pink ribbon nor anybody in front.  I slowed down and then asked the runners behind who might have been following me, if they knew this was the right direction.  No, they weren't sure too.  We started slowing down, afraid to run further in the wrong direction.  Then a strong runner came doing his second or third loop, and he said if we were getting to the starting point this was the correct path.  So we ran on and there wasn't any more ambiguous turns or there were always people in front.   I saw a familiar face running in the opposite direction and called out to him, Lexxus who was on his way to retain his champ position in the 60 km category.  I think his reply to me then was 'Go, go' and at that time I did wonder if he was going on his training routine or in the race.  He was going so fast !
Near the last stretch, my phone had started working again, so I google-mapped the old Bukit Timah Railway Station and found there was about 2.7 km left.  I was also on fairly even ground now, so I started to pick up on my pace again.  Then I saw Umar, another FB friend I made, who is an excellent ultra runner cum photographer, with his camera.   He had given me some advice in the past too on running shoes though we had never met in person.  I called out to him and waved.  Someone behind me then shouted his name too.  Thanks for the nice shots.
Soon I could see the finishing point, and I was running towards it, hoping to catch up with my friend.  I wanted to let the first volunteer I saw to tap my wrist but he waved me to the one behind.  The young man tapped against my wrist tag and I looked at him, checking to see if he got it.  He glanced at his 'device' and then said 'ok'.  I then started to look around, trying to spot my friend.  I saw HC first, and he was with the Director of the Race though at that time, I thought he was his running friend.  He asked me to take a photo of them.  I took it for them and then stepped away to look for TW.
TW spotted me first and then I found he had reached finishing line about half an hour or more.  HC had to leave for another of his son's event.  TW told me to join the queue for the 'medal' and photos but before that to return the wrist tag.  You get cash refund for returning the reusable wrist tag.  I queued up to get the wood block medal and posed for a polaroid photo which didn't turn out well.  I wished I had been thick skinned enough to ask someone to use the phone to take a photo too.  Anyway, I also downed two different flavors of the energy drinks Tran Quini.  They were different from the usual 100 plus or Lucozade drinks in other races.  Walked back to the food area and took some slices of orange.  The queue had been long and by this time, not much food was left so I didn't take any of the other goodies that had been there.  Had been quite an experience.
TW and I chatted a bit before going our separate directions.  Somehow we talked about the Spartan Races.  TW had just completed Spartan Super in Malaysia which also required running in similar hard terrain.  I was reminded of the Spartan Super I did last year and remembered running along some slopes and up and down terrain as well.  Yes, but that was still less than 21.1 km.  This was not as tough in terms of obstacles but I guessed I had not been as well prepared this time.  And I also recalled that one of the familiar-looking trail runner was actually Steffan Fung from Spartan.
When I reached home, I found my shoes caked in mud, shirts and pants all soiled and dirty.  I washed myself up in the open area and knew I wasn't able to make it in time for my SiFu's birthday party.    After cleaning up, I went up and took some more water.  Then I had a quick lunch as my wife had packed some stuff from the party.  I checked the online site for my timing and saw that somehow the final checkpoint had a timing registered but unlike the earlier checkpoints, the splits (or duration) were not shown.  I didn't have energy to think more about it then.
Two hours later I tried to sleep and woke up after less than an hour.  But I felt recovered and surprisingly there was no pain on my feet or back. Perhaps the terrain had been more friendly than the hard road surface that I was used to.  I was glad too as I knew that I would be able to try getting back on my bike (or rather my son's bike) the next morning and start my journey towards completing another challenge TOGO817.  With one week left, I had to complete about 275 km.  Would have been less of an issue if my back had not slowed me greatly this year.  I will leave that for another tale another day.
In closure, I enjoyed the trail experience for what it was, closer to nature, a different kind of run experience.  In the evening, when I checked the timing again, it was flagged as DNF instead.  I don't know what went wrong but as I had captured the route and timing on my Garmin (uploaded to Strava), I was feeling pretty good with having done the race.  This race was one that kept me out of my comfort zone, even if a lot of friends I know would say I was putting myself into discomfort all the time.  To me, it was probably a way to stay 'alive' and be grateful for the graces of life we have everyday.  Or I may just be discovering my split personality somehow !
I gave some online feedback to the nice person answering online who happened also to be the Director, unless they all had the same name.  Thank Yous to all my running buddies who had made this experience truly unique: Francis, TW, HC and Umar.  Photo Credits/sources  are due to Run Event Photos, Running Shots, Low Choong Leng and GreenRaceSG, HC and myself.  Thank you!  Run Happy, Run Safe!