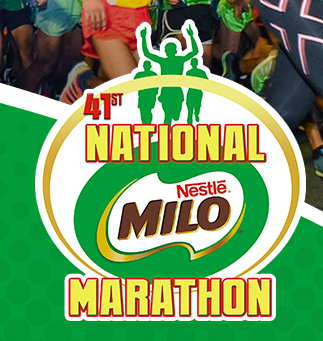 LUCENA CIY – Two-time MILO Marathon Queen Jho-An Banayag-Villarma showed she still has what it takes as she ruled the 41st National MILO Marathon Lucena qualifying race Sunday (September 3) at the SM City Lucena.  Her dominating run shared the limelight with a down the wire ending in the Men's race.
A member of the Philippine Army, Banayag-Villarma last ruled the Philippines' most prestigious footrace way back in 2005 and 2006 and completed the 21-kilometer race in 1:29:24.  She was virtually unchallenged with Sealand Agana coming in at Second Place in 1:52:27 followed by Remy Caasi in 2:01:45.
Meanwhile, defending leg champion Richard Salano retained his title with a clocking of 1:15:32.  Just like last year when he beat out Gilbert Laido, Salano had to go through a photo finish but this time it was a three-way battle as he edged out Second Placer Alley Quisay by a mere two seconds (1:15:36) and Third Placer Eugene Postrado by four seconds (1:15:36) in what could be the most exciting race of the season.
Both champions received PHP 10,000.00 in cash, a trophy and gift items from sponsors.  They will lead the Lucena contingent of qualifiers to the National Finals set for December 3, 2017 in Cebu City.
Banayag-Villarma and a cast of former winners and foreign bets are expected to go all out to unseat current MILO Queen Mary Joy Tabal and MILO King Jeson Agravante.  The top Filipinos will be sent to compete in an overseas race in 2018.
Also winning on that day in the side events were Fiona Maurice Pantinople (13:18) and Richard Amponin (11:06) in the three-kilometer kid's race and Ritchie Dala (23:28) and Nicko Cortes (17:18) for five kilometers.  Kenyans asserted their domination in the 10-kilometer category behind Susan Jemutai (40:50) and Langai Kepkemboi (33:54).
The MILO Marathon will hold its final qualifying leg in Luzon next Sunday in Lipa City.  After that, the group will travel to the Visayas for regional qualifiers in Tagbilaran on September 24 and Roxas on October 1.