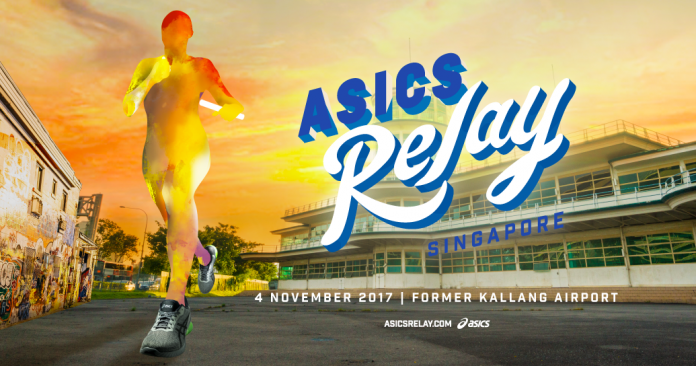 ASICS demonstrates their commitment to running as a sport and salute to team spirit with the 3rd leg of the ASICS Relay 2017 happening in Singapore on the 4th November 2017. This year, the ASICS Relay will kick-off in Jakarta (19th August), heading to Malaysia (7th October), coming to Singapore (4th November) and ending in Thailand (2 December 2017).
This time round, participants will get to experience the nostalgia of the very first purpose-built civil airport. The race will be flagging off from this historical air base formerly known as the Kallang airport.
Display Of Unity
in this race, it is we, not i
Relays are always more fun. There really is nothing greater than having your teammate cheer you on. You push your limits because you don't want to let your team down. And you return the favour by cheering your fellow team mates on. This will be a true great experience of unity and camaraderie. That excitement when you run as a team is really indescribable. The bonding experience with your team members can become one of those stories you tell your grandchildren.
The format of the ASICS Relay which calls for a team of 4 to complete the full or half marathon distance will allow you this great opportunity to bond. Maybe get your grandmother, father, sister to run on the same team as you and can you really say this won't be one of the greatest experiences of your life?
The Route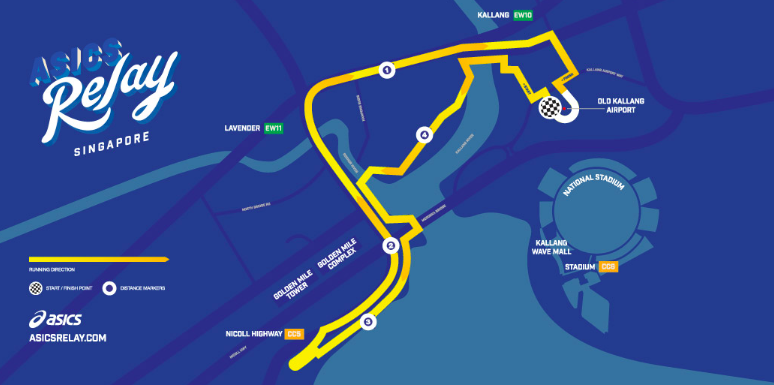 Each runner will start from within the festival village located in the air base. Runners will race towards the Golden Mile Complex then on to Nicoll Highway. Runners will then circle back to where Singapore Sports Hub will serve as a magnificent backdrop for the runner. Runners will then head back towards the air base to hand off the baton to the subsequent runner who then repeats this route.
The Event Tee Shirt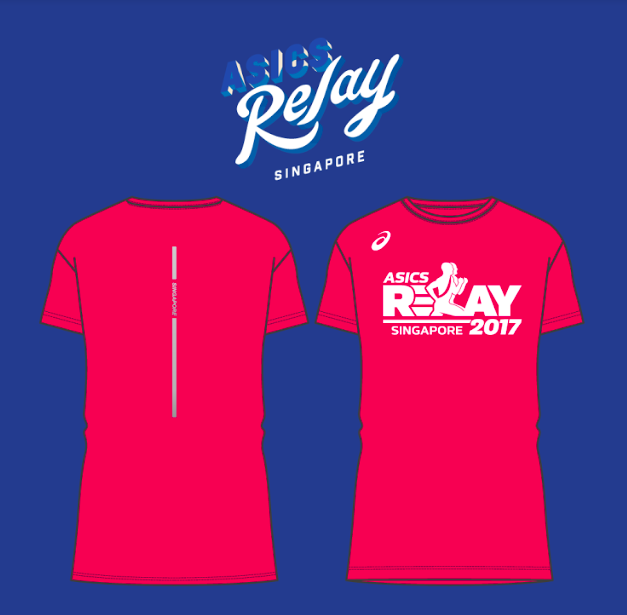 Dress your team in the Event Tee and wear it with pride – because this symbolises accomplishing something together with your family or friends, as a team. Did we mention your team photos will look cooler dressed as a team?
The Finisher Medal
This medal will be a special one as it commemorates your teamwork together with your buddies or family. You look at it, and remember your achievement together!
Prizes Prizes
Spurring teams on will be prizes worth SGD 440 to SGD 1,730. Additionally, the overall fastest teams in the Male, Female and Mixed category at the end of the 4 city ASICS Relay Circuit will win travel vouchers worth SGD 3000. It's time to challenge yourselves and challenge the rest! Be the fastest team across 4 cities!
Great News for JustRunLah! Readers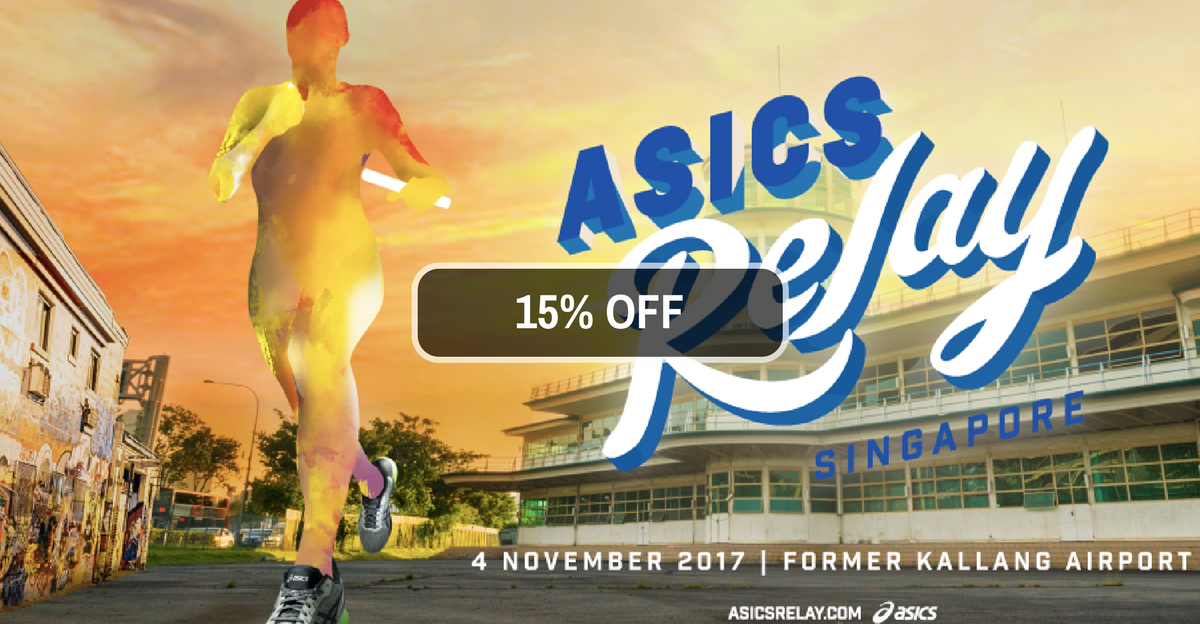 We have secured an exclusive 15% discount for our readers!  Click here to get Promo code!
Promotions
Stand a chance to win a free slot by spending SGD 140 in a single receipt in ASICS (ASICS Store Suntec City, ASICS Store Plaza Singapura, ASICS Velocity, ASICS Paragon).
Also, the first 50 registered runners will receive a complimentary ASICS shoebag. The first 50 to present their confirmation slip at ASICS Store Suntec City will receive an ASICS shoe bag. The first 100 teams to register will receive an ASICS sling bag during race pack collection. Hurry hurry and take advantage of these promotions!