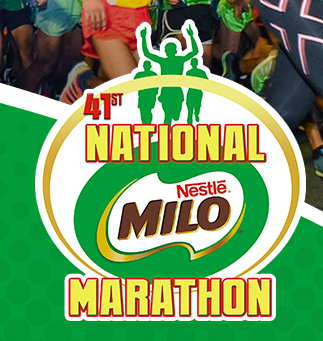 NAGA CITY – Decorated runner Luisa Raterta added another achievement to her resume by winning the 41st National MILO Marathon Naga qualifying race held last Sunday (August 27) at SM Naga.  Meanwhile, Jeric Payong showed the way in the Men's Division in the process towing a few family members along the way.
Raterta made a smashing return to the city by blazing the 21-kilometer course in 1:33:44.  She last won the 2014 Naga qualifiers before ruling the full marathon in the Metro Manila qualifiers the last two years.
A far Second Place was another multi-titled runner in Macrose Dichoso in 1:40:49, the Naga champion from 2015 and last year's Lucena Leg champion.  In Third Place was Angelica Senining in 1:47:39.
Local bet Payong nosed out Gilbert Laido of the Philippine Army by a mere second, clocking 1:14:36.  In Third Place was Dodito Pacoldo at 1:15:58.
Payong was joined in the Top Ten by relatives Ernie Payong and Jeron Payong who finished in Seventh and Ninth Place respectively.  Gemma Payong, Ernie's wife, took Fourth Place in the Women's Division to complete the family affair.
Topping the side events were Junnel Gobotia (33:50) and Cindy Lopez (46:58) in the 10 kilometers, John Dave de Vera (17:46) and Princess Mae Lopez (22:28) in five kilometers and Jerico Tacutaco (11:50) and Joana Marie Gagarin (14:25) in the three-kilometer kids race.
Next weekend, the MILO Marathon will hold its penultimate regional qualifier in Luzon with Lucena City as host on September 3.  It will be followed by the final race in Luzon on September 10 in Lipa City.
The National Finals will be hosted by Cebu City on December 3.  Overseas-based runners who wish to participate must submit a certification of time from any AIMS-accredited race completed no earlier than December 3, 2016 or one year before the Nationals.