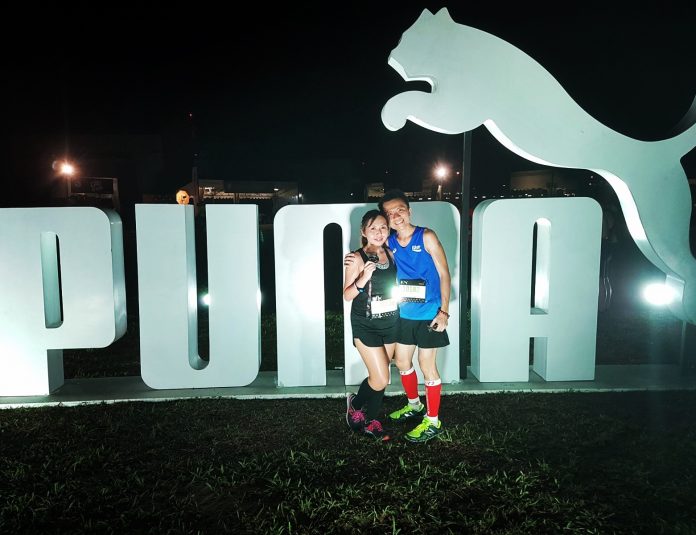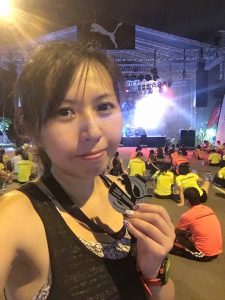 This is my first Puma Night Run 😍 There is 6km and 12km distance for individual, group of 2 or group of 4. I participated in the 12km individual category. It's a little bit siao the race village opens at 3pm and flags off is at 7pm 🤣 3pm is a timing that I can link with some scary words such as "hot", "chow tar" and "Sun" 😭 Ok lah, as long as the organisers got activities to entertain participants who don't mind to get roasted by Sun can reach there early and go to the booths for the activities to get the LED wrist band and LED shoe lace 😍 I very gian the wrist band and shoe lace actually but thought that it will be given out finished by the time I reach. Sibeh tired already for my busy day and just reach in time to the race site for flag off.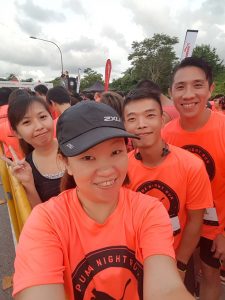 Though running at Seletar Aerospace Park is not something new to run at for me because in the past I frequently run pass there while running to Yio Chu Kang Road or Jalan Kayu. Decided to sign up as the run is near home. Not exactly really near home lah but runable distance of about 4.5km away is considered near for me and there's straight bus number 117 with just a few bus stops from home to reach the race site! 😁 If I hard core enough I would have run there think I long time no hard core already. It's a busy morning with many runs going on such as Metta Charity Run, Runners League, the Green Race. And I got the Urban Race, a charity event. The whole morning our team of 5 we were running around, going to the pit stops located islandwide and taking part in the missions is tiring enough already 🤣
When I thought I sibeh lucky got straight bus from home turns out machiam a mini nightmare, due to road block for the Puma Run the bus detour, after we alight the bus stop we need to walk more than 1km to the race site! 🤣 But 1km only actually is nothing right? The problem is prior to the run, I woke up at 5am for the charity race, event end at 1pm. Willis also had Runners League, running the 10km category. We then meet to collect POSB run race pack and Yellow Ribbon run race pack which the runs is happening next month. The race packs were awesome! Bought a shoe wing and yellow ribbon pin at the yellow ribbon REPC to show some support 😊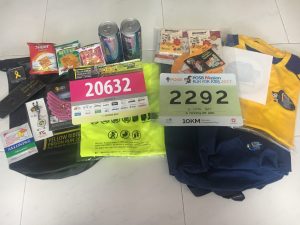 My Garmin already shows 21000 steps for the day when I reached home at 5pm 😵 Went to shower and lay flat on bed to sleep even for that 10 minutes I also shiok 😆 Sibeh shag 😂
We're already pretty late, when we alight the bus it's almost 6.30pm. Walked at quickened pace to the race site and headed straight to the start pen which I think is super messy because people were just crowding there plus nobody is checking whether you have a bib or not for the run. Got babes stand on top of the platforms at the flag off and throw light sticks to the runners while waiting for the flag off. Saw many runners already wearing the super chio Puma LED wrist band and I thought it should be given out by the time I finished the run 😭
Anyway since the location of the run is already there, with atas registration fee, I thought that Organizers can go the extra mile get collaborations with Seletar Airport and give us an atas experience to run on the runway? 😍 Even just a tiny part of it like 100m will also be shiok right? Maybe too much to ask for since Gold Coast Airport Marathon and SIA charity run also no such good lobang to run on the runway 😂
Flag off is on time and amazingly I still got the strength to run after a tiring day. The route of 12km is shorter, I finished the 11.6km in 1hr11mins as per my Garmin. Willis too, after a 10km run already in the morning I can see he can still chiong but he runs with me 😊 He said the Runners League is very poorly Organised and they cancelled on the shuttle bus last minute and many runners have to walk all the way from GBTB east back to Satdium MRT.
Willis is always a little bit ahead of me during the run, keeping a look out of the road and tell me when the road is unbalanced and when there's a possible risk that may trip and fall. Tips of advise to single guys who run, that's how you "run out a Girlfriend" 🤣 Yup, Willis and I first met during Safari Zoo Run when he started running beside me and that's how it all started 😊 Back to the run, many parts of the pavement we ran on have really these "traps" of uneven ground and protruding strips that people might just trip and fall if they didn't see it. Plus it's very dark and crowded at certain parts of the route. Around 10km on the way back, I saw the volunteer attending to a runner sitting down by the road side with blood on her legs 😭
The hydration points is quite far apart and there's only the not cold plain water along the route. Just the part of the route at the last uturn point at 9km is messy, as I think the route is diverted wrongly, runners running back were in the most innerlane but there's a route the the most outer right lane barricade by the road has nobody running on it to matter to or fro. Runners heading back in the end have to cut across the runners running in opposite direction to run on the road that is barricade up for runners to run. The road is not nicely diverge for the runners.
Collected the nice medal, banana and huge bottle of mineral water at the finish point and we went to the Red Bull tentage to get a can of Red Bull with the can already opened nicely for us 😊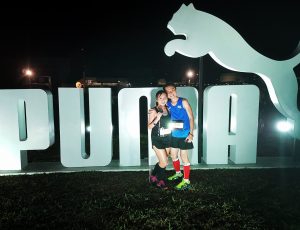 There was not much runners back yet. Went to take a few photos and suddenly remember the Puma LED wrist band! When we head to the tentage, are still giving out the wrist band. Lucky us! I guess there were only about less than 50 wrist bands spread on the table and if we were a little more late, no wrist band for us. Phew! Get to choose the colour from blue, green, red and white. Then we thought might as well try to see if we can get the LED shoe lace. There is total of 4 booths to visit but we only visited 3 and participated in their activities such as posting picture of their products on Instagram which I think many people will delete straight away after that 😂 Though we only visited 3 booths, they still give us the LED shoe lace though the volunteer tell us we should have gone all 4.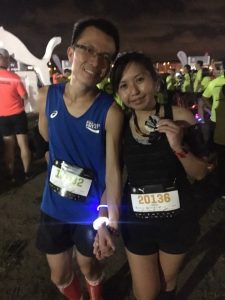 Heard that there's many celebrities to the run but I'm not sure what type of celebrities are there. I don't know any new Korean Oppa group nor know any new MediaCorp new celebrities, my era I only know of Li Nan Xing, Patricia Mok etc 😆 Luckily we got no baggage deposit because there queue to collect is very very long 😨 There was a concert going on and all the songs sang are super nice. Registration fee is expensive but worth it because the Organizers and sponsors really throw in money to do such a awesome concert and provide the LED wrist band and shoelace. Race site very ulu, I have to walk so far from the bus stop also worth it 🤣