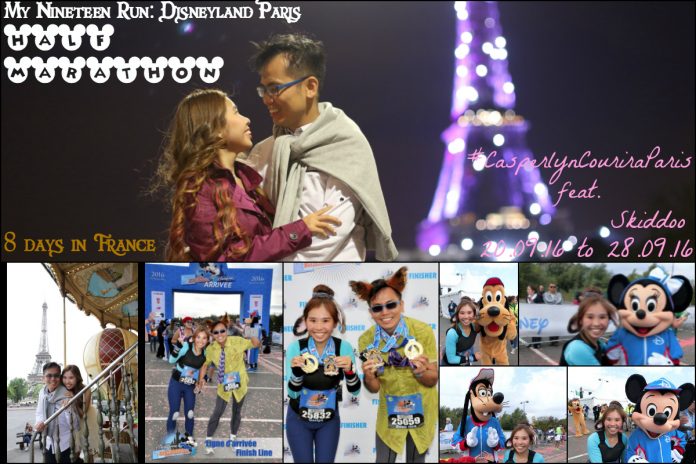 Hello JustRunLah Readers,
I am back with my second episode and final lap of my runDisney journey in 2016.
As I have mentioned in my TinkerBell post on my personal blog, I will be doing a Half Marathon in Paris in order to get the Castle to Chateau Medal. So this is my journey to obtain this special medal.
Somewhere in late 2015, Casper (Boon Hee), my husband actually won a pair of return tickets to Paris through a lucky draw. You read it correctly, we won ticket to America and we won tickets to Paris in 2015. 2015 is our lucky year indeed, 2016 is a blessed year for us too.
So we registered ourselves for the First ever Disneyland Paris Half Marathon in 2016. For the registration part and cost of race, I will not mention as this is a race review blogpost and that is about pre-race so if you are interested in the drama like it being sold out in 12hrs, please visit my blog.
Without further ado, I will proceed to the Day 3 of my trip which is 22nd September 2016, my 24th Birthday!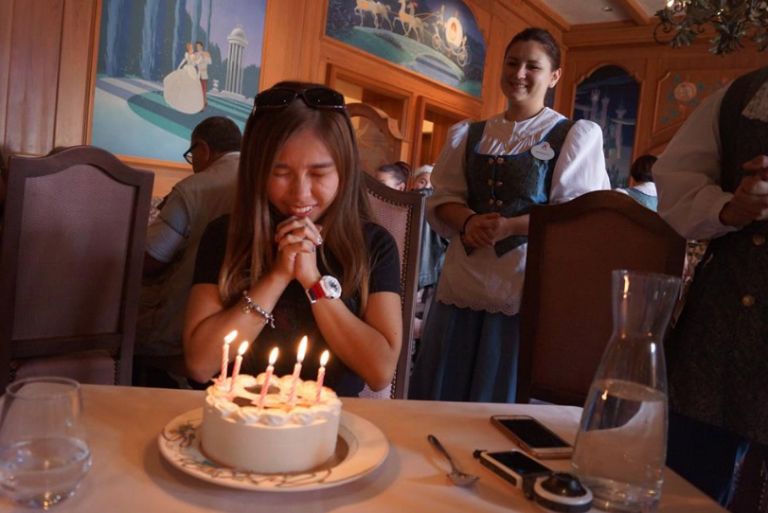 EXPO (22nd-Sep-2016)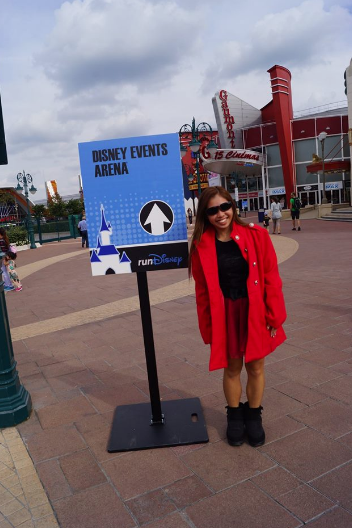 So after my Birthday Lunch Celebration in Disneyland Paris, we proceed to the Expo @ Disney Event Arena at roughly 2.30pm or so. The expo starts at 3pm and I believe I am very early!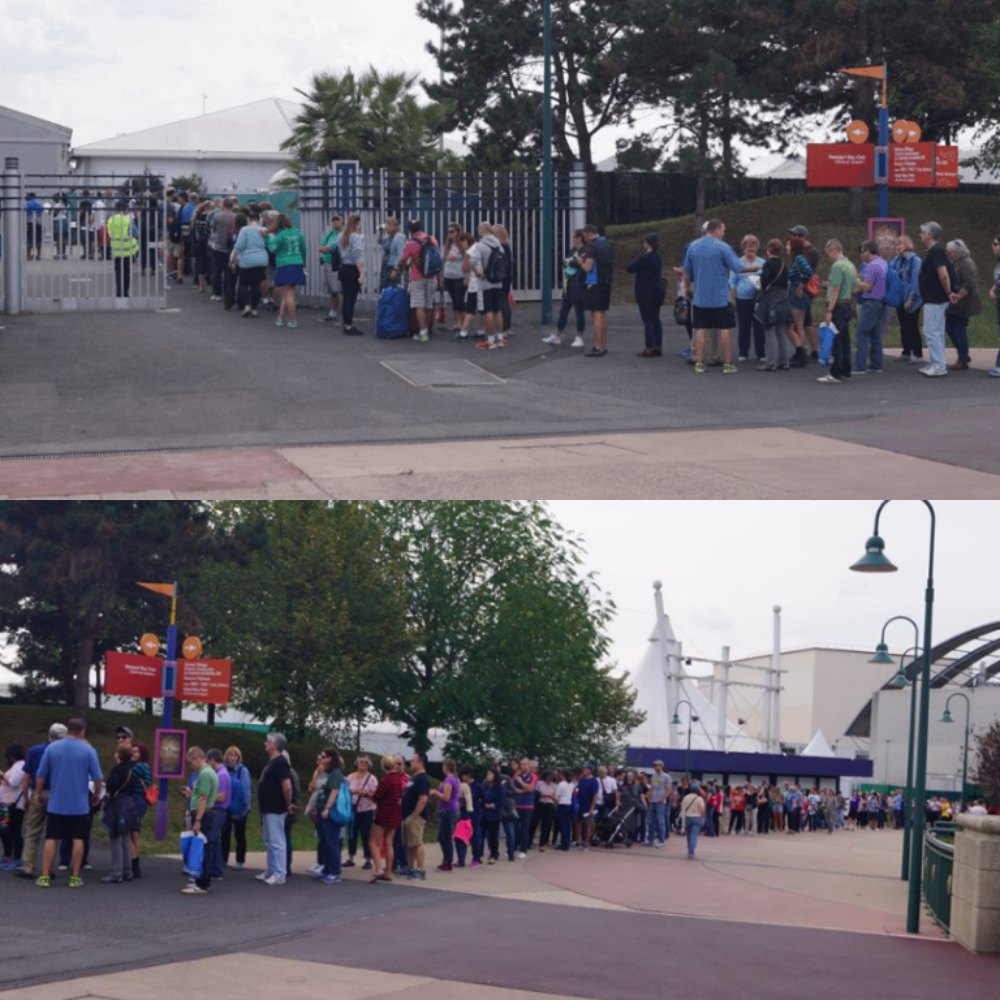 But this is what happened! The queue was crazy, it's never ending and there is a queue inside the Arena too. These photos are taken outside the Arena. At this point of time, it's 30mins till the Expo starts.
So I made a decision to go back to the parks and come back later. Because I have already bought my park tickets and it makes no sense to queue here for hours and let my Park Tickets go to waste.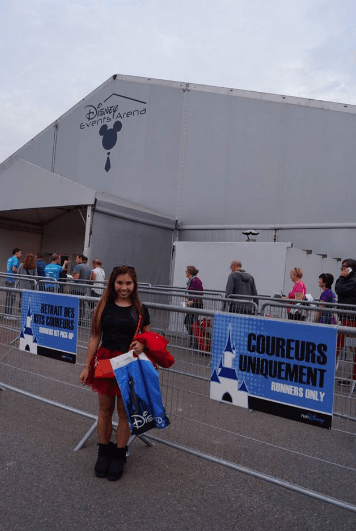 I am back at 6.30pm, the Expo closes at 8pm tonight and hence I have 1.5hrs to settle everything including shopping and I need to go back to Disneyland Paris by 8pm to have my tax refund done. In America, there is no Tax Refund for California hence we do not need to do this step but in Paris, we are entitled to Tax Refund and based on my spending, we can get quite abit amount back! Which means? More shopping!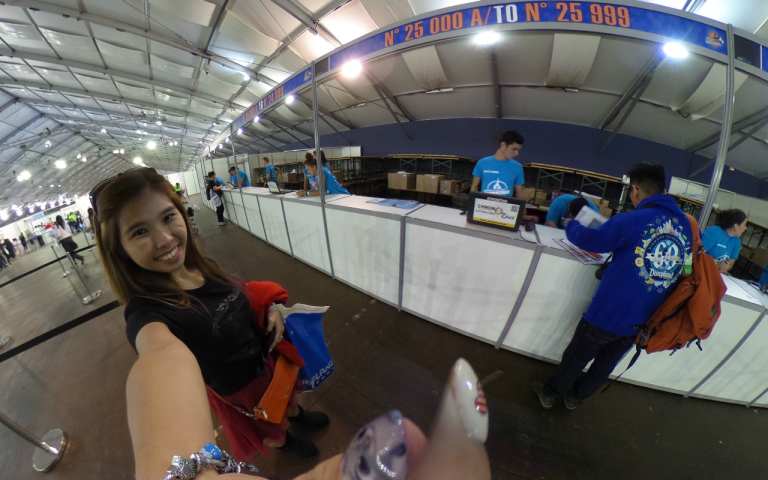 Basically there is no queue at all! Collecting the bibs are a breeze. Same as what we had experience in America.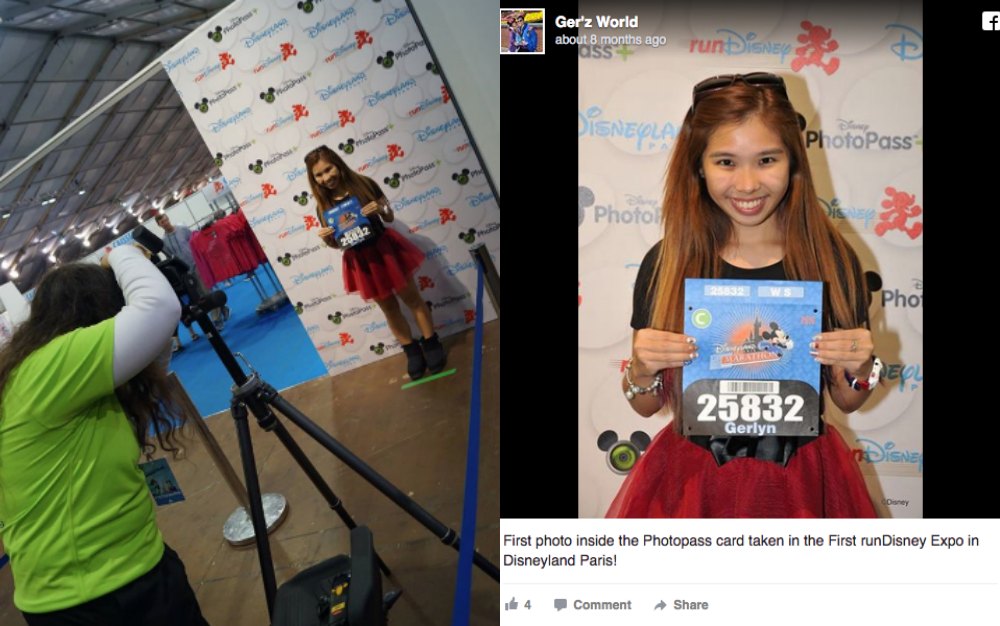 Proceed over to the Photopass booth to have my Mandatory Photo taken. My Bib and I.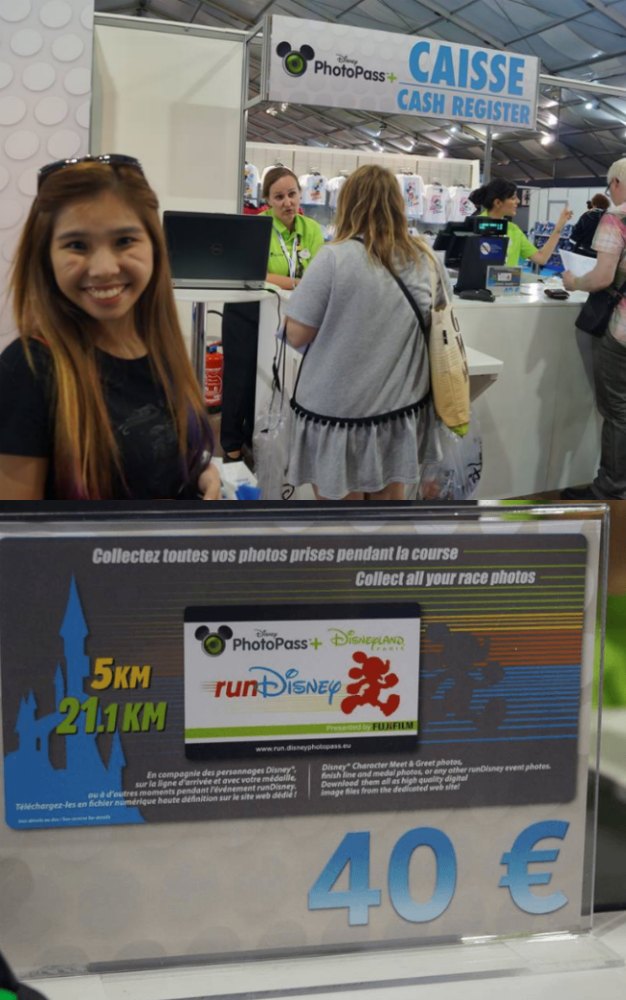 Then I hopped over to the Cashier to make payment for the Photopass Card. Which cost €40. It consist of the Park photos and the Race Photos for the next few days including today. So if you are staying in Disneyland Paris for the next couple of days, it's worth it.
Photos received is much lesser compared to America as Disneyland Paris does not have Park Photographers hence Park Photos mainly come from the Rides we took and not every Ride has Photo taking.
You can buy the Pass afterwards like after the Run and you can preview the photo first however, it will cost €50 instead. For my case, I would rather pay €40 to get it first.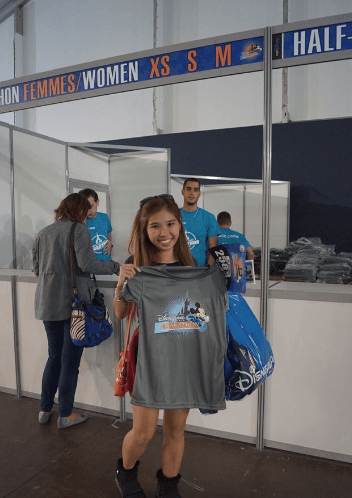 Collecting the Event Running T-shirt, same as America, they did not issue the running tee together with the bib. But luckily there is no queue to collect the T-shirt so it doesn't bother me that much.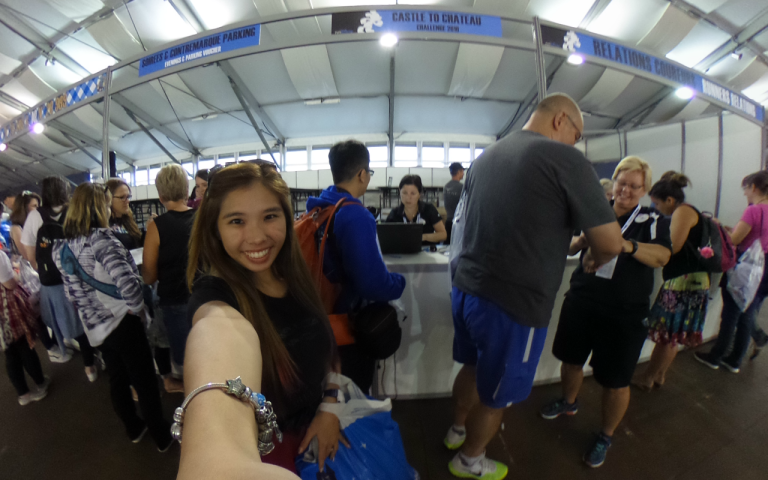 Afterwhich, we headed over to get our Castle to Chateau status verified. The verification was a breeze, they will do a search on your First or Last Name on your Passport or ID then they will issue a wristband for you to wear. With the wristband, you can collect the additional medal after the run.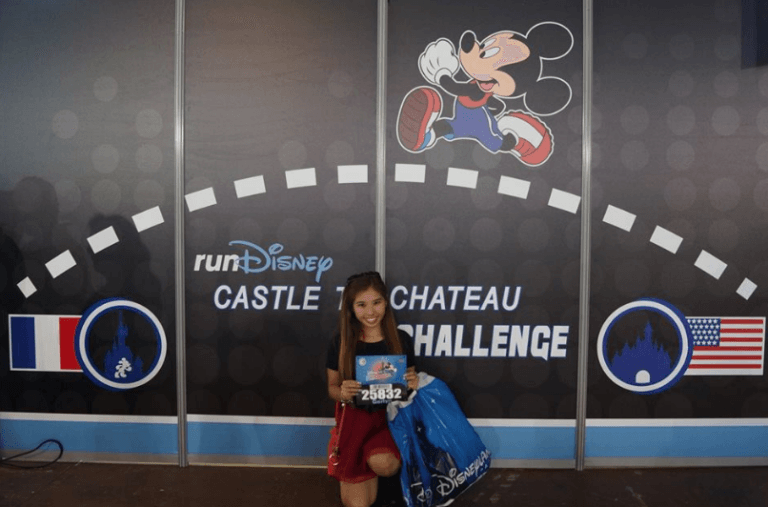 *What is Castle to Chateau?*
If you do a America race and a Paris race in the same Calendar year, you get an additional Medal call the Castle to Chateau. Chateau means Castle in French.
I did Tinkerbell in May 2016 and I am doing Paris now in Sep 2016 hence I am entitled to this. Tell me I am a lucky girl who have won tickets to this 2 places in the same Calendar year!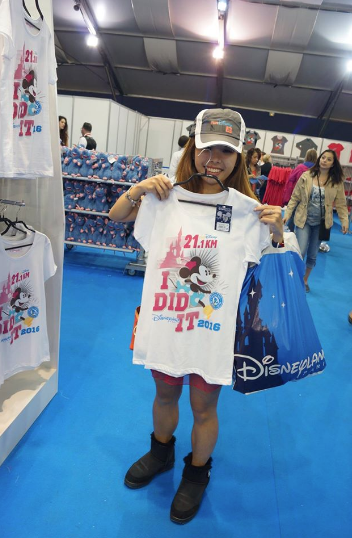 Next is my favourite segment, Merchandise shopping!
For runDisney France, the merchandise available is not a lot in quantity which means by the time I arrived, many stuff were sold out already. There is also not as much variety as compared to America, no headbands, no jackets hence Casper saved a lot because of this reason.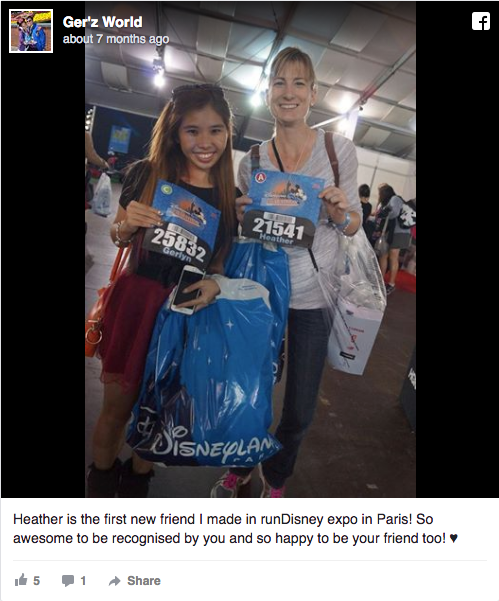 Went we are about to leave the Expo and head back to the Parks for Tax Refund, I was called out by Heather. She recognised me from afar and asked if I am Gerlyn. She is the only person I met at the expo this time. I guess I was more popular at Tinkerbell Expo instead.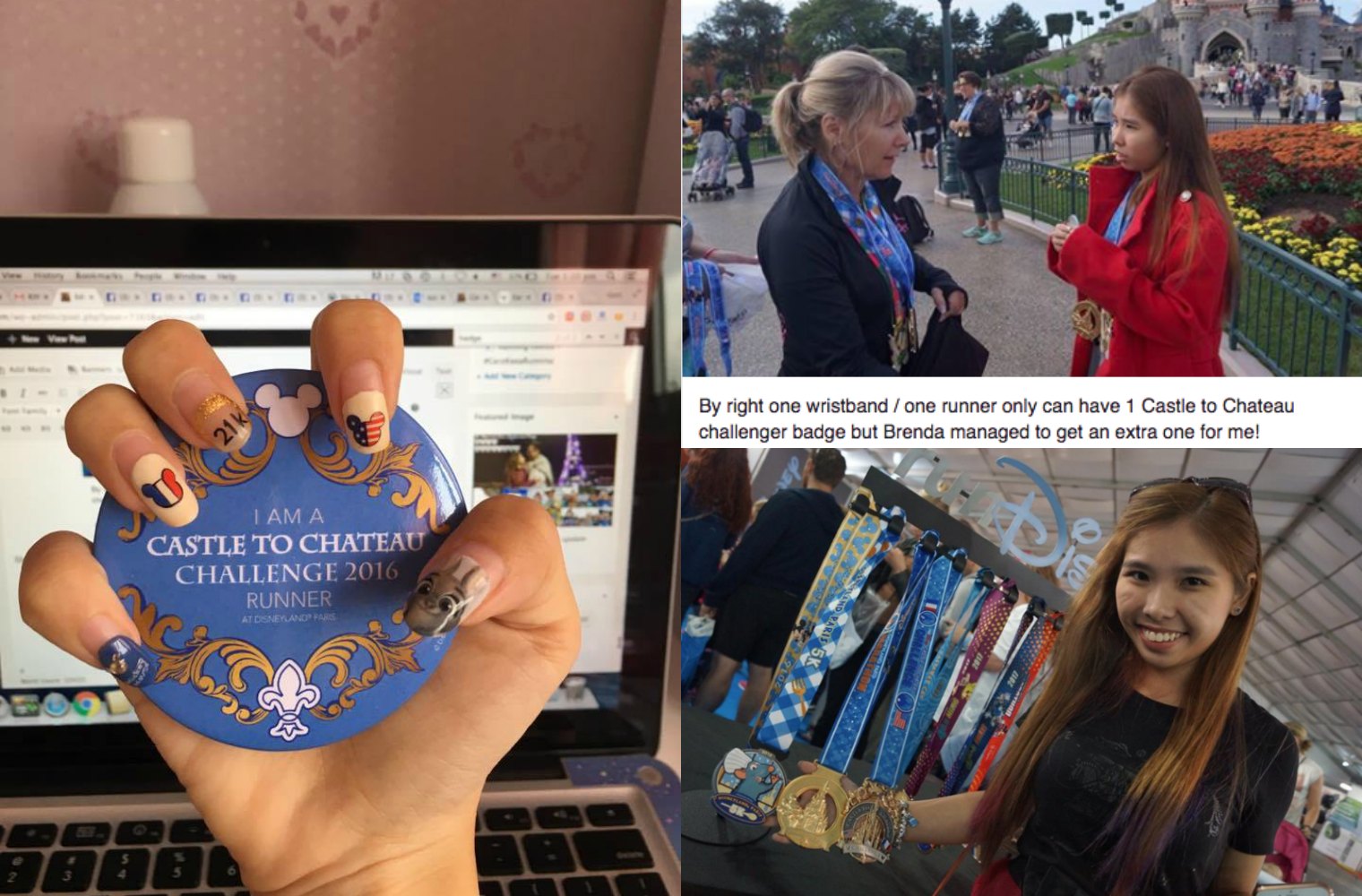 Before I left, I went over to the runDisney booth to take a photo with the medals I will be collecting in a few days time. But I made a terrible mistake by not walking inside the booth and see what's the fuss about.
It should be a Singaporean attitude that whenever we see people queuing, we will join the queue right? But I did not on that day and they were giving out Souvenir Badges for Castle to Chateau runners only. By showing them your wristband, you will be able to get the badge.
I missed it….
The next couple of days I will be away and only back on the day of the race and by then, this booth would have been closed.
But luckily, my Best Friend Brenda is going tomorrow and so she got one for me and herself. Casper did not get it but it doesn't really matter to him because he is glad Brenda got one for me. Because I was really upset that I missed out on this and I am thankful that Brenda is here to save the day!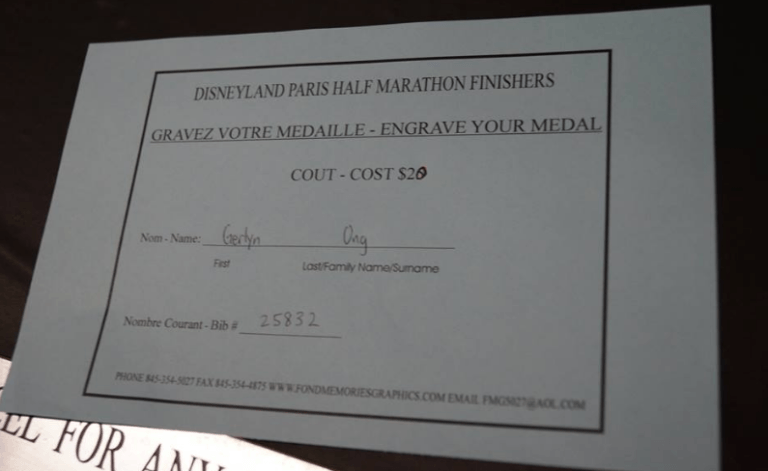 Before we left, we prepaid for Medal Engraving Services! As you guys know, the cool thing about runDisney is that they can get your Medals engraved!
But this time round is €20 instead of $20 USD. Sadly it's by the same vendor but well, "dollar to dollar" I guess, they have to cover their airfares too.
Brenda decided to bring her medals back to America and get them engrave it there for $20 USD. But I am not from America and I presume the postage will cost way more than the price difference hence, we will just get it done here.
But this time round, only my medals will be engraved and Casper will not be engraving his to save some monies.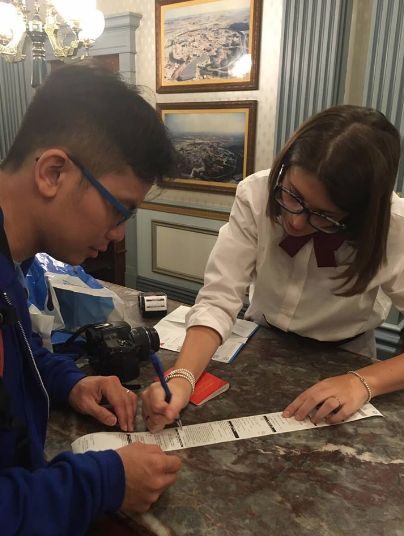 Lastly, we proceed back to the Park's City Hall to get our Tax Refund done. Glad that it's a fuss-free procedure with the help of nice and friendly Cast Members.
RACE DAY (25th-Sep-2016)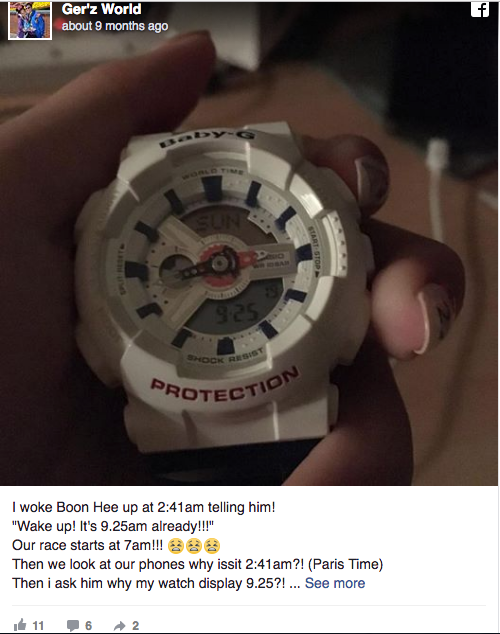 This is what happened at 2.41am midnight. I woke up and looked at my watch and saw the time being 9.25am. So I hurried and wake Casper up thinking the Race have already started at 7am and we are still in Lala Land.
Then we check out of the window, it's dark and then we knew that it's not 9.25am which my watch was telling me but it's showing 9.25 (the date) September 25th. 9/25 to be exact!
Oh my gosh! This is the problem with jet-lag. You don't sleep well and you hallucinate all things possible that can go wrong.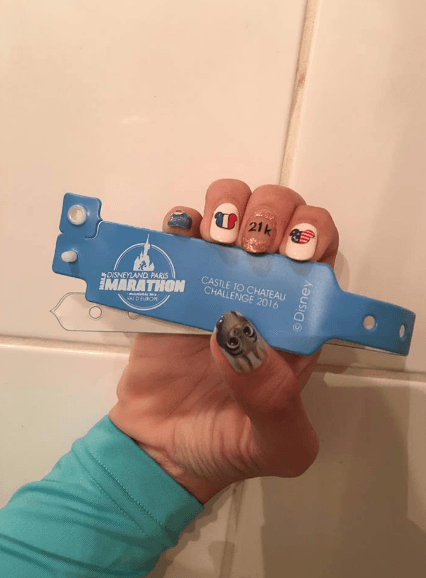 Wore my wristband at 5.37am and we shall head over to Disneyland Paris now!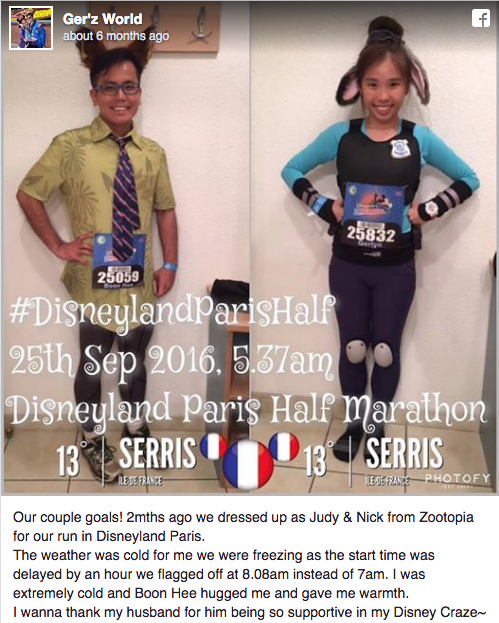 Our OOTD (outfit of the day) we were Peter Pan and Tinkerbell in America and we are Nick & Judy in Paris! The temperature was 13 degree Celsius and as compare to Tinkerbell, it should be warmer but we flagged off late hence we almost became a popsicle!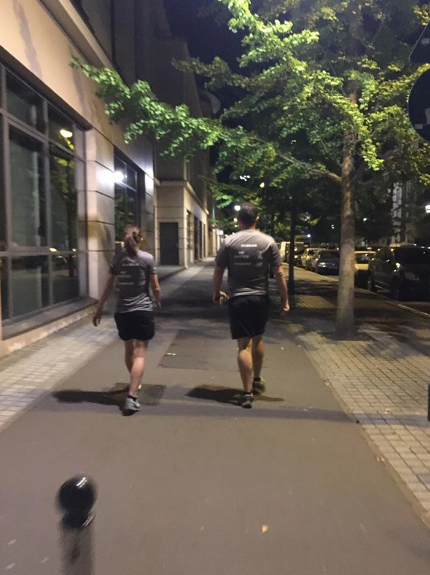 We were thankful that we met a friendly couple who showed us the way to the metro. We stay in the same hotel and we stepped out at the same time so I asked if we can follow them to the metro and they agreed.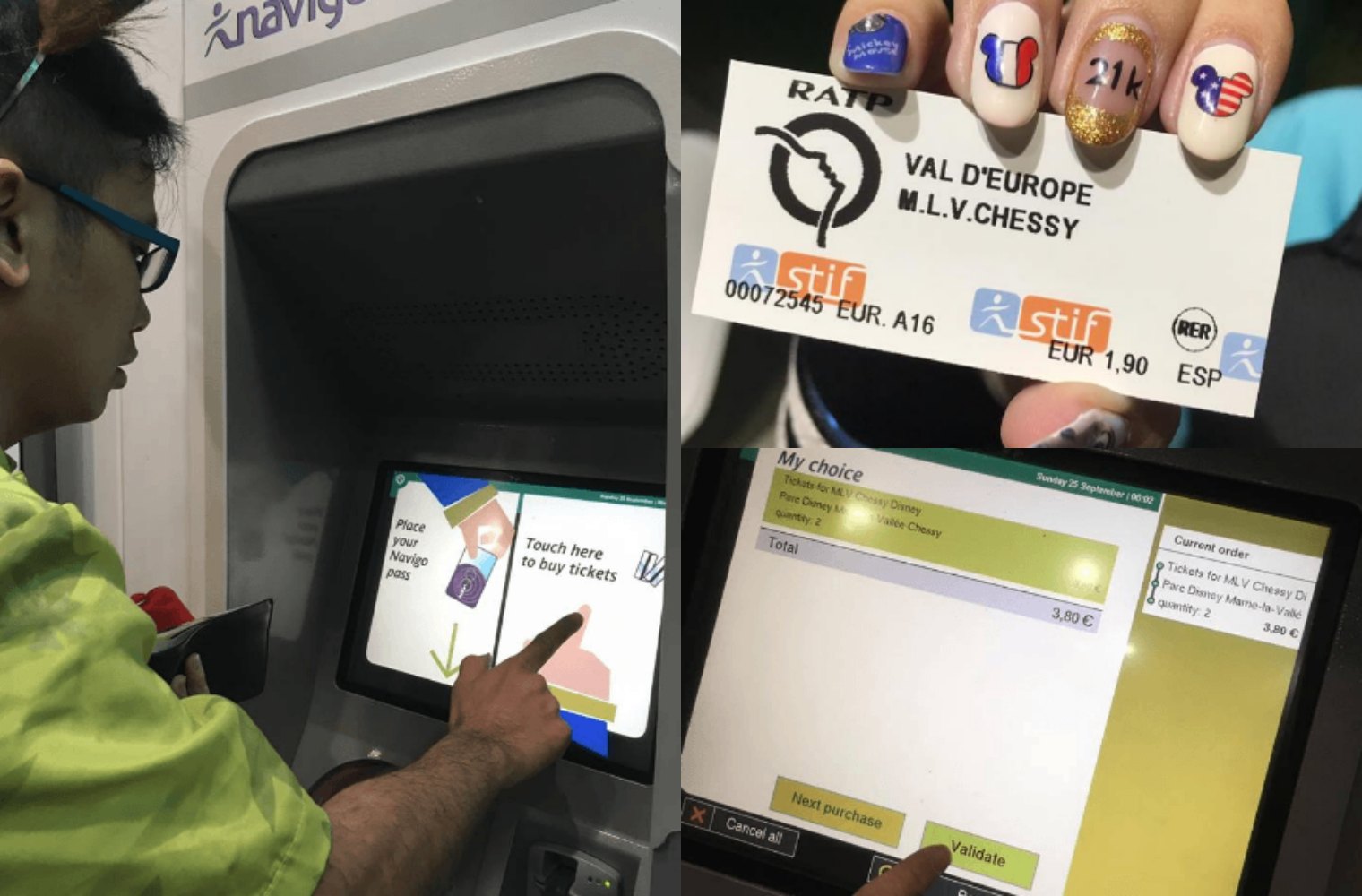 We bought the Metro tickets for €1.90 per pax and it's only 1 station away. Pretty steep for the cost of transport in Paris but even you travel 10 stations away, it will still be €1.90. But obviously I would not wanna travel 10 stations away to make my money worthwhile and miss my stop instead!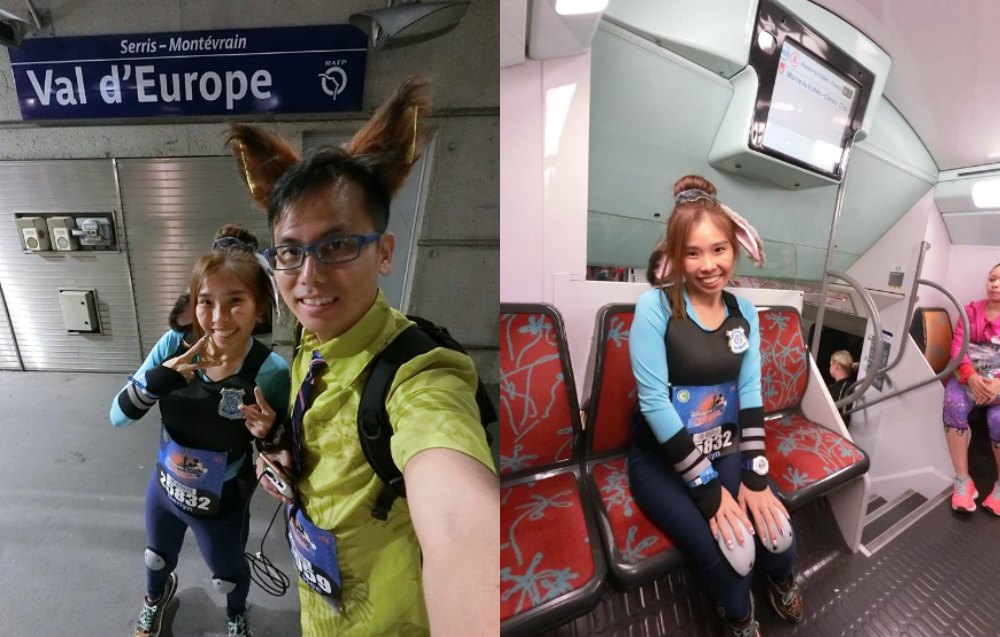 The train are filled with fellow runners and many of them were from America because I can tell from their accent and their Castle to Chateau wristband!
Because it was so cold and I forget to bring tissue, there is a friendly lady who gave me some tissue to rub my nose. Kindness around the world.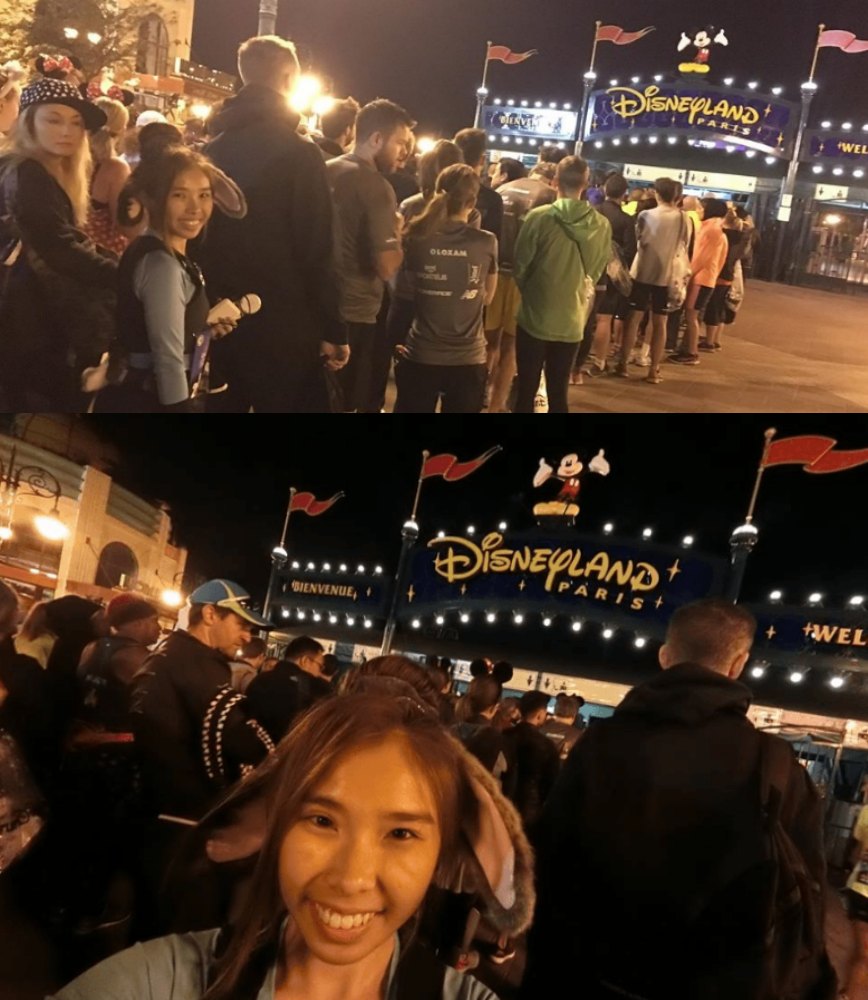 Once we arrived, we need to go through Security Clearance checkpoint 1. This is to check if anyone brought selfie-sticks or any other prohibited items.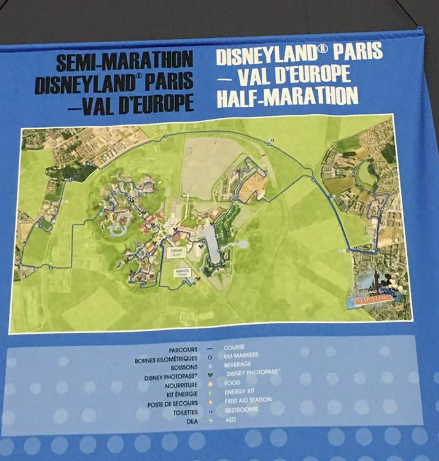 The map of the race course today!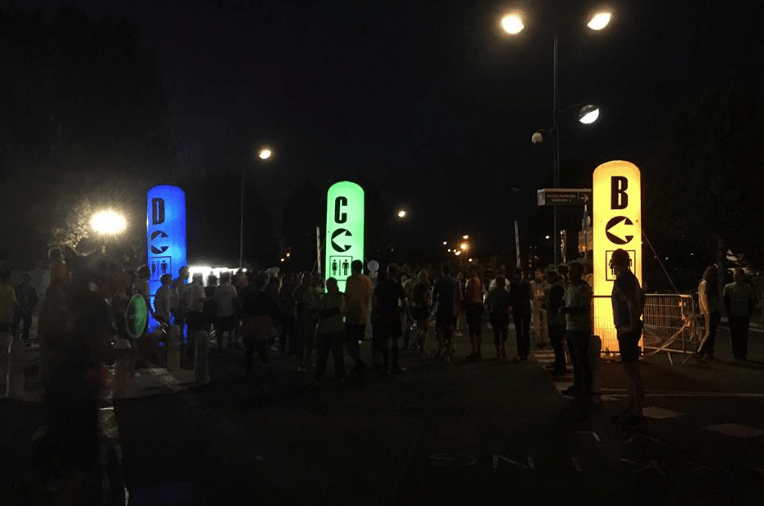 Our Corral is C and within Corral C, there is a few wave hence we set off quite late.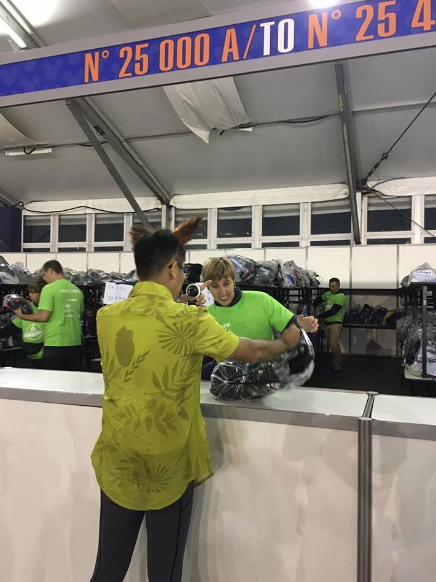 Unfortunately, we were told that backpack or hydration bag is not allowed at the security checkpoint 2. Due to security reason and we need to have them checked in.
This is not a very good news for us, as we were carrying multiple mobile devices like our WiFi, my handphone and my camera. Hence our wallet and other stuff like passport and Casper's mobile phone needs to be checked in otherwise we will run with our hands full.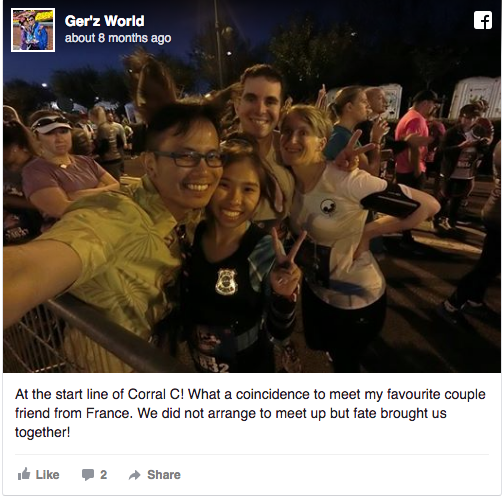 What a coincidence to have met Paul & Amandine. Paul is a great fan of my adventure videos in Paris.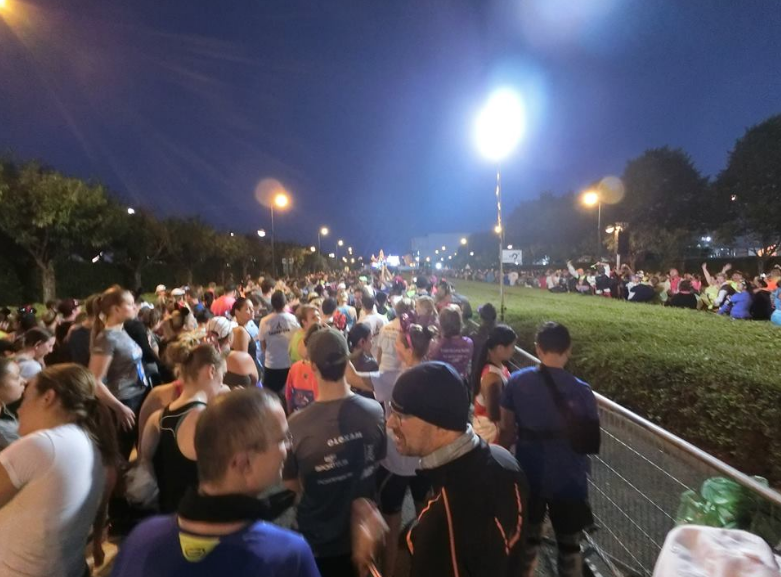 Next up it is all about waiting for the Race to start.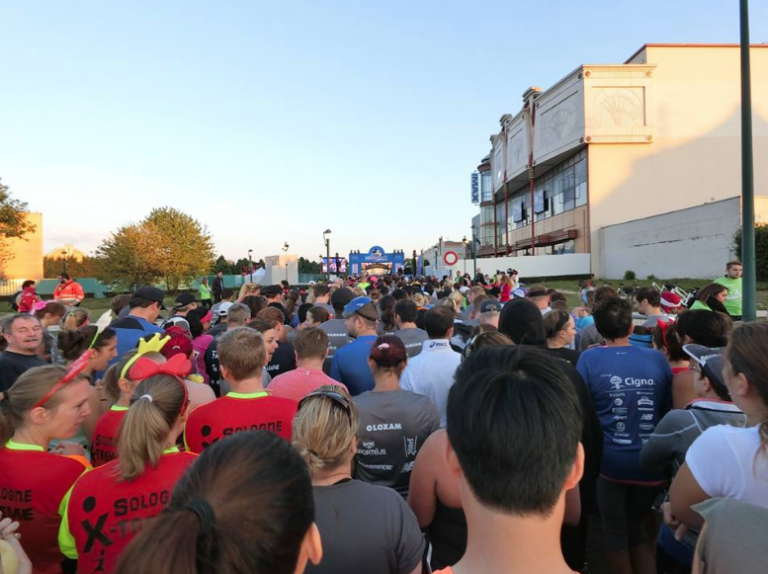 However the race was delayed for no reason and we almost froze into a popsicle!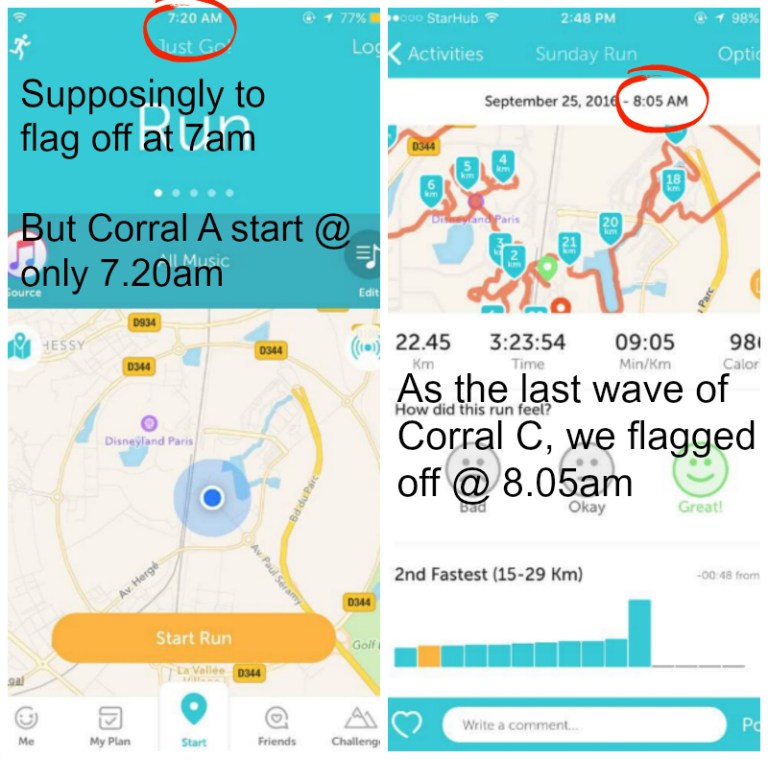 The race was supposed to start at 7am sharp however the first wave of Corral A went off at 7.20am. Eventually as the last wave of Corral C, we flagged off at 8.08am but we are not the worst, because we still have friends in Corral D and they too have waves.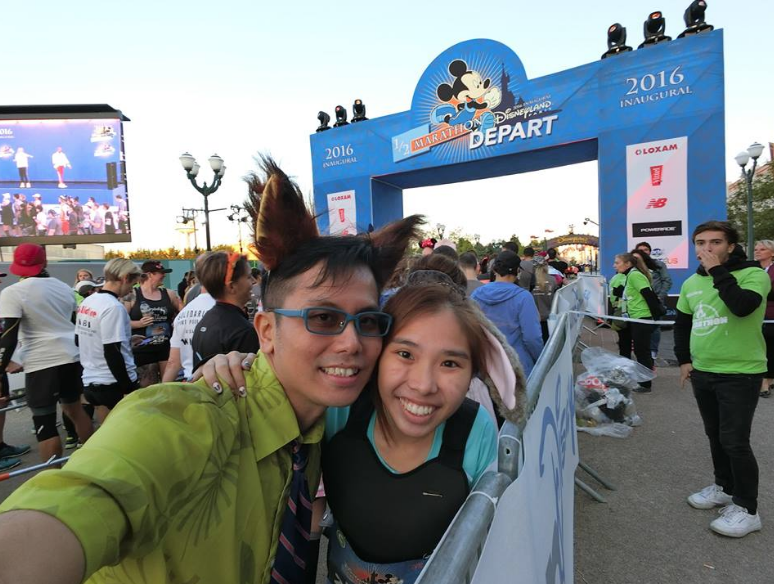 Finally we are near the start line. At this point of time it looks like it's about to rain too. I heard it drizzle for those in Corral D, so lucky us. We flagged off just in time to avoid the rain.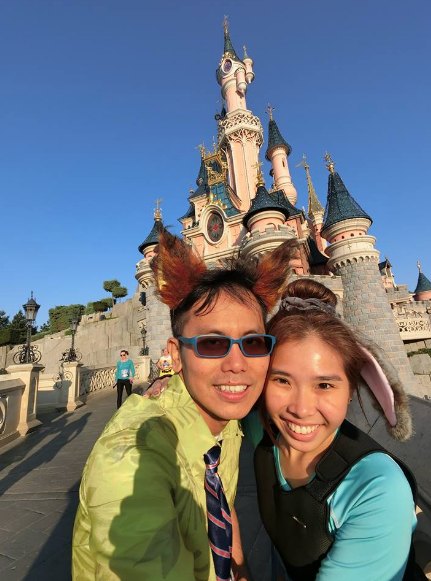 Mandatory Castle Shot. We took a selfie using our Casio FR100.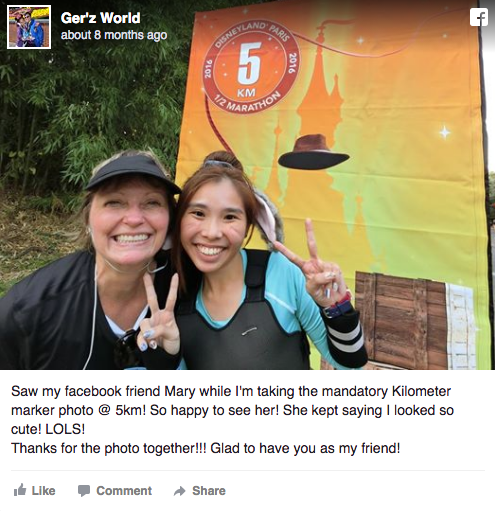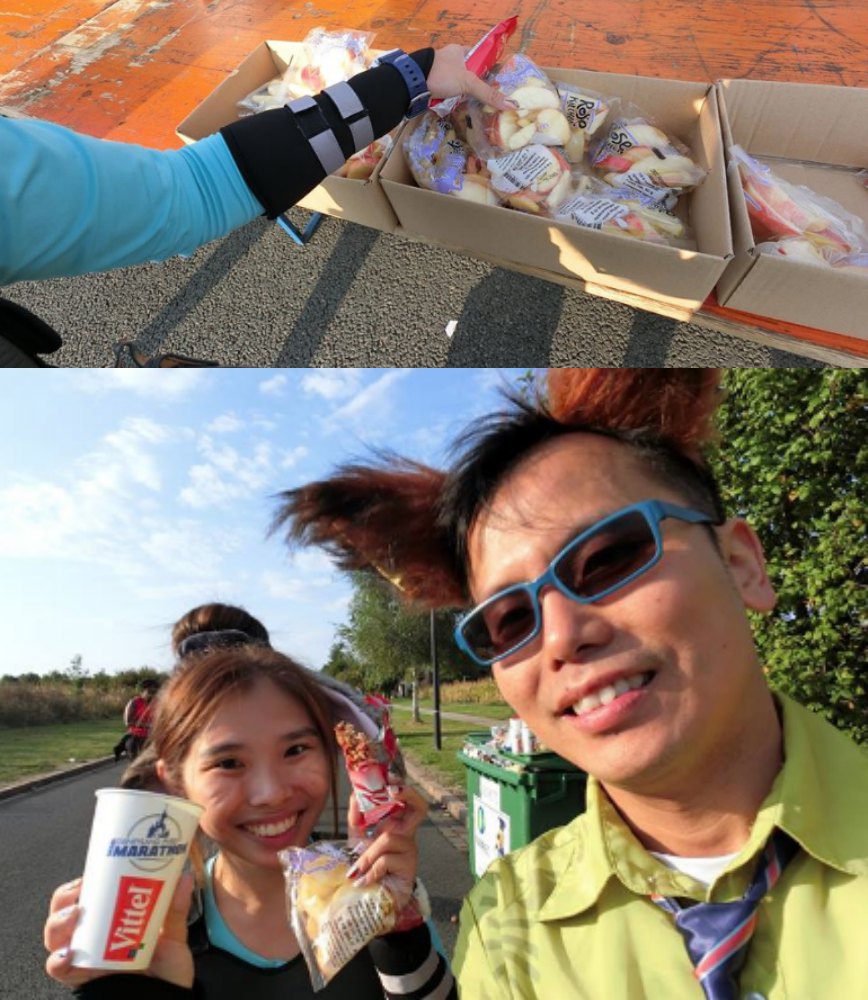 Welfare for the race are not too bad. We are given Apple and Cereal Bar for treats. Water point were sufficient.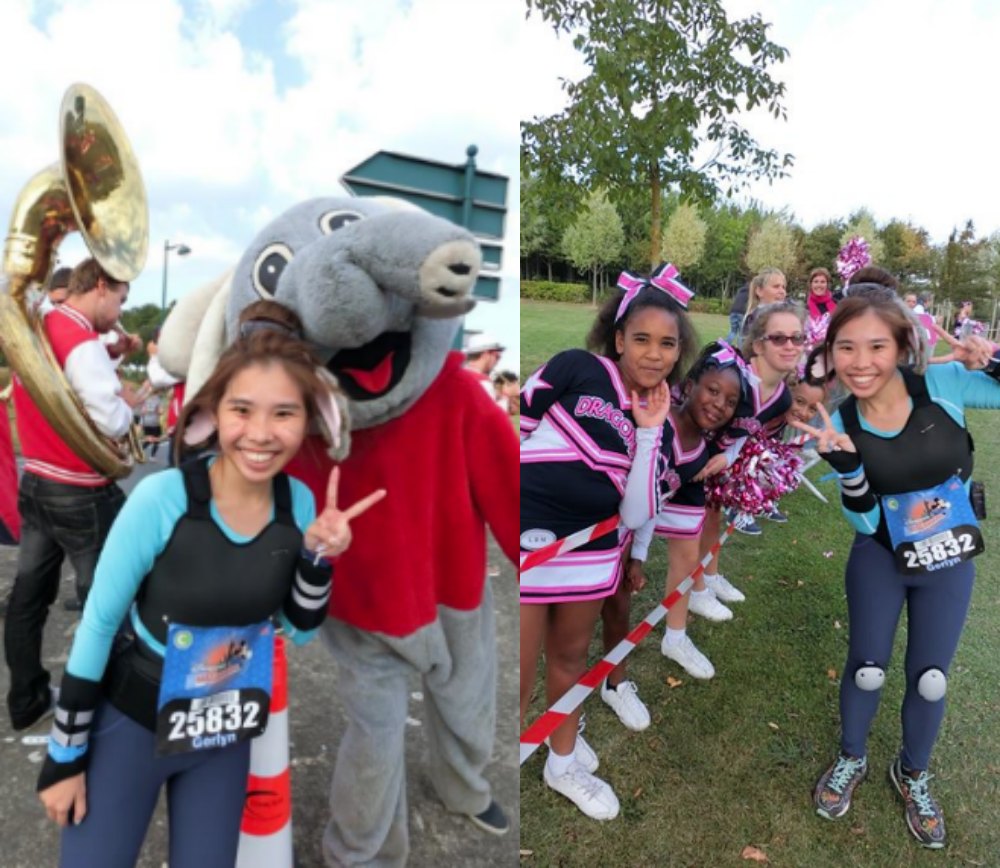 Local school band and cheerleading team came to cheer the runners!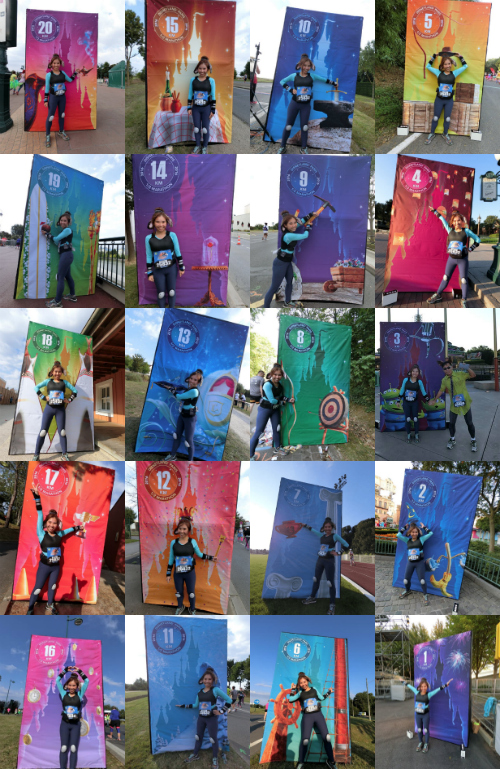 I really loved all the fancy backdrop for the Kilometer Marker done by runDisney France team. It's amazing, cute and special and I had such a fun time posing and taking so many photos.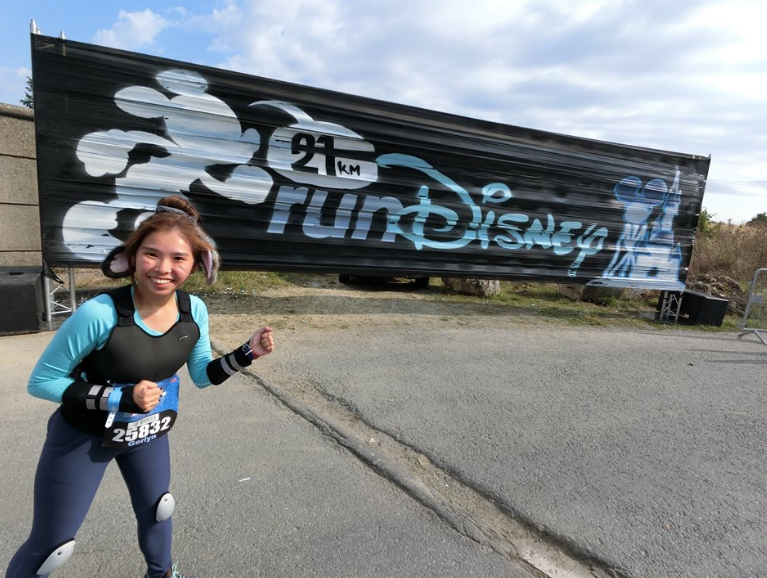 The final 21km marker is a runDisney graffiti banner. As we know Paris are famous for Graffiti on the wall, so they included this element and also they did not forget the Earffel Tower and Castle.
We finished! We crossed the line!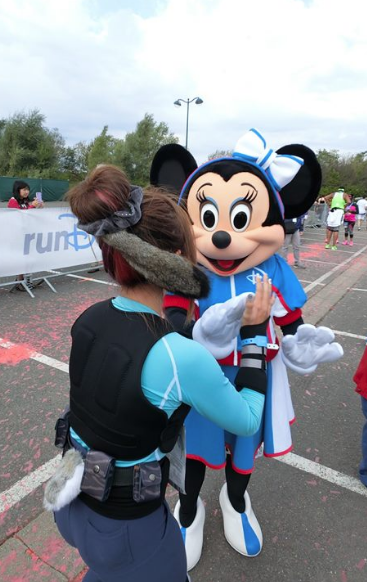 Minnie Mouse greeted me with a High-5!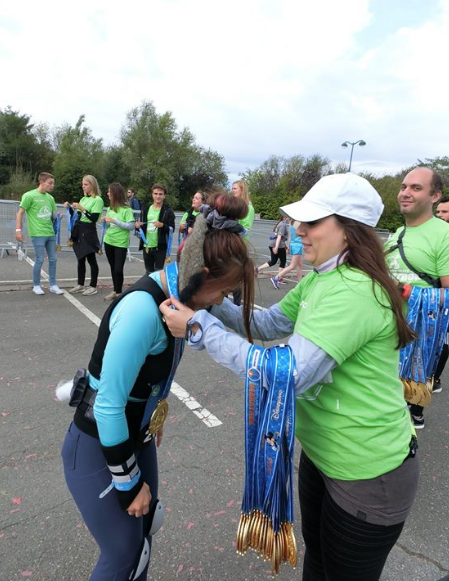 Volunteers were giving out the medals and hanging it for me. The medals are super heavy so the load she is carrying is no joking matter.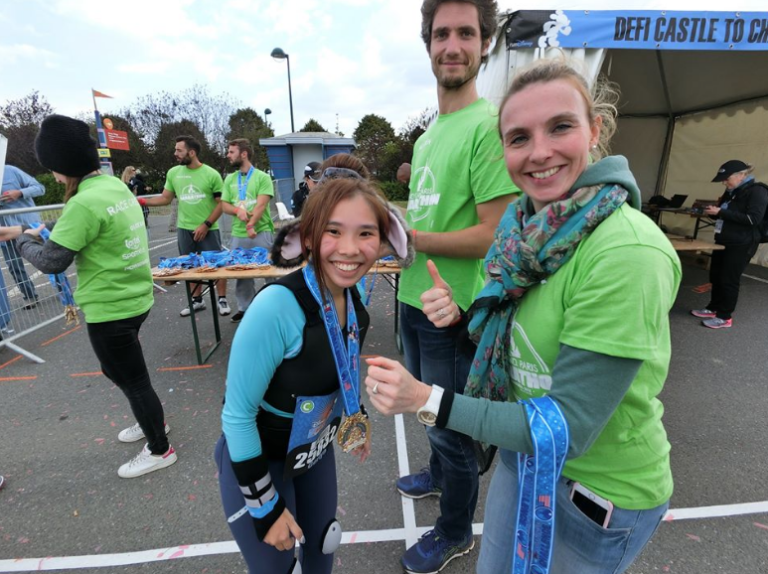 We proceed over to the Castle to Chateau tentage and immediately we are identified and given the blings!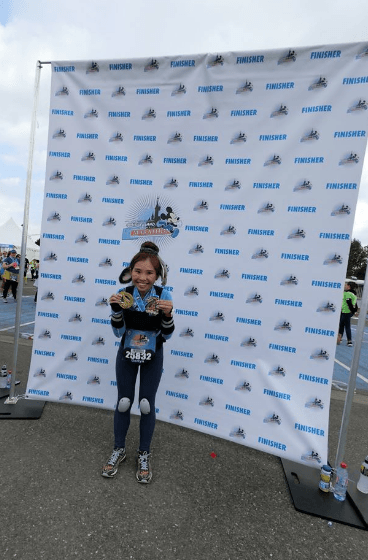 A photo with the Finisher Backdrop! I was hoping for a Castle to Chateau backdrop too but unfortunately no. But this will also do the job!
MEDAL PRIDE! Did you catch the Tinkerbell on the hot air balloon? It's a sign, because of Tinkerbell I got my Castle to Chateau.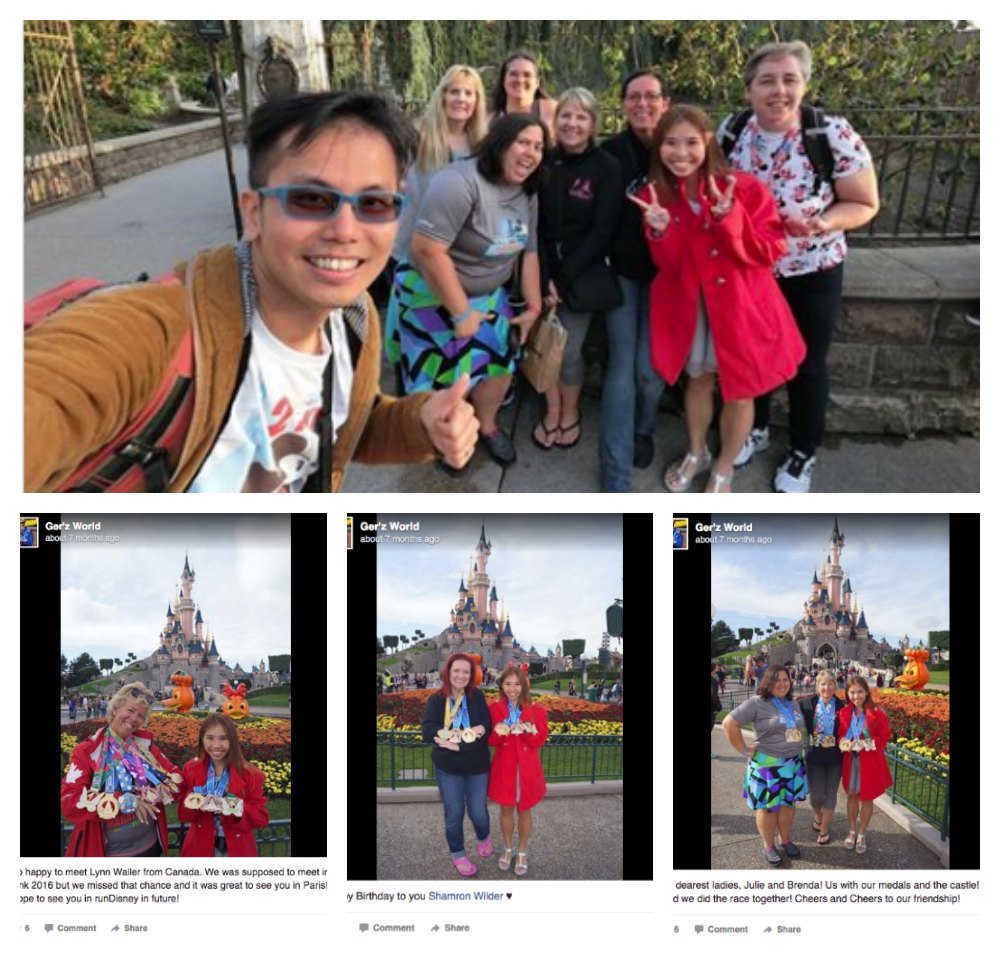 After the race, I proceed to the park to meet all my friends. I am truly blessed to know them. I had a fun and enjoyable time with them at the park and playing rides too.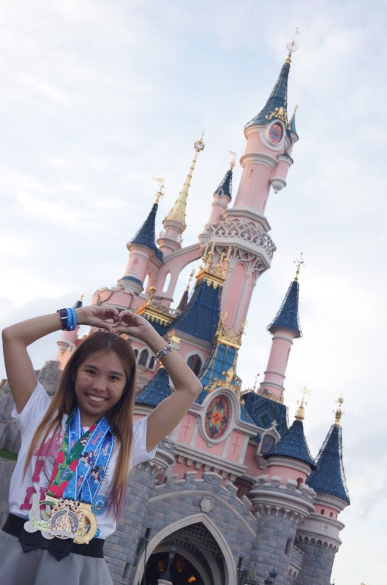 I love Disneyland Paris. It made my dream came true. I did it again. Never knew I could run this far or even travel this far to run. When in the past 2.4km NAPFA test is a chore for me.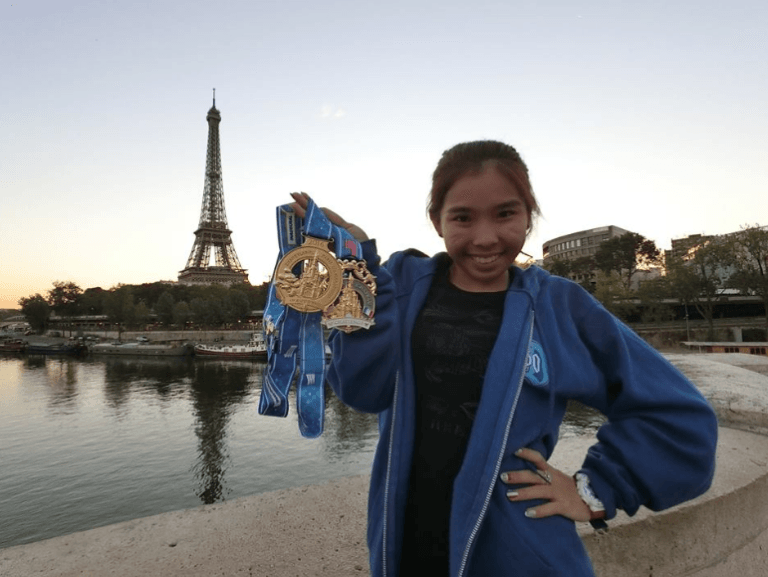 Paris have been kind to me, everyone and everything that happened here will always have a special place in my heart. I am thankful for this trip. Without winning the tickets, it's impossible for us to make our way to Paris. Paris was never on my bucket list, I never dreamt of coming to Paris let alone to do a run. I did not even know Paris have a Disneyland.
If I planned a trip overseas it will be Korea, Japan, Hong Kong, Taiwan. Europe, Paris, France, America have never ever crossed my mind. Not that I don't want to visit them but I can't afford to.
They just seem so out of reach.
But I did 2 YOLO (You Only Live Once) trip in 2016, we win some and we lose some. No regrets for it because we stepped out of our comfort zone, tried driving the opposite way, went to a place which English is not their native language.
I kinda regret not continue my French Class in Ngee Ann Polytechnic. Who knew I will have a chance to go France!!!! But I came back knowing a little more French than I went there.
MERCI!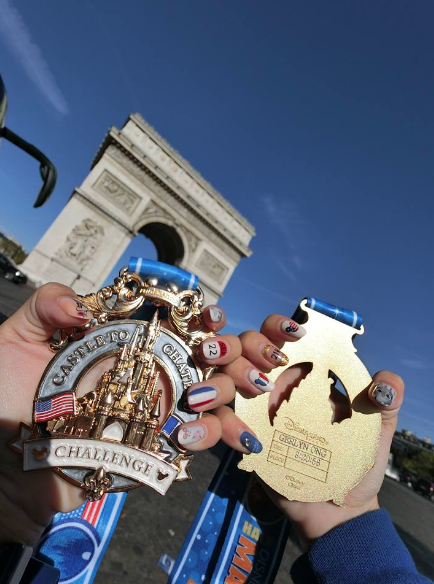 Not sure the focus of the photo is my Amazing Castle to Chateau medal or my nails or actually the Arc de Triomphe?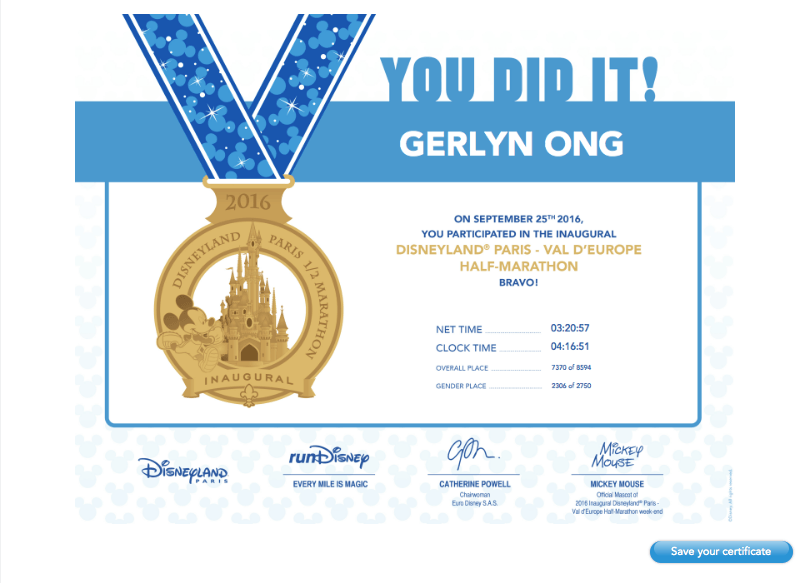 My Half Marathon Certificate.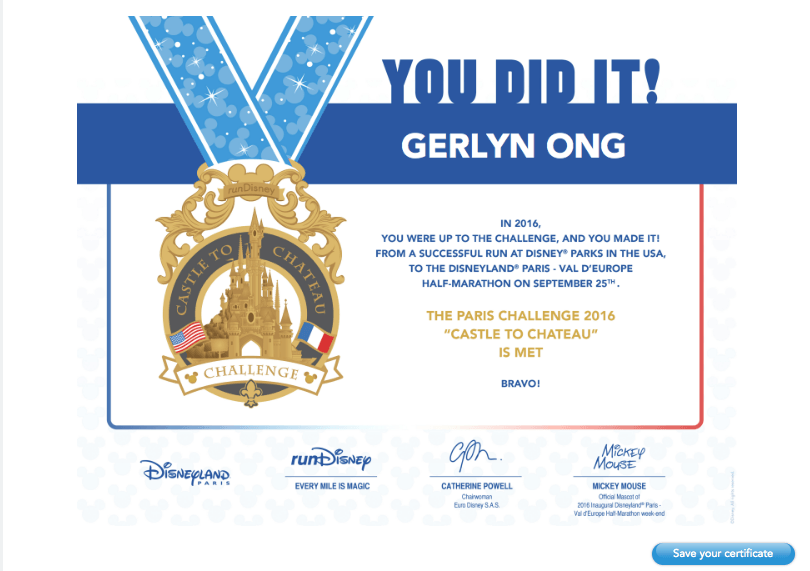 My Castle to Chateau Certificate.
I really love the Certificate, it look so pretty.
---
Expo + Race Review
Same suggestion as I gave during the Tinkerbell Half Marathon. runDisney should simplify the whole process, we should be able to collect t-shirt, Bib and verification of Castle to Chateau status together and also the souvenir button to be given to us during or right after the verification. Although their purpose is for us to visit their booth but at least they could tell me to visit the booth for the souvenir button / badge.
During the race day, the flag off was delayed by an hour from 7am to 8am for us! Many were freezing but they did not give any emergency blanket like in the US. They do not allow us to carry hydration bag and we can't bring wallet and handphone if we have no pockets and we need to hold them on our hand which is a hassle. I felt that they should allow us to carry our backpacks because we already went through the security check and we have been cleared.
The running route is awesome, scenery is nice, weather is good and there is lots of characters in the park. But I will say to avoid characters if you are at the verge of being swept, trust me when I say they do sweep. runDisney is a friendly race for beginner but there is a reason why they gave the time limit as they need to reopen the road and open the parks in time for visitors.
There are plenty of Toilet and water point were sufficient.
Runners were given treats like apple and energy bar and is enough to go around.
There is street performance by local school such as cheerleading and band which gives runner high morale.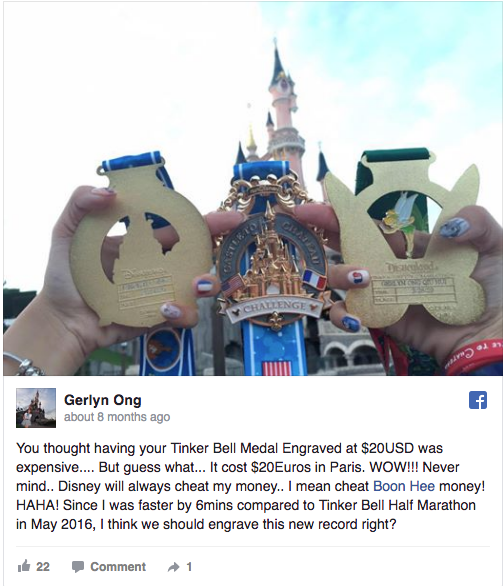 Medal engraving is very expensive. It should be same price as in USD since they are the same vendor.
---
This pretty much sums up my experience for the Disneyland Paris Half Marathon!
Let me know on Facebook "Ger'z World" if you like my writing or you think there is room for improvement. I am very much open to suggestion.
Till then we shall run again!
#GerzKeepRunning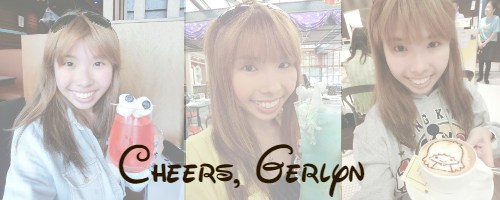 For grandmother story and all the little details of the entire 8 days Paris trip, click here!