In the beginning
The journey to my virgin overseas race began on 27 January 2017 when I successfully secured a place to run Airbnb Brooklyn Half 2017.  Brooklyn Half, part of the New York Road Runners Five-Borough Series, is known to be the largest half-marathon in the USA, with 27,440 finishers on 20 May 2017.  What's more, all spots were taken up in just 2 hours this year! Yes, it is that popular in the States! (So, you can imagine my exhilaration when I got a spot to run!)
Expecting the unexpected, I only finalised my itinerary – flights and accommodation – about 2 months ahead of the race.  But life, as it is, decided to fuel my race anxiety when my initial Airbnb host had to cancel her offer only a few days before my flight to New York City!
A blessing in disguise as it turned out – I managed to find a wonderful Airbnb host and an accessible location that was just a stone's throw away from Brooklyn Half's start point that was near Brooklyn Museum.
Before the race
I landed in NYC on 18 May late night, settled down in my new 'home', and headed off to collect my race kit the following day at the race pre-party.
Airbnb Brooklyn Half Pre-Party took place over 3 days (17-19 May) at Pier 2 in Brooklyn Bridge Park. It reminded me of something similar put up by Sundown Marathon organizer this year, though the Brooklyn Half pre-party seemed more organized and neat with race kit collection, sponsors' booths, merchandise sale, and running clinic talks all housed in a single big well-ventilated marquee.
An interesting note – anyone could buy the finisher tee even before the race took place!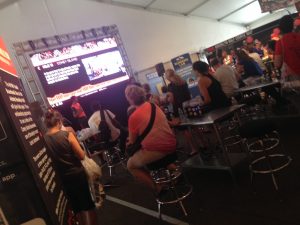 On race day
My race anxiety (and probably jet lag too) allowed me no more than 3 hours of sleep before the big day. After a quick breakfast of rice cakes and rice milk, I walked to the start point, about 2 hours ahead of my designated wave-off time at 0745.  Runners were put in 2 major waves and many corrals (sub-waves) with an interval of 2-5 minutes per wave/corral.  Before we could drop off our belongings and enter our corrals, we had to go through strict bag/security check (much like the ones in airports).
After much deliberation, I surrendered to the ever biting wind and kept my jacket with me for the race.  The weather was most unpredictable with my first day in NYC being unbearably warm and the next day, i.e. race day, being unbelievably chilly.
Before the first wave was flagged off, the national anthem was sung, something new to me. Then, in an orderly yet swift manner, each corral was waved off as designated.
The half-marathon route began in Brooklyn Museum and looped briefly around Prospect Park before stretching endlessly on the straight long road, Ocean Parkway, to Coney Island. The route was basically flat with occasions of slight elevation in the Prospect Park loop. Hydration stations were aplenty, with one every 2-3 kilometres there were lined with abundant water and electrolyte drinks (which provided me with plenty chances to take much needed hydration breaks in seconds).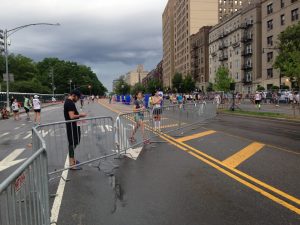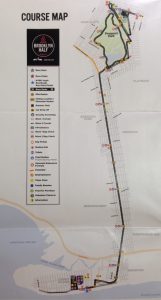 What motivated me most were both the fearless fellow runners who would just pound on the roads relentlessly and the crowds (be they family members, friends or just strangers) lining the streets ready to cheer us on with placards, pom-poms, a song or a dance. Racing in the US is more than a personal affair – it is a family-bonding event, an atmosphere so lacking in Singapore.
I started out strong and fast (maybe a tad too fast) and struggled near the end, with a cramp and loose jacket about 200 metres away from the finishing point! By the time I managed to regain my composure to finish it all, I missed my goal of sub-2.  The consolation was – it turned out to be my PB.
After the race
Much like the races in Singapore, upon reaching the finishing line at Coney Island, runners were handed their medals.  The main difference is the Brooklyn Half finishers got to collect a bag of recovery goodies – water, food, etc.  There was a lot going on at the MCU Park in Coney Island – more food, beer, entertainment, but being exhausted, hungry and sweaty, I decided to join the others who were making their way to the subway.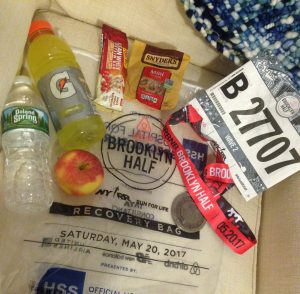 The trend in US is not for a runner to parade around in a finisher tee, but to don one's hard-earned medal right after the race.  No wonder the medal is much bigger and more intricately designed!
Takeaway
Airbnb Brooklyn Half is a race I'd highly recommend to anyone, especially beginners keen on running a long-distance race in the US.  Here are a few things to highlight:
The good:
Accessible location – Brooklyn, a borough right next to Manhattan so one can do some sightseeing before or after the race
Efficient and well-organized REPC – very little waiting time and swift processing
Great logistics – uncountable mobile toilets and many hydration stations before, during and after the race
Amazing spectators/ crowds – never short of words of encouragement/ motivation
Encouraging and helpful volunteers – all so ready to assist at REPC and hydration points
Updated results – both unofficial and official detailed results (including ranking by gender, age, and overall) were readily available online.
The could-be-better:
Unpredictable weather – okay, this is hard to get anyone to get prepared, but maybe reminders/tips could be given ahead (I wasn't the only one almost frozen by the biting wind; only hot-weather tips were given in print).
Limited photos – only limited event photos were available.  No photos of individual runners were taken or provided.
No accommodation tips – aside from Airbnb being the title sponsor, there was no mention of recommended accommodation; this could be due to the fact that the event was largely meant for the locals, in particular, those living in or near New York.  I suppose international participants were not the target group.  (And in the months of May/June, getting accommodation in NYC can be a chore as it's like peak season, so be early to book!)
Pricey entry – at US$100, participant received a nice technical/race tee, a large beautifully designed medal (for finisher), a recovery goodie bag, and wonderful logistics/ support.
To know more about Airbnb Brooklyn Half, visit http://www.nyrr.org/races-and-events/2017/airbnb-brooklyn-half