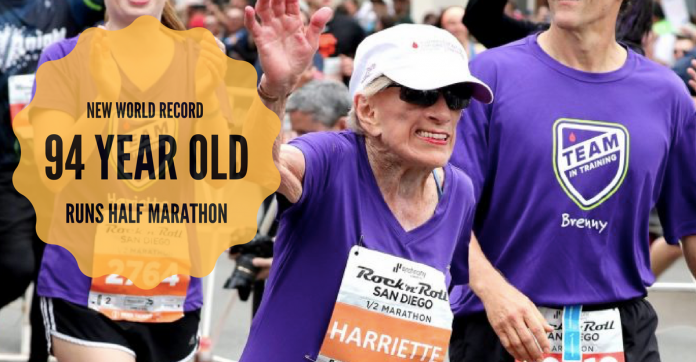 Harriette Thompson made history today by becoming the Oldest Woman to complete a Half Marathon in the San Diego Rock N Roll Marathon. The 94 year old completed the 13.1 mile distance in 3 hours and 42 minutes. This will be the 2nd World Record Harriette has set. Back in 2015, Harriette ran the marathon distance – becoming the Oldest woman to have run a Full Marathon at the age of 92.
2 Time Cancer Survivor
I suppose I'm a legacy, at least that's what they said!
Over the years, Harriette has raised over $115,000 for the  Leukemia and Lymphoma Society's Team in Training. This year itself, her efforts has raised $15,000 for the disease. Thompson said, "It's amazing to me that people are making such a deal about this. At age 94, I guess they don't expect you to be able to do much, but I'm really thrilled that I can help Leukemia and Lymphoma." – that admirable spirit!
In both times she set her record, she completed the run with her son Benny by her side. It's always nice to see such massive support from family! Harriette's name is going to go down in history. She is down to earth, and she is a believer – that it is never to late to start something. Mind you, she started running when she was 76.