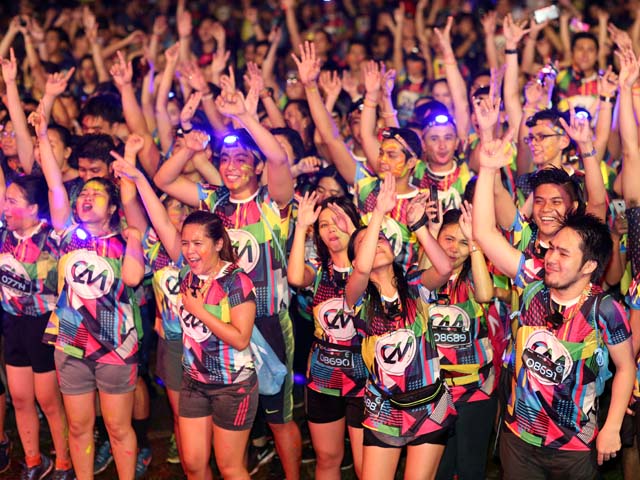 MUNTINLUPA CITY – Not even the early evening downpour could dampen the spirits of over 10,000 runners as they answered the starting gun for the Color Manila Blacklight Run last Saturday (May 27).  The muddy field of the race village and wet roads around the Filinvest Corporate City hardly mattered as everyone had a grand time in the different distance categories and the post-race party.
The headlamps given to all participants produced a special visual effect on the specially formulated colored powders thrown at stations along the route.  In addition, runners who signed up for the Rockstar and Challenge categories got their faces painted!
As always, everyone had a grand time listening to the music and dancing to the beat as more colored powder flew in the air at the post-race Color Festival.  Again, Color Manila has successfully managed to promote both physical fitness and wholesome partying in one event.
The fun does not end there as more Color Manila events are just around the corner.  The cities of Bacolod and Davao will get to host their versions of the Blacklight Run on June 3 and August 12 respectively while the Color Manila Challenge Laguna will be hosted by Santa Rosa City on June 25.
For more details and to sign up for these upcoming fun races, please log on now to www.colormanilarun.com.