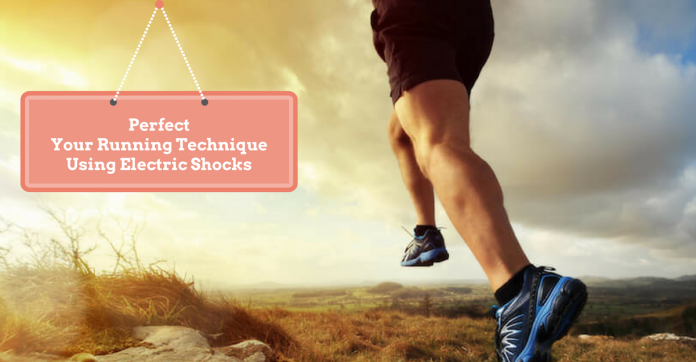 Elite runners slash trained professional runners tend to land on the front of their feet in contrast with recreational runners who have a greater tendency to land on their heels. Landing on your heels have been linked to a higher chance of injury due to the impact (however this still remains a debate). However, it is always tricky when it comes to changing your first natural instinct as to how you run. Changing your form would mean having to be conscious about going against what you are used to. Perhaps a jolt of electricity could do the trick?
"SWITCHING FROM LANDING HEEL-FIRST TO FOREFOOT-FIRST IS MORE EFFICIENT AND LESS PRONE TO INJURY," SAYS FLORIAN DAIBER AT THE GERMAN RESEARCH CENTER FOR ARTIFICIAL INTELLIGENCE IN SAARBRÜCKEN.
The Footstriker
Behold the mighty Footstriker – a brand new device that uses electric stimulation to move the runner's foot to the right angle right before it hits the ground. Early tests suggest that this has a great effect on altering a runner's style.
How It Works?
The FootStriker uses a pressure sensor placed in a shoe's insole to detect which part of the foot lands first. Whenever a bad step is recorded during a run, a pad on the back of the calf jumps into action. With this little burst of electricity, the muscles are stimulated and the position of the foot is corrected on the next landing.
The Test
In an early test, the device were tested on 6 runners. During the initial 1 kilometre run without the assistance of The Footstriker device, the percentage of heel strikes was over 95 per cent. After that, runners were instructed to run a further 3km with the device turned on. The percentage of a heel landing plummeted to 16 per cent – showing some promising results. For the final kilometre, the device was switched off and the percentage of heel landing further plummeted to a mere 8 per cent. This suggests that the foot has learnt the new technique. In the testing, the device was only worn on one foot, but improvement happened in both.
In contrast, a control group received coaching on landing on their forefoot. However, the improvement statistic was only a reduction in in 17 per cent from 97 per cent to 80 per cent.
The Solution?
It is difficult to break bad habits, so could the new Footstriker be the solution?We hope so.