"It always seems impossible until it's done" – SHAPE Singapore Instagram account (@shape_sg). This is so true especially for someone like me who has never attempted any run event more than 10 KM.
I know this blog entry and race review comes a bit late but I finally got down to penning it down. Attempting my first 21.1 KM could have been a daunting experience but thankfully there was a good training program which I could use as a guide, fantastic training buddies who motivated during my training runs and a super well-organised run event which made the entire 21.1 KM an experience something to remember and treasure. I signed up for the Income Eco Run 21.1 KM when registrations started end of last year and I have been preparing myself since then for this run event. Training for this event was not easy and you can read about my experience here.
This is my first time participating in the Income Eco Run and I got to say it was a really well-organised event and I'm glad my first 21.1 KM was done at this event. Income Eco Run was formerly known as NTUC Income Run 350. The event's main focus is on environmental conservation and it aims to raise awareness for everyone to play their part in supporting the cause. This year they had 1,500 participants taking up the challenge as a 'Zero Waste Runner', where participants pledge to play their part to be eco-friendly. A 'Zero Waste Runner' entitlement would differ from a normal participant. I didn't choose the 'Zero Waste Runner' option but I do applaud those who did.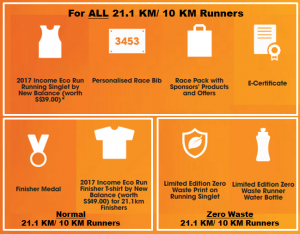 [Difference in Normal & 'Zero Waste' Runner Entitlements]
Interesting Facebook Page
Communication to participants is very important for run events. What the organisers did well for the Income Eco Run was that they communicated event news through their Facebook Page and Website very promptly. I liked that they had tips on training and motivational quotes posted on those channels plus they were very responsive to queries.
Fun Training Run Sessions
Income Eco Run had also organised two training run sessions which I thought was a good idea where participants get to learn and train with the experts such as Mok Ying Ren and Jenny Huang. I would have loved to attend those sessions but I was not available on those days. Still I saw photos of the training runs which looked fun and informative.
Fun Activities at REPC & Interesting Farmers Market
The Race Entry Pack Collection (REPC) was held at the F1 Pit Building, Level 2 in a nice air-conditioned area where participants could collect their race packs and enjoy browsing the Farmers' Market in cool comfort. The collection of the race packs was done very fast and efficiently and that gave my friend, Cheng Yee and I ample time to check out and explore what the Farmer's Market had to offer. There were lots to check out at the Farmers Market like fresh produce, organic foods and eco-friendly items from a variety of sustainable businesses. In addition, sports gears such as New Balance shoes, Garmin watches etc. were also available. This was the only REPC this year that I had a chance to walk around to see what was on sale. I bought a pair of 1000 Miles socks for race day and was also tempted to buy a vegetable/fruit detergent but didn't succumb.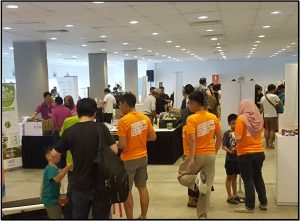 What was also interesting was the organisers had set up a medal recycling booth for participants to recycle their old unwanted medals. Recycling of medals helps with the reduction of waste. Income Eco Run is one of the few run events to have this campaign.
There were also fun games going on – we participated in Orange Health Surfboard challenge. The challenge was to choose from a range of easy to hard yoga poses and hold it for 3 seconds on the surfboard to get a small gift.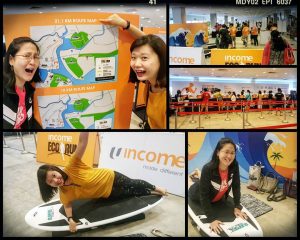 [Orange Health Surfboard Challenge]
 There was also this huge "ECO RUN" standee a fantastic photo opportunity! The standee had all the 2017 participants' names on it. It was a bit of a challenge to find our names but eventually, we found it.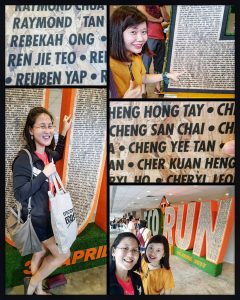 [Above Photo:"ECO RUN" Standee – Found our names]
The race pack was a very nice recycle bag which came with goodies from sponsors and the New Balance race tee.
Race Day Nerves
Race day finally arrived! On normal days waking up at 02:50hrs would be impossible but I guess when you got butterflies in your stomach, waking up was easy. We took a taxi to the race site and upon arrival, we could see many participants already warming up. Bag deposit was fast and volunteers were chirpy! Always nice to start the day with smiles! Next on the list was to find the portable toilets, though there were many portable toilets, queues were still long but fast moving.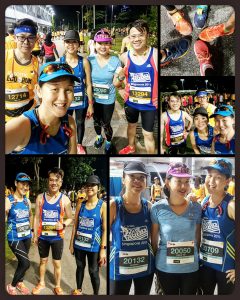 [Pre-race photos before heading into the START Pen]
After some pre-race photo taking, we headed straight for the START pen. Though we were early, we managed to only get into the 2nd wave START pen. I was starting to freak out a bit while waiting for flag-off. Nerves kicked in as the reality of my first 21.1 KM run was just about to start. My friends, Cheng Yee and Terence assured me by reminding me that I shouldn't be pressuring myself and that I should enjoy the journey of my first half marathon. Thankfully there were only 2 waves for flag-off and we started 7 minutes after the 1st wave.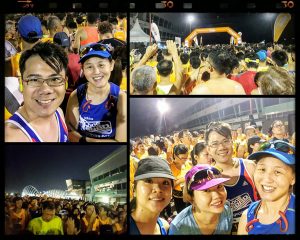 [START Pen excitement]
The weather was really cooling and I had a full 2 hours before the sun would rise. The route of the 21.1 KM was a pretty enjoyable one except for the slight bottleneck at the 3 KM mark and the dreaded Crawford Street Tunnels at the 4 KM mark. I really enjoyed running this route as there were parts of this route that I have rarely run past before. I told myself to go slowly and keep constant so that I would not overtire myself.
Hydration stations were well spread out throughout the entire route and that really helped. Drinks were chilled and well stocked. What I liked about this run event was that the organisers had set up a separate corner for the Zero Waste Runners to refill their bottles. This could be the future of 'green' races where we can see lesser wastage at the hydration stations.
Soon the distance markers started to countdown to the final 5 KM. This was where the dreadful fatigue and muscle aches began to set in.  I still had about 40 minutes more before I can say hello to the FINISH line. I decided to stop a while and do some simple stretches to relief the muscle tightness around my calf area. Those stretches helped and I was good to carry on! My main motivation now was just to cross the FINISH line, I did a slow jog and continued to push till I saw the FINISH line arch. I completed the race in 2hr 39mins! It was an awesome feeling to know that I completed my first ever half marathon! All I could think was to find my friends and celebrate the completion of this milestone of mine!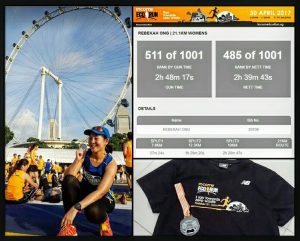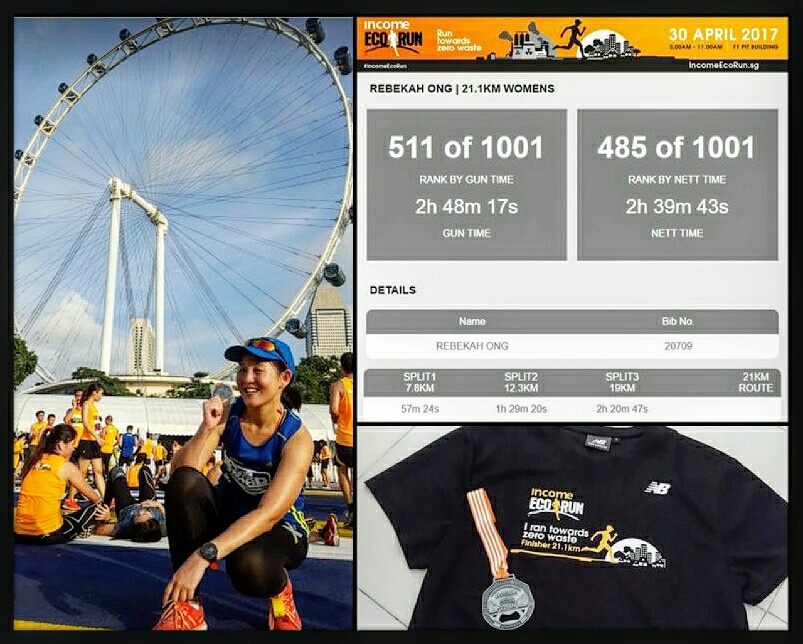 Post Race Happiness
There were no queues when collecting the race medal and finisher tee. Together with those Finisher Entitlements, a can of 100 Plus and banana were given to all participants as part of the finisher goodies. Once collected, I went to find my friends. I managed to locate them and we started congratulating each other on a job well done for finishing the race! It was a nice feeling to celebrate with friends!
Though there were a lot of post race activities going on at the race village, such as a cool down session from the pacers at Running Department, photo booths, games, sports massages etc. but I didn't go join in those activities as I was already tired from the race itself.
While walking out from the race village, I noticed that the organisers had put in place some eco-friendly bins all around the race village that encouraged participants to recycle. It is an awesome initiative and a step in the right direction for future green races.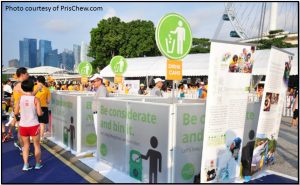 When it was time to leave, we collected our bags from the bag deposit. This is the first event this year that had no issues with queues at baggage collection!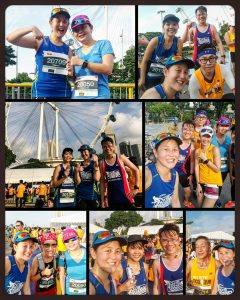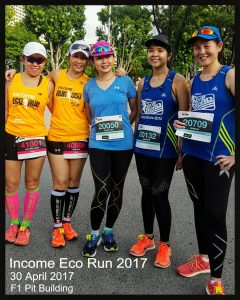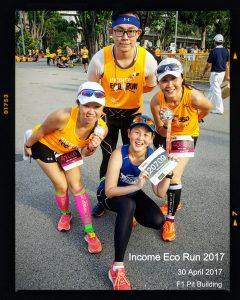 I'm really glad that I chose to do my first 21.1 KM at the Income Eco Run! Official results were released 2 days after the race! It is one of those rare occasions that I could not fault the organisers on anything. Kudos to Imagine+, Esprimo and JustRunLah, you guys did AWESOME. Big thanks to Running shots for the amazing photos!
To sum up, for my first half marathon experience, let me end off with a quote which I started this write-up with "It always seems impossible until it's done". I'd never imagine myself completing a 21.1 KM race but I did! I survived!! It was an amazing experience which pushed me out of my comfort zone and tested my limits.  Would I participate in another half marathon? That we will have to wait and see 🙂 Till my next write-up, run happy and stay healthy!
REVIEW OVERVIEW

Race Entry Pack Collection & Farmers Market
Race Pack Contents
Race Route
Hydration Points
Bag Deposit & Collection
Finisher Entitlements

SUMMARY

One of 2017 best-organised races