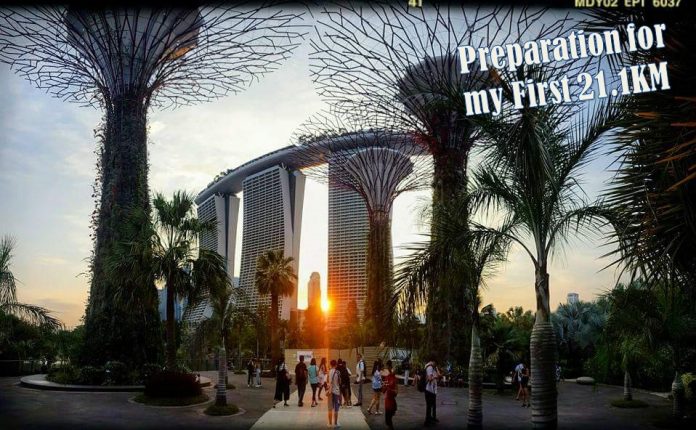 Time really flies and we are already into the final weeks of March 2017. 38 days more to my first 21.1KM Half Marathon Run Event! I am soooo not looking forward to it. To me a half marathon is something mammoth! I have never attempted a run event which is more than 10 KM! I'm not a runner by nature but this was one of my New Year's resolutions. As such, I had to prepare myself mentally and physically for it. Like with all things unknown, there is a fear that I have as I have not attempted something like that before.
PS: You can click here to read my write-up on 2017 resolutions.
My fears…
Attempting something for the first time is scary. I have that unsettling fear that I might not be able to run again! I know I'm being dramatic here but being an ex-avid step class junkie and sustaining old injures from bad falls, my knee caps are paying the price now every time after training sessions. My legs would ache and I take a longer time to recover from those workouts. With those considerations, I sometimes question myself why did I even sign up to do a half marathon! I think I'm just crazy.
To ease those doubts I have,  I decided to to talk to some of my friends who had suffered knees injuries due to running. I found it helpful hearing and learning from their experience. Some of the suggestions provided have been really helpful.  One of them, also a fellow blogger shared with me regarding his experience on what he did to alleviate the pain while training. He introduced the Patellar Tendon Strap from Protec to me and noted that it helped in his recovery. He also noted that once I felt better, I can slowly go for my runs without it.  I tried the Patellar Tendon Strap from Protec and it did help without restricting my movements.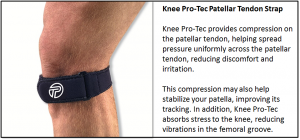 Despite these fears, I'm not going to pull out from this event. I will put in the effort to keep up with the training requirements and complete the race on event day. I'm not setting a time goal for this event but my main aim is to cross the finish line before cut-off timing. I will listen to my body and not push till the limit at the expense of suffering permanent injuries.
 Training…
Training for this half marathon is not an easy one. I have been slowly trying to increase my weekly distance to get myself prepared mentally and physically. As a guide I am also following the training plan provided by Dr Mok Ying Ren on the NTUC Income Eco Run website.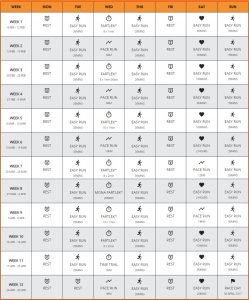 [Photo: Training Plan for 21.1KM by Dr Mok Ying Ren from NTUC Income Eco Run website]
Weekends are the long distance training and I'm glad that I have my running buddy, Cheng Yee, to accompany and motivate me to push onwards. I'm still not used to keeping at a constant speed and I get tired out really easily. The suggested timings for these long distance trainings range from 80 minutes to 120 minutes. This is a big change from my normal weekend routine because normally I will just do a quick 5 KM run but now it's not about speed; it's about endurance especially with the increase with distance and time!
Besides the increase in distance, I have also started doing some fitness interval training exercise. These exercises are meant to compliment the running and to work out the other parts of the body. Workouts include exercise such as push ups, a variety of planks, sit-ups, lunges etc. According to some running articles, these workouts yield better performance and also help you stay injury free.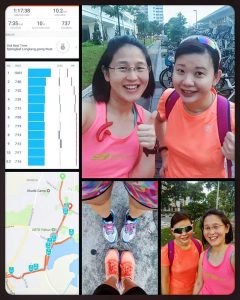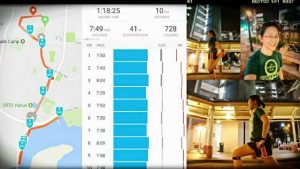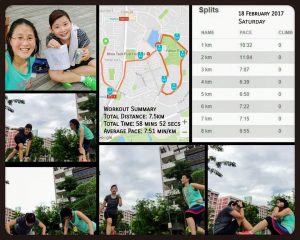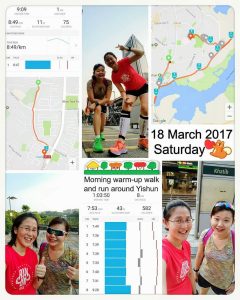 [Photos from some of my training runs]
So to sum up, this half marathon is really like pushing my limiting and conquering my fears. It is an uphill task but it's something I want to do. I will continue to write about my 21 KM training progress and my thoughts on it. Till my next write-up! Stay strong and go the distance!