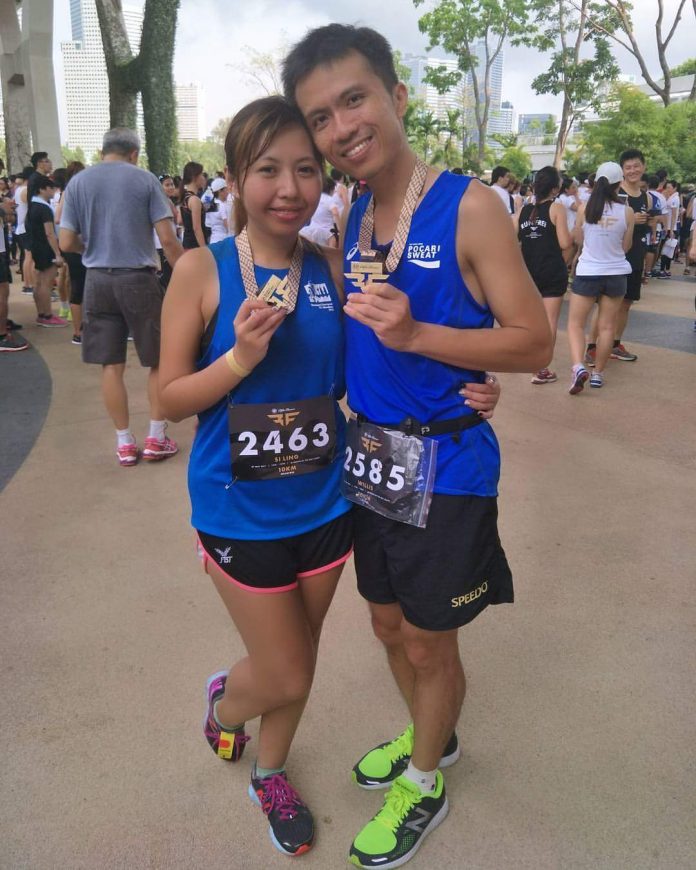 The concept of Run Free Run is interesting. It's a free run by No Frills, anyone can register for the run for free at no cost at all and get a free bib to participate in the run. However, we can also make purchases for the add ons such as buy the race bib with timing chip, medal, race singlet or t-shirt and even baggage deposit or can just simply buy the whole package. Luckily never have the option to buy water on the day 😆 There is two distance category, the 5km and 10km. And I registered for the 10km and paid for the bib with timing chip, medal and also the baggage deposit. Tell myself that I have too much singlets and tees from all the previous running events already and should not buy what I don't need.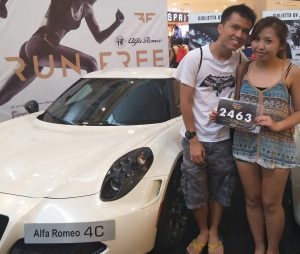 REPC is at Velocity @ Novena. It's quite chaotic on that day but though there's no queue for the REPC but the collection process is very slow. Willis and I stood at the counter like 15minutes while we waited to collect the bibs as they couldn't find our bibs at first. And guess it's quite in a mess as I asked the volunteer basic FAQs such as how do I collect my medal, is there anything different on the bib to show I have paid for medal or how do I show that I paid for baggage deposit? All these queations that I asked, the volunteer have to ask someone else to reply me 😂 I was secretly praying it won't be a mess during race day because I was actually looking forward to run under 1 hour as recently for my full marathon and half marathons I reached 10km at 58mins but I have never officially run a 10km run under 1 hour.
It turns out to be quite an event with 6000 runners and about 20% of the runners actually paid for the package while other runners just turn up because of the free bibs. It's nice because this is actually also encouraging and introducing people to the running events or start picking up running.
Was quite looking forward to the run and aiming to get a PB that I even messaged them in Facebook to ask whether is there any priority or different pen for runners who paid for the timing chip but they didn't reply me 😑 But the worst things actually happened before the run, Willis and I fall sick and this reminded me that why so serious? I'm not an Olympian or full time runner and I should just run happy 😆
Few days before the run Willis and I even thought that we can't even run any of the runs for the weekend anymore 😰 We thought no Music Run, no Star Wars Run and no Run Free Run for both of us as we gotten ill 😷 It's flu and cough for both of us since Tuesday and I was even given MC by the doctor to be excused from work on Thursday and Friday. Willis and I agreed that if we are still unwell on Saturday and Sunday, we shouldn't go or at most we could walk for all the runs or run whatever we can. Luckily we were alright on Saturday and able to complete Music Run and Star Wars Run.
But for that for Run Free run we are already so drained. Still recovering from our illness and running 15km the previous day is too much for us already so we just go easy and walk when we need to. We reached the event site at Gardens by the Bay East just 10 minutes before 7am and went directly to the Baggage Deposit. And I queued 15 minutes just to deposit by bag 😫 It's super slow and there is only two person helping at the Baggage Deposit 😐 And they didn't checked any confirmation code or slip that have I paid or not but just see my black colour bib and they just let me deposit my bag but what I can say is not all black bibs runners bought the whole package or bought the baggage deposit right? The white colour bibs are free bibs where runners don't pay a single cent for the bibs and the gold colour bibs are the 5km runners. But my suggestion is that they should really segregate the runners into people who paid for the bib and give them the privilege to run first as to be fair to those who paid.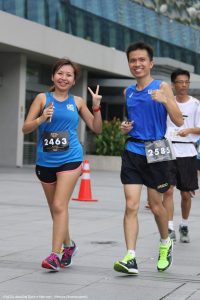 (Photo credits: David Tan – Mythos Photography)
The air is very still and it's so humid. Flag off is on time and the route starts from Gardens by the Bay East running towards Marina Barrage to Bayfront Event Space and back. The distance is about 500m shorter than 10km but it's an enjoyable walk and run as it is not crowded like the previous night's Star Wars Run. Along the route there is hydration points offering water and Pocari Sweat. The Pocari Sweat that I took are all super chilled. Thumbs up to Pocari Sweat as always! Drinks that are super chilled as if they can be frozen soon are really really super nice to drink! 😋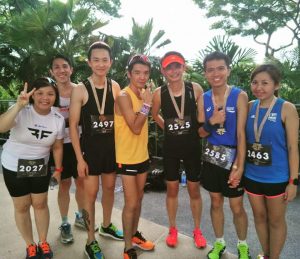 After finishing the run, we took the super chilled bottle of Pocari Sweat then we queued for the medals and its the longest queue ever I have queued in any run to collect finisher medal. The queue a little more than 5 minutes. There is no difference between the medal for the 5km or 10km. Really is up to the integrity of the runners already whether they paid for the medals or not as they didn't check whether you have paid for medals as they assume that black colour bibs are runners who paid and they didn't check for any confirmation proves.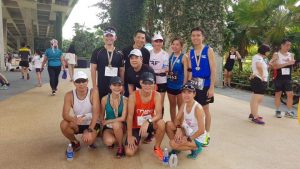 At the race village, there are hot babes by the cars just like those you see in a car show. And they have their merchandise on sale at the event site. I thought that the running singlet actually looks quite nice and tempted to buy at first but seems like their merchandise is selling like hot cakes with quite a queue at the payment counters so I changed my mind and stick the the thought: Don't buy what you don't need. Good thing is that this time there is no queue for us to collect our baggage.