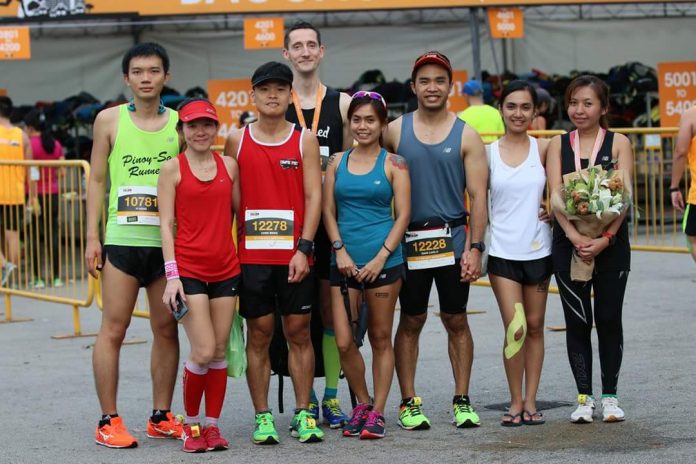 (Featured Photo Credits: Eugene Tan)
Income Eco Run is a running event with a cause to raise awareness for everyone to play a part in conserving the environment. It was previously known as NTUC Income Run 350 but renamed to Income Eco Run to call for the action for the runners to run towards "zero waste", which "zero waste" is actually impossible because breathing out carbon dioxide is also already producing "waste" in a way right? LOL! It's nice that this run is encouraging people to run towards zero waste such as opting into no finisher medals for the run and no finisher tee for the half marathon runners.
[Race Categories and Fees]
Thank you JustRunLah! for the race slot! I registered for the 21.1km category, there's 10km individual and team categories and also the 800m kids dash. The registration fees is considered fairly cheap if you are a NTUC member or Income Policy holder and register as priority. But if is a public and register not as priority or early bird rate I feel that it's pretty expensive too!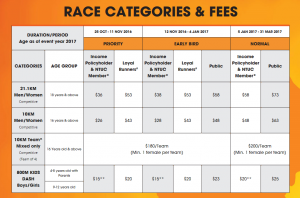 [Race Singlet and other entitlements]
Woohooo! Race singlet is by New Balance! 😍 It's similar to the previous year race tee, in bright orange but last year the sponsor is Mizuno and it's New Balance this year. I've noticed that New Balance race singlets are always smaller in cuttings compared to other race singlets, at least I can still manage to squeeze in the singlet but I don't really like tight fitting clothes, only with myself to blame as I don't usually check the sizes but I guess many other runner don't check too as I've seen many runners posting in forums to exchange the singlet size. Or maybe its a just sign that I need to watch my diet or start running more already 😂 The race pack comes along with other sponsored products and there's e-certificate for the runners as an entitlement, I really appreciate runs with e-cert as I will keep the soft copy of the e-cert as a memento. Runners who opted in to be a zero waste runner received a handheld water bottle along with the race pack so that on race day, they can bring along the bottle with them to refill water at the hydration points along the running route to cut down the use of disposable cups and they get a limited edition print on their running tee as a recognition for their effort to be a zero waste runner. I can opt out of the finisher tee but I really can't resist medals. But in my everyday life, I try to do a part in saving the environment such as decline plastic bags when I buy some things.
[My Race Pack collection]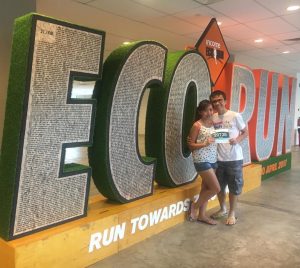 Thank you my dear Willis for accompanying me for the race pack collection though he didn't run. The Race Pack collection is a smooth and fast one with no queue at all, though it's at the same place at F1 Pit Building just like Sundown's race pack collection too but this race pack collection is a much much much far better experience. Its indoors and there's air conditioning. Phew! I went on Saturday, at the second day or the REPC and the process of collection is fast and I get to enjoy the booths, bought Compressports calves sleeves, participate in Garmin's lucky draw and got a drawstring back, joined the New Balance's mailing list and got a super nice shoe bag, We then walk shop around the Farmer's Market, its like a mini "flea market" selling green products and also organic food and snacks. Bought a bottle of chilli sauce and shared with Willis a super yummy cup of jackfruit ice cream. There is also a huge eco structure at the REPC with the runner's name and I found my name in just a while!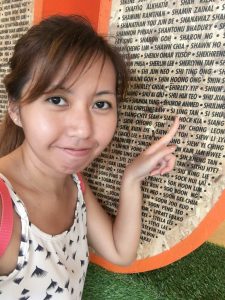 [On Race Day]
On race day I took a grab down as shuttle bus is not available near my home and I will have to walk 2km to the nearest MRT station that offers shuttle service. Since grabshare is only $13 and I can own time own target, sleep till I happy happy then chop chop prepare and go.
Once reached F1 pit building, deposited my bag and it's super fast as there is no queue at all and head directly over to the start pen though it's only 4.20am, but the start pen is already opened 😮 It's a very stuffy and humid morning, it's so warm and the air breathe in is warm 😥 Saw many familiar running friends and chatted while we wait to flag off 😄
Flag off is on time and there were pacers for different timing available for us to follow but it's really not easy to identify them because all the pacers used the same colour balloons. It would be better if they had used different colour balloons for us to identify them. But now I try to avoid following the pacers as I find the atmosphere quite stressful and tense around the pacers as runners try to keep up with their pace.
Really appreciate the Organisers as I realised that they had placed floor boards at some areas so we can avoid any muddy trails when at certain runs they did not put the floor boards end up runners will either destroy the grasses or their shoes will get dirty with mud. But the last part where they covered the stairs leading up to the Helix Bridge is really too steep 😅
It's the usual almost similar route to many other runs but luckily no east coast park at all. I'm about to get bored soon with the usual route, usual landmarks and usual scenery. Luckily I have upcoming overseas run if not really will get sian by always running at the same places. Was thinking that it will be interesting if any of the runs can introduce new routes such as running pass City Hall or Orchard Road or even a run from Jurong to Tampines etc 😍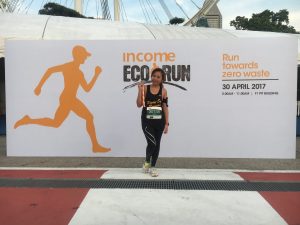 There's enough hydration points and almost one at every 2km apart. Also every alternate hydration point there is 100plus available. I only stopped at the hydration points with 100plus as it's cold but the water isn't cold. Still hoping that some days there would be chilled Milo at hydration points 😍 For the half marathon route, I've noticed there is one hydration point which offered banana and gel. At the end of the hydration points, there are dispensers for the water/100plus so that runners who brought along their bottle could dispense water into their bottle and not using the disposable cups.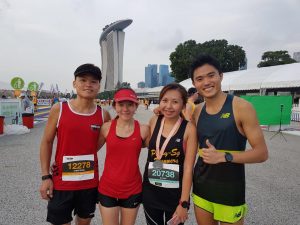 (Like a mini fan when saw Dr Mok Ying Ren, congrats on his podium winning! 😍)
The last few kms I walked a lot. Maybe is just the lack of determination and motivation as I'm already content with my timing. My watch showed that the route is shorter than 21.1km and my friends also shared that their sports watch showed shorter distance too.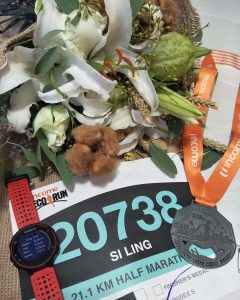 This is my 4th half marathon this year and it's the 2nd best timing I've ever gotten out of my total of 11 half marathons. Collected my finisher entitlements (medal, banana, finisher tee, 100plus) and went to look for my friends. Though there's the race village but I didn't really explore it as I guess that looking for breakfast is more important 😆 Overall it's a great running event 😄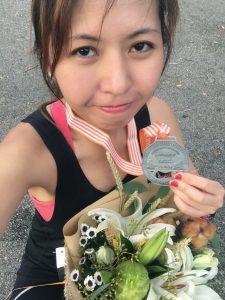 (Thank you are Center Piece Floral for the flowers 😍)