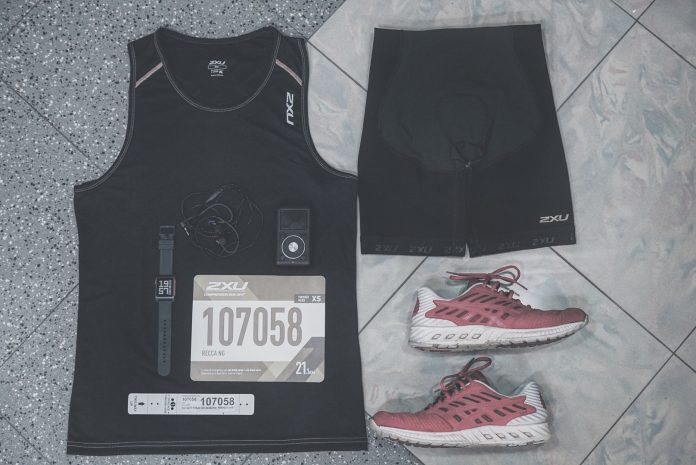 This year is the first time that I join the 2XU (think is read as two times you instead of 2.X.U(?)) compression run. A very mainstream popular run, and definitely a very crowded one.  Almost everyone should have heard of this run before.
This time round, paid S$63 for the registration of the 21km (half marathon), which was the early bird price. For that, I got 3 different types of wearable and a finisher medal. A singlet (which normally all runs will provide), a finisher tee (which was specifically for 21km runners who finish the race) and a polo tee, which was something new, at least to me. So technically I am paying S$63 for 3 wearables, a finisher medal, some vouchers (which usually I dont really use it) and an experience to run around the CBD and Gardens by the Bay area, which I myself never tried doing (I always see people running/training around those areas during weekdays evening time) as I do not have a place to store my personal belongings. If there ever was a way, I would always like to try. Do let me know if how you guys store your belongings while you run around CBD/MBS/Gardens by the Bay area! Back from the side track, for that price it was a quite worth it! Initially I thought the polo tee would be made of cotton but when I got it, I am totally in love with it because I personally love dri-fit material which they use it for running shirts and the polo tee is made from that! Which makes this S$63 even more worth it! Materials for all 3 wearables looks and feel good, doesnt feel cheap! On top of that, 2XU actually open up some of their older models sports wear and selling it at a discount and if you have not know already, 2XU is a company that design, development and sell sports apparel. So if you are talking about the worthyness of the price paid for this run, I can say its really worth it.
Lots of people complain about the queue for the collections of the race entry pack. But it is because lots of people is collecting their race entry pack on the first day of collection due to lots of them are joining the Sundown Marathon, which happens on the 2nd day of collection. As you can see, the 2nd and 3rd day of collection has almost no queue, which I personally do not understand what is the complain about. But what i was really impressed is that 2XU actually organised a second race entry pack collection! I would say not many organiser would make such an effort. Thumbs up!
Next, about the run. Insanely CROWDED! I was quite surprise when I saw how many people is running for the 21km run. My impression would be that more will be going for the 10km, but I guess lots of people go for the 21km is for the finisher tee, which is only entitled to 21km runners. They release the runners wave by wave, which is good… but could be better I feel. Example like the Sundown Marathon, runners are categorise in 3 types of waves. The fastest runner, the faster runner and finally the fast runner. To my personal preference I prefer that way so everyone can enjoy the run at their own comfort pace. Oh well, in the end I waited for my wave to be release, which I think I waited for a good half an hour (?). I do understand that it is to prevent the route to be too crowded and for a better experience for everyone so not really complaining, just saying.
So off I go.. until the 1km or 2km mark (?) when everyone just started to slow down and walk due to narrow road and overcrowding. I encounter this "slow down and walk due to narrow road and overcrowding" issue a few times during the run, which I am kind of disappointed. I did not have this issue during Sundown Marathon (which I too join the 21km run). Not really sure what really was the issue (road is too narrow or overcrowding), but hopefully it could be better. The route was a good experience except that I hate running along the Marina East Drive, which was a long stretch road that feels never ending. Sundown Marathon had this route too. Personally I love to look around my environment when I run so to enjoy the view, but Marina East Drive has nothing… like really nothing to see. To make things worst, 2XU route have you run that road to East Coast Park, and back again! So two times boredom. Oh well, just my personal feel, no offence!
At the end of the race, collections of the medal and the finisher tee was fast, which usually is from my experience. There was a race village but it was usually really crowded (for all races), so I would personally skip it.
The whole running experience was good overall. There is so many water points (Think was every 1.5km there is a water point (?)) which I feel very impressed. Everything is well managed and organised (From race entry pack collections to organising transport)! All in all, this was a good run and experience for me. Racing off to the next run!
REVIEW OVERVIEW

Price worthyness
Running Route
Crowd Management

SUMMARY