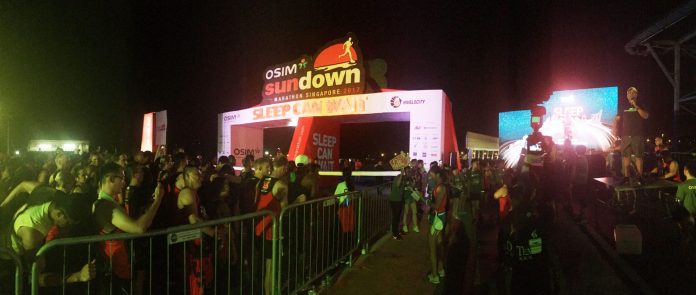 It's the morning-after for more than 27,000 runners, as the 10th year anniversary of OSIM Sundown Marathon is officially over! This year saw a brand new "night festival" concept which offered a lot of fun activities and food for the runners at the race village, a "lights-out" 5km race for a good cause, but a large number of complaints too about the long REPC queues and waiting times.
Now it's time to wear proudly your finisher t-shirt, show your shiny medal, record your thoughts and photos on your running app, JustRaceLah!
Watch this space as we will be bringing you updates as soon as they become available. You can keep track of all changes in real time and add your own comments via our mobile app, JustRaceLah!
Photos
Video
Results
While we are still waiting for all runners' results to be out via the official race website, here are the top 3 winners for all competitive categories.
Men's Full Marathon Results
1 Andreas Huse 2:49:52
2 Takuya Sawada 2:51:25
3 Dane Huang 2:53:19
Women's Full Marathon Results
1 Laura Holton 3:16:51
2 Hu Xiuying 3:32:15
3 Sherlynn Tan 3:37:14
Men's Half Marathon Results
1 Song Yang Yang 1:20:54
2 Evan Chee 1:22:31
3 Matt Hoffmann 1:24:42
Women's Half Marathon Results
1 Rachel See 1:32:00
2 Giulia Bossi 1:34:33
3 Aileen Tan 1:35:04
Men's 10KM Results
1 Dennis Isika 33:30
2 Suresh Tilija 34:09
3 Soh Wai Ching 34:21
Women's 10KM Results
1 Rachel Longstaff 37:56
2 Vanja Cnops 38:58
3 Lyndsay Clarke 41:38

Press Release
Singapore's iconic home-grown night race OSIM Sundown Marathon celebrated its 10th year anniversary in style this year, with some 27,000 runners enjoying the thrill of racing through the night to beat the sunrise.
This year's event saw the inclusion of the largest sports carnival in the country – the inaugural Sundown Night Festival, which boasted an art-box night festival concept comprising an exciting slate of programmes lined-up over five consecutive nights leading up to race day. These included a Bliss Out Yoga Session, Master Pilates class, Body Combat class, Zumba workouts, and live performances by local singers and bands such as Shigga Shay, Inch Chua, Sphaeras and The Facade.
This year, the Sundown 5KM Earth Hour Run took place as part of the Earth Hour celebrations for the first time. People from all over Singapore came together to run a cumulative distance of over 550,000km across all categories at this year's Sundown Marathon – enough to circle the earth at least 10 times – in support of wildlife, forests and oceans. The run piloted alternative sustainable solutions for marathon events such as reusable bottles and edible water molecules as extra options at the hydration station, and plantable medals in addition to the traditional finisher medals.
"Our 10th year was a landmark event for us, and we wanted to open up new experiences for our participants this year. Although our focus has always been providing the best experience possible for our runners, we've always wanted to cater to more than just the runners. These include their supporters and the mass public. We didn't want it to be the case of just picking up their race packs. It was also about engaging them during the race pack collection, all the way up to event day, which was the aim of the Sundown Night Festival. We want to ensure that there's always something for everyone at the race village, regardless of whether you're a participant or not. That's the beauty of the Sundown Marathon," said Adrian Mok, Managing Director of HiVelocity Events, the organiser of Sundown Marathon.
Winning the Women's Marathon category was 35-year-old Briton Laura Holton, who crossed the finishing line with a time of 3:16:51.
"I was enticed by the novel experience as I've never run at night before. I was really pleased with my finish because it was so hectic to fly in from Dubai only a day before, and complete a full marathon. I was just focused on running at my own pace and trying to adapt to the humidity here, so it was such a pleasant surprise," said Holton.
Meanwhile, the Men's Marathon category was won by Andreas Huse from Norway, who crossed the finishing line with a time of 2:49:52
This year, runners had the opportunity to enjoy scenic landmarks like the Singapore Flyer, Marina Bay Sands, Gardens By The Bay and The Float@Marina Bay during their run.
Retaining her 21KM Women's title for the second year in a row was Singaporean Rachel See, with a time of 1:32:00, while the Men's category was won by Song Yang Yang of China, in 1:20.54.
"I am very pleased with the location that the organisers chose because I think it is much more convenient for all the runners, and I really liked running in the city at night. It helped that the weather was good so the entire experience was made all the more memorable," said Fann Chua, who participated in the 21KM category.
The Men's 10KM category was won by Kenyan Dennis Isika in 33:30, while Rachel Longstaff from Britain took home the crown in the Women's 10KM category with a time of 37:56.
Apart from a night full of running action, another of the key highlights of the OSIM Sundown Marathon was its charity outreach programme – Sundown With Love. Runners had the opportunity to join 12 Sundown Ambassadors as they embarked on a journey to increase awareness and raise funds for their chosen beneficiaries.
Local Ultra-runner, Jeri Chua, the first Singaporean woman to take part in the 400KM Ultra Trail Gobi Race, is one of such ambassadors. The Sundown With Love donation site will be open until April 30, 2017.
For more information on OSIM Sundown Marathon, visit www.sundownmarathon.com/singapore