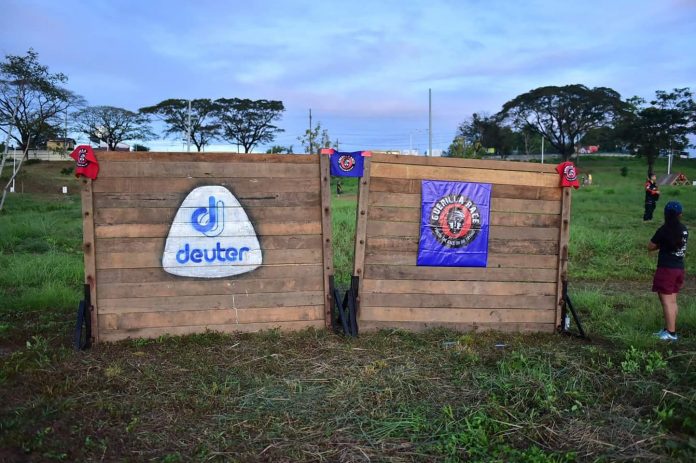 The Guerilla race 2017 took place in Altaraza, San Belmonte, Bulacan. It is an army training inspired race that test strength and endurance. It featured a 5k Sprint with 12 obstacles, 10k Warrior with 18 obstacles and Team relays.
I joined for the first time and chose the 10k. I was very excited since this is new to me and I didn't know what to expect. I've seen some pictures but that's it. I trained by doing 1 hr runs and sprints, then did pull ups, squats, clean and press to improve strength. My goal for this race was to complete the 18 obstacles within reasonable time.
The participants included weekend warriors, sports enthusiasts and a few from the army. The race started as the sun was rising, enough light to see the obstacles. I started with my 10k training pace and tried to maintain it. The route shifted from road to dirt several times. There was good balance of flats, uphills and downhills. What I enjoyed most though were the obstacles that required crawling, jumping, pulling. Balance, grip and stamina were also critical.
Each obstacle presented different challenges, some more difficult than the others. If the racer cannot do the obstacle, the consequence is 30 burpees.
My 5 favorite were the Mud crawl, Wall climb, monkey bars, Parrallel bars and Cargo net. The mud crawl was dirty and fun. There was a 6 foot wall which we have to go over. I had to pause and watch how others do it. Someone jump, grab the top and pulled himself up and jump to the other side. I did the same. I thought the monkey bars would be difficult, but I completed it without falling. I had the most problem with the parallel bars and cargo net. Both of which were on the last 2 kms. I was losing power at that time and didn't have the correct technique. I failed the parallel bar thrice but made it on the fourth try. As for the cargo net, I didn't know how to flip to the other side. Good thing I faced my fear of falling and just carried my weight to the other side.
I finished the race strong and clocked in at 1hr and a few seconds. My normal 10k time is around 48 minutes, but considering the obstacles, I was happy with my time. I had a different kind of fatigue though since it was a whole body workout and my recovery time was longer.
The race was 8 out of 10 for me. I got what I was looking for, which is a new challenge. They also have good singlets and lots of freebies. Medics were available and there were parking spaces. The route was safe as there were no vehicles and there was a fire truck for the best shower ever! If there were more marshalls to avoid confusion, it would have been a 10.
The next Guerilla race is on May in Splash island. I'm looking forward to joining it again.