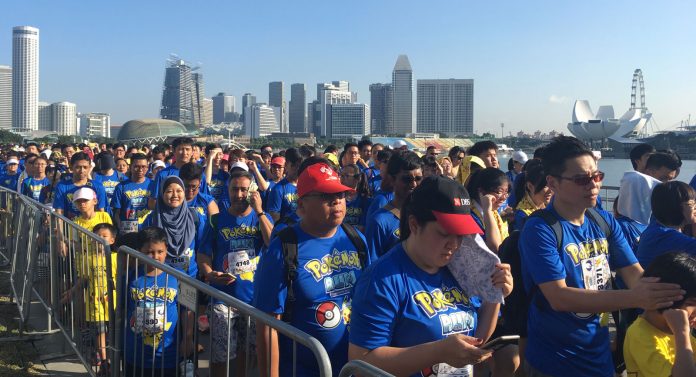 [Press Release] Southeast Asia's first official Pokémon themed fun run, Pokémon Run Singapore 2017 (Pokémon Run SG), saw close to 6,000 participants, between the ages of 4 and 76 years, get healthy and have fun, all for the love of Pokémon. Participants included families, couples, and friends who took on the roles of "Pokémon Trainers" and embarked on a 5km fun run adventure against the backdrop of Singapore's scenic waterfront cityscape. Organised by Avex Asia and Infinitus Productions, Pokémon Run SG aims to promote bonding and a healthier lifestyle across all ages through Pokémon.
Excitement was in the air at the Promontory @ Marina Bay, even before the start of the run. Led by Pikachu, one of the world's best loved Pokémon, the participants had a warm-up session to prepare themselves for a safe race. At 9am, Junior Trainers aged 4 to 12, kicked off the run as they ran alongside one of the most influential personalities in the Pokémon world – Junichi Masuda. The founding member of Game Freak, best known as a game director and composer for the Pokémon games, made his debut appearance in Singapore as the Guest-of-Honour for the run.
Pokémon Run SG brings to life the journey to train to be a Pokémon Master. Armed with their runners' packs, participants embarked on an adventure to collect Pokéballs along the route, and stop by various Pokémon photo points to discover and take photos with different Pokémon.
The quest to be a Pokémon Master continued beyond the Finishing Line. A Pikachu Parade greeted the participants with their infectious dance, while 50 lucky participants won the chance to get an autograph from Junichi Masuda. Enthusiastic participants explored the Pokémon Garden and interacted with life-sized Pokémon cut-outs, including the starter Pokémon from Pokémon Sun and Moon. Participants headed to Pallet Town as well for games, activities, and Japanese gourmet delights.
"We decided to join the run as my son is an ardent fan of Pokémon. The weather was warm but we enjoyed the scenic route and the photo points along the way. It was a fun morning with my family, and we look forward to participating in the run again," said Mr Chan Chee Meng, 43, who participated with his 8 year-old son.
On the run, Fujita Kazumi, General Manager, Avex Asia said, "We are delighted by the strong turnout for the inaugural Pokémon Run SG. Pokémon has been a phenomenon worldwide and part of it is due to values that transcend boundaries and cultures – from the importance of friendship, the love for discovery and the respect for nature. As participants enjoy the run today, we hope that this will be a great start as well to step outdoors, make new friends, and enjoy a healthier lifestyle as we step into a fresh new year."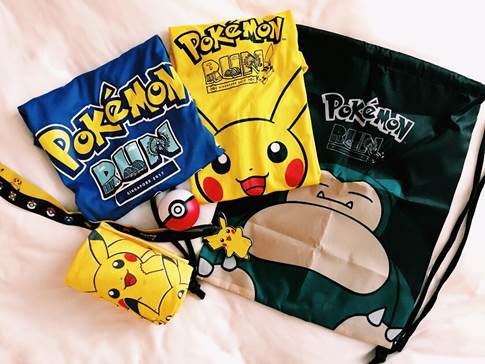 Jeffrey Foo, Managing Director of Infinitus Productions added, "We are happy with today's turnout and positive feedback received for Southeast Asia's first-ever Pokémon Run. We're extremely grateful to all the participants who came down this morning, and hope all enjoyed their journey as a Pokémon Trainer. It was indeed very heartening to see all the happy faces as participants bonded over games and gourmet delights. Now it's back to the drawing board, as we're already looking forward to delivering an even better Pokémon Run experience next year."
For more race information and updates check out www.pokémonrun.sg and www.facebook.com/pokemonrunsg17.