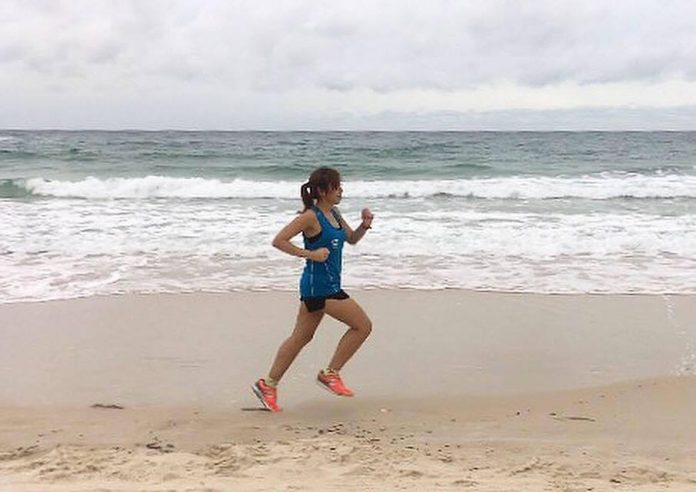 A few weeks back, I read about an article which became a wake up call for me. That article is about oxygen in our blood and running performance. So, my new year resolution this year is achieving better health because I am sure it is because of my health I can't perform well in the sports that I am doing such as running and poling.
As we are learning more pole tricks that we need to do more inverts or hang ourselves upside down on the pole, I will feel giddy easily which all my polemates doesn't feel as much.
All along, I can't run fast I will feel breathless very soon and my endurance is really lousy. My friends who rarely even run can easily catch up with me or even run faster than me. I've been running for a little more than 2 years regularly and I'm just like the same and no where better than when I've just started running. Sometimes I will just comfort myself, it's ok, I run leisurely so that I don't get back to obesity and I run not to become like Usain Bolt, I also pole leisurely not to become international pole dance artist but just for strength, building self confidence and to pass time. Yes, though I don't have any problem yet with glucose level, cholesterol level nor any high blood pressure but for better health it is not just about exercising but we also need to tackle on the problems our health is giving us. I am anemic.
When health is causing a hindrance to life, we have to do something about that, that's one of my biggest regret that I didn't really do something about it much earlier and just let it be. Looking back I had been reading up about anemia all along and I realised that it had been affecting my life very extensively such as I like to chew on ice, so if you know someone who like to chew on ice, most likely that person is anemic too. I munch on ice since I can remember like an addict EVERYDAY. Google tells me that there is a link between eating ice and being anemic. I don't like to stand long or go to crowded place because I get lethargic easily and let's say I'm at Orchard station and need to take a train home, I would take the train from Orchard to Marina Bay and then back to Yishun because that's how much I NEED a seat because I know the consequences such as cold sweat, dizziness, vision went white and gone pale because of standing too long and not moving. I think from all these, can conclude that my anemia is quite serious and affecting my quality of life to a certain extent.
Go for a yearly health screening. Health is really important. Many people have high cholesterol, high blood pressure and diabetes and some of the medicine can be quite costly. Not to mentioned the effort and time you need to spend in the clinic every 3 or 4 months to queue for doctor's consultation, to queue for the laboratory test and to queue in the pharmacy to collect your medication.
Though luckily I don't have all these common chronic diseases yet but I have anemia. I thought anemia, it's quite common among the ladies because of the blood loss but with sufficient replenishes it shouldn't be an issue at all. Anemia develops when the blood lacks of red blood cells and haemaglobin and in short, it simply means the body does not have enough oxygen and that causes fatigue and rapid heart beat during exercises. And of course these affects performance in sports.
A few days ago, I just visited my favourite doctor and requested for supplements which is good for the blood. A new year and new me thing. Today I feel sudden weakness and giddiness again and requested a full blood count and at the same time blood group test. Well, I can't remember my blood group. It is good for us to know since we are runners and anything may happened while we were out there and all the running events I registered before I select "I do not know" when they asked about the blood group.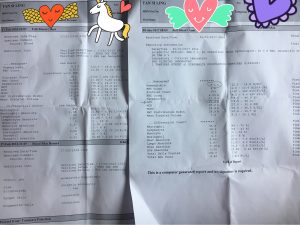 So, this is the results of my blood test I took this morning and last year. This is my n-th tests and comaparing all the tests results, haemoglobin level is always the usual low.
There is many types of anemia. After a few blood tests and visit to the gynaecologist. The doctor says most likely the type of anemia I had is iron deficiency anemia which with the change in diet habits and eating of the supplements I will be fine.
Sometimes I don't know that it's because of my personality traits or is it the anemia that I am like this. Some of my symptoms I had experience over the years is poor concentraton, cold hands and feets, easily tired, irritatability and very frequent dizzy spells and nauseating. The most serious incident I had is once in a crowded MRT when I still in secondary one, I just plop and fainted. Luckily I was with my friend and I scare the hell out of her. When I went unconscious I was in Bishan, and when I regained consciousness I was in Toa Payoh. In a few of my recent running events, such as Sundown Marathon I and Newton challenge, immediately after the run I feel so giddy, nauseating and weak that I sit down and used quite a while to regain back my health bar to green.
I've wanted to donate blood, because donating blood is benefiting not only to the people who needed your blood but yourself too because donating blood have some health benefits. But I can't donate blood because I don't even have enough blood for myself. So, donate blood if you can not only helping others but yourself too.
Last year I was referred to the hospital to check up but it's not really any gynaecology issues that is causing the anemia. It can simply be because of the type of food that I don't like to eat that is causing the anemia. Hopefully with taking of these supplements my blood test results will be fine the next time if not I would need to do more check ups to determine what is the root cause of my anemia.