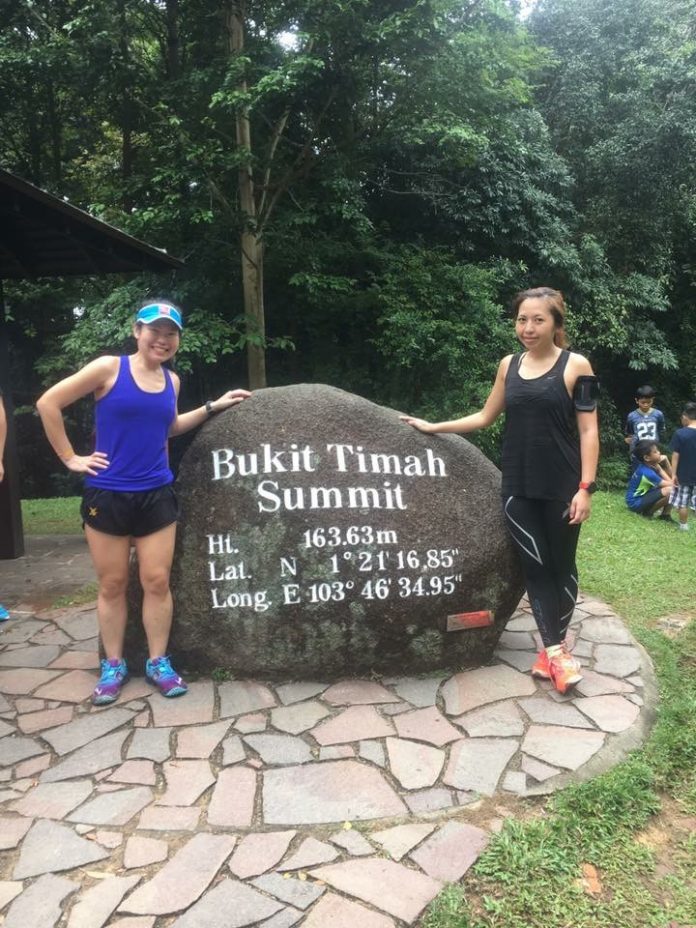 Hi everyone! First of all wish everyone a Happy New Year, good health, happiness and life will just get better and better! 😊
Crazy me. Never thought that I will sign up for any virtual runs but I've been signing up again and again 😅 And this time, for this New Year virtual run I even signed up for the half marathon category to motivate and prepare myself for my upcoming full marathon in February in Hong Kong 😛
I'm quite a lazy person and really keeps on scolding myself for crazily signing up for another full marathon again when running a 42.195km was just supposed to be a one time thing in 2015 for SCMS, I thought once is enough for me. It's really not easy for me to run a 42.195km but I found myself running Sundown 2016 42.195km and registering another one again or maybe it's two in 2017. Don't know how am I going to roll myself to the finish line again 😂
For this New Year virtual run, there is a few distance of category to choose to run though what ever the distance we are running, we are paying the same price of $9.90, there's the 5km/10km/half marathon/full marathon. We also need to complete the distance we registered for in one run within 1 Jan – 2 Jan 2017 and the finisher medal will be posted to our address. And I registered under the early bird so I have free engraving of my name on the medal 😍 The design of the medal seems quite chio to me, a golden medal with a rooster design because its the lunar year of rooster and it's printed with lunar new year greetings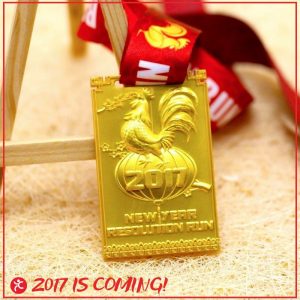 (Picture Credits: 42Race)
When virtual runs first started a few months back I thought it's crazy to pay for virtual runs as it's like paying to do my own runs. I didn't even bothered to check it out till I succumbed to the "poisoning" from my friends who were all signing up for the virtual runs, so I thought $9.90 is still consider as acceptable price but their advertising a little not there yet, they can actually advertise big big it's $9.90 as I feel that its a selling point to attract people to sign up as many people would thought it would be rather expensive.
In December 2016, I signed up for Unicorn Run and the 21 Days Challenge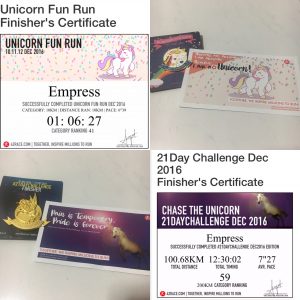 It's really nice that there is lucky draws and the organisers encourages their participants to post journal of their runs and gives out prizes for 3 of the most inspiring journal entries. Especially for the Unicorn Run, the prize for the most inspiring journal entries is a Unicorn float! 😍 It's so cute and quite sad that I didn't even manage to get the Unicorn bathroom slipper they give as lucky draw prize. When I went Bintan for a short getaway I spotted the exact same Unicorn float brought by one of the tourist, its really cute which makes me so tempted to go buy one! But after thinking it's not practical as I rather swim/soak myself in the pool and its quite tedious to pump it up as it's gigantic unless you got a electric air pump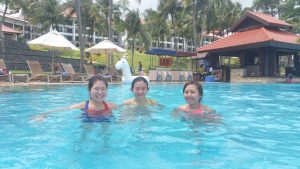 (With the super chio Unicorn float, picture taken while we were in Bintan Celebrating X'mas)
Back to the New Year virtual run, I was really lazy to run recently, maybe because I've been eating too much! 😱 I blame it on because I knew that I would be running long distance and I need to eat for energy but after eating, I've become lazy to run 😭 But I really need to up my mileage already 😖
Had actually wanted to do the New Year Run on the first day of the year but I was out till very late welcoming the first day of the New Year eating steamboat and playing mahjong on New Year's Eve. Had actually planned sui sui that I can run from Yishun to Punggol park at the same time to go there and support my friends who are running the Mileage run on the morning of the first day of the year. I would be taking a longer route by running via Lentor Avenue to Yio Chu Kang Road and Punggol Waterway Point which I estimated that I will reach there with just nice a 21km from home. But when I reached home and when I am ready to sleep, it's already 3am on the first day of 2017. I thought nevermind, don't torture myself with just a 2 or 3 hours of sleep and wake up to run, I'll run the same route as I planned in the evening.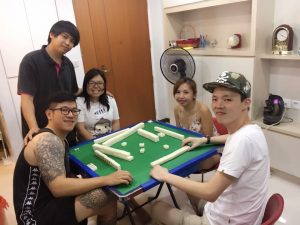 But then my sister jio me to play basketball in the evening which is like the first time in a very long time how can I don't go? Plus there will be friends whom I've known since young, whom I've been playing basketball with since I was 12 years old! 😊 So in the end I didn't run as well. But how can a runner don't run on the first day of the year? Well, I did run, consider that some running is involve while you play basketball right? It's just that it's not 21km 😂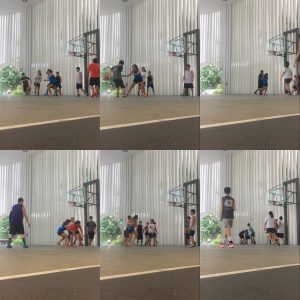 See, I not just stand there "season parking", I got put in effort got run, got defend, got try to steal 😆
As I'm meeting Sabrina for a hike on the second day of 2017, which is today so I asked Sabrina to do the 21km with me instead and she's ok to it. Luckily they give chance, giving the runners enough time of 2 days to complete the run. It's really awesome today, we start our day having roti prata before we ran from Peirce Reservoir to Bukit Timah Hill!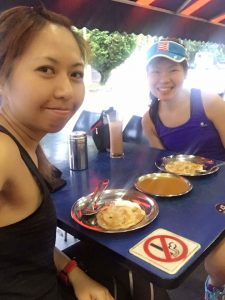 The weather is really good today though the sky is very dark but it didn't rain. The sun is also hiding since the day start and though we only ended our run late into 11 plus in the morning it's not out there to tan me into 10 shades darker 😊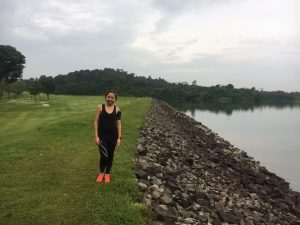 Sabrina is on fire, she ran all the slopes, even the upslopes which the gradient is so scary. Powerful!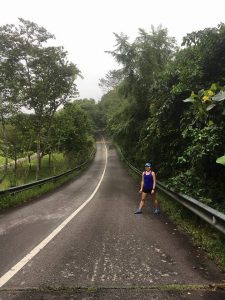 Which I think after just the Peirce Reservoir, all my upslopes I can even move my foot left right left right forward is good enough already to pop a champagne 😂
We also detour into the HSBC bridge to enjoy some scenery 😊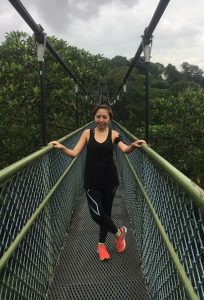 The entire route is Super tough, we ran on sand, road, rocks, grasses and mud. Ran up slopes and down slopes and climb up and climb down many steps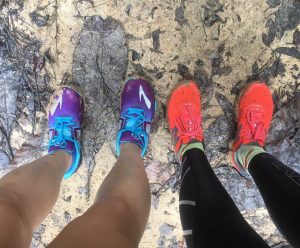 I'm glad that I manage to complete the 21km, at many times my legs went jelly and I can't find the strength to lift up my foot up to climb the slopes and steps while we were in Bukit Timah Hill. The slopes in Bukit Timah Hill is so steep! Which whenever when I'm there, I would always thnk that if I fall backwards I can really directly roll back to the bottom of the hill like a snowball! No joke! 😱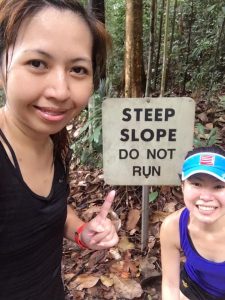 Because the signboard says do not run so I very good girl didn't run! 😆😂😅 Just hope that I will go there run often so that I will not be afraid of slopes anymore 😆