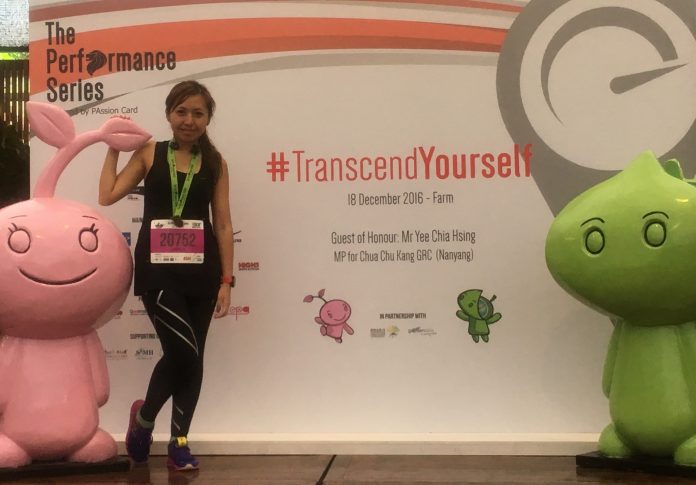 Transcend Yourself. According to Google, it's to go beyond limits or surpass prior achievements but what does that means to you? To me, it simply means be better than what you used to be. To me it's more than physically transcending yourself but transcending yourself with your heart and mind too as time goes. Become a better person and also achieving what I wanted in life 😊 Maybe that's what life is other than making meaningful memories and to make meaning out of your life, be better and keep on improving yourself 💪🏻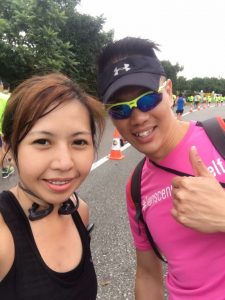 (With Peter Tan, the Managing Director of JustRunLah! 😊)
This is my last running event in 2016 and it's also my first race with The Performance Series. It's concept is interesting, with a series of 5 runs spread out over the year and the medals forms up a map of Singapore and that there is different distance categories to participate in such as the 2.5km/5km/10km, which encourages families of multi-generations families to run together and encourages people who dosen't run to start running 😊 The best part is all the 5 runs is not held at the same place! The previous race were held at Coney Island, Jurong lake, Bedok Reservoir and the very familiar place at Gardens by the bay where many runs were held at. This time, the run is at the Kranji farm. Having the runs all over Singapore is like encouraging the runners to explore Singapore. Though Singapore is small or even we've live here our entire life, but there were places where we didn't know of or went before.
I've thought of signing up for the package of 5 races to collect the full set of medals but thought of what if it clashes with any other runs that I really love to go and it falls on the same day or what if I have other commitments? Turns out that one of the TPS run clashes with Batman Vs Superman run which is a fun run with a good theme which I definitely want to run and another run I was running the Standard Chartered Kuala Lumpur Marathon.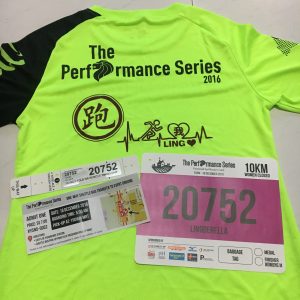 So, the runner's entitlements includes of two T-shirts. One is race tee, the other is finisher tee for the 10km runners. I have never gotten a finisher t-shirt for 10km runs though I did a couple of 10km runs before, for those runs there is no finisher tee and I'm perfectly ok with that. To some, running a 10km is like hitting a milestone or is an achievement, yes running even 100 metres is not easy(some people do even complain of chiong-ing a fee metres to catch the bus will also want their life) it is very memorable for them to keep those shirts with them as it's their hard earn trophy. But I think would be a good option that if we do not want the race tee, we can opt to donate it away, or even be more environmental friendly, opt out of race tee. Imagine those who ran the whole series have 10 t-shirts! Even though the 10 t-shirts were of different colours, to me its still like wearing the same shirt lah! 😅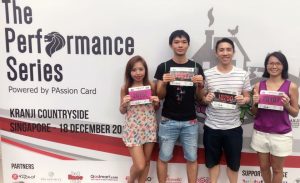 There is no queue during the race pack collection and I like it, there's a few booth selling some sports apparels, insect repellent and a booth selling something like a medal and bib album where we can file our medals and bibs inside. I was so tempted to buy it but its too expensive and recently I'm also doing spring cleaning so I find an alternative way to display my bibs at home.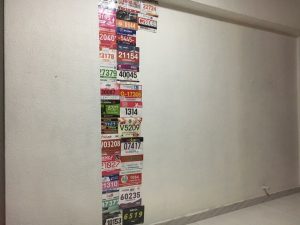 I think I need another 10 years to fill up the wall with the race bibs. Still thinking of how should I hang my medals 😁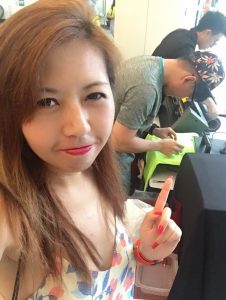 Thank you P_ease for personalising my race tee! 😍 They always comes up with new designs uniquely for the different races and some of their designs and quotes are so motivating! Of we can just simply don't use their designs and just customised our own tee by adding the words or numbers we want.
I bought the shuttle bus ticket on the race day to fetch me from Yishun to the race venue and there isn't pick up from certain areas like Khatib like always, but its just another few hundred metres walk to Yishun but it's ok for me just that the shuttle bus ticket is selling at $7 where for many other runs, the shuttle bus tickets is selling at about $5. Khatib area is expanding with many new BTOs and Condos ready soon so hopefully next time running events would provide shuttle bus service from Khatib.
On race day I really dreaded to pull myself out of bed. Smelling the air and seeing the red sky, it's obviously going to rain and I only slept 3 hours as I reach home late from a x'mas celebration, sounds seriously appealing to stay in bed. But still it's the last race of the year so I pull myself out bed and walk myself to the shuttle bus pick up point.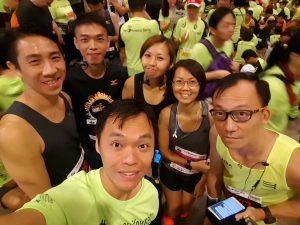 But the mood is not dampened by the wet weather at all when I reach the even site and luckily the race is just delayed and not cancelled. Flag off for the 10km category by right should be at 6.30am but it's about 7.05am then we were flag off. But it's ok with the delay, maybe the Organisers want to ensure the weather is really ok to run in or the route is safe to run such as whether there's any fallen branches blocking the way after such a heavy rain?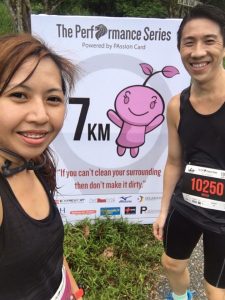 I enjoyed the entire 10km running with Kelvin. Chit chat walk walk slow slow run. Don't want to worsen my sprained ankle and my legs is very jelly because of yesterday's pole class, we were stretching to do splits which I still can't do 😭 The stretching always kills my legs like for the rest of the week, then when the legs finally feels ok it's pole class again 😂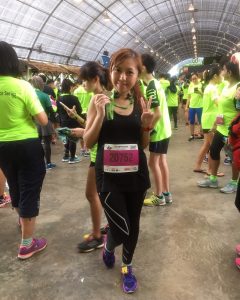 It's a very cooling run as it rained earlier and the Sun didn't appear at all. I felt cold and I must really say that the air smell very unpleasant at some parts 😅The terrain is not easy to run as there's many slopes. Saw many runners have their race tee customised and got one is really cute and sweet with the words printed: If lost please return to Mrs Smit 😍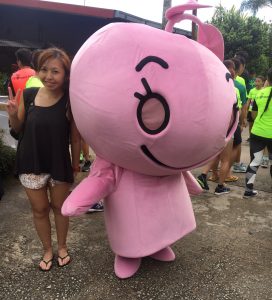 (With one of the Super cute mascot of Gardenasia 😍)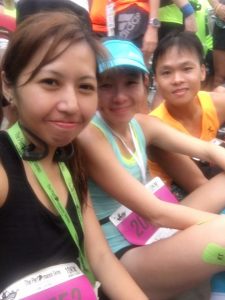 Congratulations to Jasmine, Yvonne and Justina for getting top 10! 😍
I must say that I see queue I want to cry 😭 The queue for toilet before race, the queue for baggage collection and especially the queue for shuttle bus back to Kranji MRT station is at least 1 hour 😭 But luckily I have good companionship to make the queueing more tahanable. Especially Haohan is so funny he pointed out a signboard: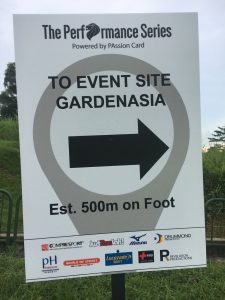 Notice anything funny about the signboard? Because Haohan says 500 metres is still 500 metres right? No matter by foot or by car or any other means 😂 Though it's said that the shuttle bus stop its service at 9.30am but it's still ferrying us though it's already 10am. Thank you for the extra effort from the organisers 😊
Other than the queueing everything else is ok, consoling myself that at least I had an enjoyable run and the medal is pretty and also treat this run as a gathering with friends 😊