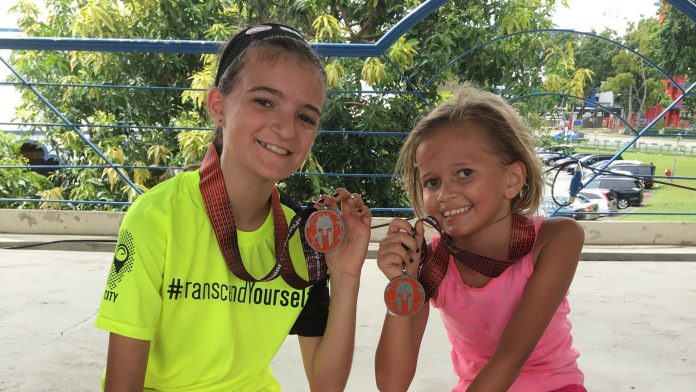 I really wasn't interested in registering my daughter, Trinity for this year's Junior Spartan Obstacle Race. Certainly not at $55 given that last year when she did participate we only paid $30 for the event. I couldn't figure why nearly double the price and in a location that was a fair way from home.
However, when I looked into her pleading eyes and her friends hopeful face it was hard to stick to my guns. With some extra research it didn't take long to realise this is a great opportunity for the two girls to participate in an event that allowed mixed ages. Here is the thing. Trinity is 8yo and her friend, Michelle is 13. Besides the standard age related categories, this race had a mixed ages category for 8-13yo, which meant that this year would be the only time the girls could participate together in this race. Next year Michelle would be considered a youth and she'd have to join the main Spartan event. So hubby and I swallowed the $55 and just paid up.
The race was held at the Yio Chu Kang Stadium and when we arrived to the event site and saw the setup and obstacles we understood why we were paying nearly double the price. Last year's event couldn't even compare to the standard of obstacles provided at this year's event. Higher, harder, longer distance (2km instead of 1km), bigger challenges are just some of the words that come to mind. Looking at the obstacles we knew the girls would have to work extra hard and hope they have the stamina to last the distance.
It would be difficult to describe the 13 obstacles they had to conquer but some of the highlights were the A-frame climb over, the cargo net climb, carrying pails of water, caterpillar crawl, pull a tyre by the chains, balance beams, rope climb ending with a bell ring, sack races and flip a tyre whilst running in between the obstacles. For any incomplete obstacle the racer had to do 20 burpees, which quite a few kids had to do on what I thought was the most difficult obstacle, being the climbing up a rope about 4m to ring the bell as a sign of completing the obstacle. Thankfully Trini has been doing gymnastics for 2 years where rope climbing was part of the curriculum and she was well trained for it.
As the race progressed, you could see the fatigue overtaking both girls. Each obstacle needed a pull, push, climb, run, crawl using every possible muscle in their young bodies. Their stamina and cardio was challenged and by the time they reached the end they were well and truly finished physically. Nothing that a block of chocolate couldn't fix.
As a parent looking on, I think this kids obstacle race was spot on. It was well organised with challenging obstacles, contained in a good quality stadium. As parents we had just as much fun watching as they did participating.
Cheers