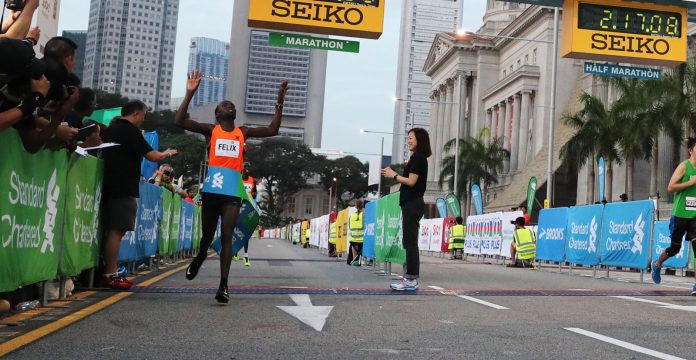 [Press Release] The Standard Chartered Marathon Singapore (SCMS) 2016 saw Kenya continue its 15-year domination of the event as debutant Felix Kiptoo Kirwa became the twelfth Kenyan to take home top honours winning the Men's Open with a time of 2.17.17.
Trailing close behind was fellow Kenyan, Paul Kios Kangogo and David Kipkorir Rutoh who kept pace all the way till the home stretch before Kirwa broke away and clinched the title with an impressive sprint finish on the home stretch.
Commenting on his win, Felix Kiptoo Kirwa said "I was not expecting to complete the run in this timing as it is very hot and humid in Singapore…last year they finished in 2 hour 17 minutes, and i was not sure I could do the same. We have so many runners and they are so competitive. When I arrived at 40KM,that was when I realised I may have won the race."
In the Women's Open category, Kenyan Rebecca Kangogo Chesir took home the title after clocking 2:43:03 to clinch Gold. Throughout the race, Cheshir was pushed by a resilient chasing pack comprising Yator Viola Jelagat, and Peninah Jerop Arusei who finished in second and third place respectively.
Into its 15th year, Asia's preeminent gold-label race flagged off a half-hour earlier at 4:30am, a change by first-time organisers IRONMAN Asia to improve the race experience by giving runners a cooler, more conducive race environment before sunrise.
The earlier start time proved beneficial to Team Singapore athlete, Mok Ying Ren who won the Local Men's category with a time of 2:41:05. The win is an unprecedented seventh for Mok making him the most accomplished local runner in SCMS history.
Sharing his thoughts on the victory, the 28-year-old said "It's a good achievement. Coming into this race I just started working 4-5 months ago, and have settled into a routine of running once a day, running home from work. I've retained some of my fitness from my overseas training."
He also shared his thoughts on the consolidated start point saying "I've taken part in races where the half and full marathon started together, personally I like the feeling of so many runners starting together, and there are so many people to feed off for energy with the half marathoners going all the way to 12km."
Both the half and full marathons were flagged off in waved starts, giving runners an opportunity to enjoy the first 12km of the route together under the Christmas lights, while running amongst individuals of a similar pace group.
Flagging off the race was Mr Lim Teck Yin, CEO of Sport Singapore who shared that, "I'm glad to see that SCMS, over the 15 years, has grown into what it is today where it continues inspire runners from all walks of life to come together to give themselves a fitting finale to the year through sport. It is also the first year with new organisers IRONMAN, and we are pleased to see that they have incorporated new ideas to keep the event fresh and interesting for the community. We applaud all participants – runners, volunteers and especially our Team Singapore athletes for their effort and achievements."
Participating in this year's race were marathon ambassadors Paul Foster and Jaime Teo, who had both signed up in pursuit of personal fitness goals. Upon completion of his first-ever half marathon, Paul said "I'm really glad to have completed my first ever 21km, it wasn't easy but I've been training for this over the past six months, and it's comforting to see that the training has paid off. I hope that this will encourage others to pursue their fitness goals too. If I were to pursue my bucket list, the next step would be to pursue a full marathon."
A total of 46,000 participants took part across five different categories, the Kids Dash, Ekiden, 10km, Half and Full Marathon. Commenting on the numbers, Managing Director of IRONMAN Asia Geoff Meyer said "I'm pleased with the turnout and success of the event this year. The event is one that has been largely popular among the local and regional community and the numbers certainly showed. This is our first time at the helm of the Standard Chartered Marathon Singapore, and whilst we are happy with the outcome, we will strive to make it even bigger and better, and work towards our goal of making SCMS a leading marathon globally."
You might want to read:
Cover image: Full Marathon Men's winner from Kenya, Felix Kiptoo Kirwa crossing the finish line. Photo credit: Standard Chartered Marathon Singapore