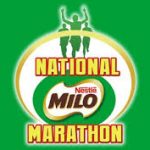 ILOILO CITY – It will be the turn of this city in Central Philippines to be engulfed in a sea of green as they host the 40th MILO Marathon National Finals this Sunday (December 4) at the Iloilo Convention Center. The elite of the elites of Philippine running will go all to claim victory in the country's oldest and most prestigious footrace.
All eyes will be on defending MILO King and Queen Rafael Poliquit and Mary Joy Tabal as they try to retain their crowns against a stellar field consisting of former winners and a gritty contingent of overseas entries. A windfall of PHP 300,000.00 each awaits the winners plus the chance to represent the country in an international marathon in 2017.
Aside from the elite runners, an estimated field of 20,000 has signed up for the side events of 21, 10, five and three kilometers. A fast, straight and easy course traversing the Iloilo Radial before making a u-turn approaching Zarraga is expected to yield fast times as runners go for personal records.
Over a thousand runners earned slots through the series of regional qualifying races. Among the prominent names in the start list are Eduardo "Vertek" Buenavista and Cristabel Martes, multiple MILO winners who hope to further add to their already legendary status.
City Mayor Jed Patrick Mabilog has thrown his all-out support to ensure a successful hosting, the first time that the event will be held outside of Luzon. Last year, the MILO Marathon was staged outside of Metro Manila for the first time in Angeles City to positive reviews thus prompting organizers to choose a provincial venue anew.