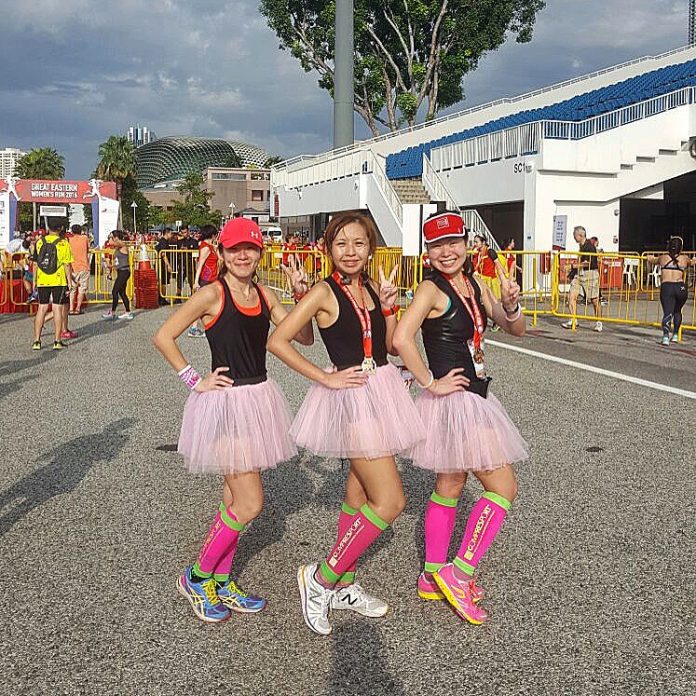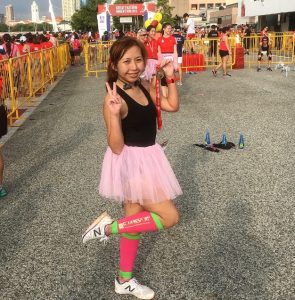 LOL! Why didn't I learn ballet when I was still a kid? At first I didn't want to run a half marathon in tutu as I thought will be quite "irritating" to run 21km in it but I survived a half marathon in a tutu perfectly fine 😆 About a week or more before the race day, I tried on the tutu for the first time my entire life, and I think it really look super cute and started to be a little narcissistic in front of the mirror.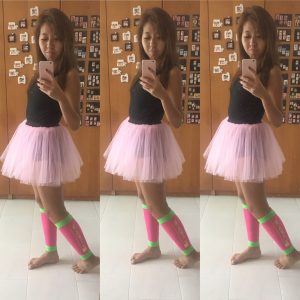 Then I asked Justina and Sabrina to wear tutu with me to the run on the race day and at first I thought they wouldn't want to but they are ok to wear it 😆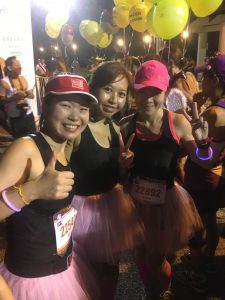 Took the shuttle bus there and reached The race venue very early at 4.15am. So after baggage deposit I head directly to the start pen with Sabrina and Justina. Baggage deposit and baggage collection is great as have no queues at all at least for me 😊 The elites category were flag off a few minutes later than the actual 5.15am and the rest of us were flag off about five minutes after that. The prizes for the podium winners are always good for these type of big races. First prize for the elite open category is USD8000! Wow! And congrats to Jasmine for coming in first in the closed elite category! Speaking of which now then I remember the first time I met her is also in GEWR. It's last year when we were both walking to catch the shuttle bus to the race venue and started talking. So race day morning, met Jasmine at the bus stop again also taking the shuttle bus to the race venue, she said my shoe tag is different from hers, but there's no shoe tag for timing only race bib, it's the shoe tag for Newton Challenge I have yet to remove 😅 Yup, only the elites category have shoe tag for timing.
Before the flag off, the emcee was saying something like this is a all female run, so ladies will feel comfortable with no men around to see how sweaty we are. But I love my sweat and I think ladies who sweat are way much hotter than those who don't sweat at all. I've known ladies who don't "exercise" at all. Anyway, just a additional information on something I read a few weeks back that doing house chores is not considered as exercising. Details I forgotten but sorry ladies, doing house chores is not exercising. And all along I am also very ok with races with men and some more sometimes got eye candy around to ogle at. LOL! 😆 But this time the guys are so sweet to be around to show support to their mum, wife, girlfriend, someone special but not girlfriend (now then I know some people can have relationships that can be so complicated) and simply friend.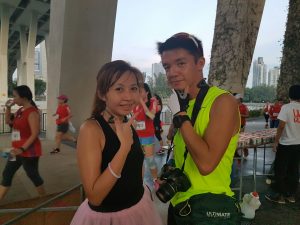 Like I'm cheered up a lot and really happy to see Eugene somewhere before 10km at a hydration point when I just went to the toilet earlier on because of a tummy upset, not just my tummy is upset I'm upset too that my tummy is upset 😭
The route of the half marathon is the usual route same as many of the other runs which I think Organisers really can't do much changes to make the route more interesting because Singapore is just so small 😅 And the 100 Plus available at the hydration points is really cold! Love it! And maybe because it's a all ladies run, I noticed the hydration points are so much "cleaner" than those runs with men. Meow, not trying to imply amything 😆 But there is really lesser cups thrown on the floor, most ladies will throw their cups properly at the hydration points.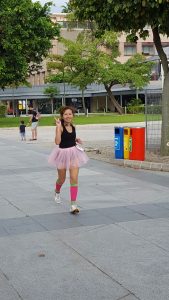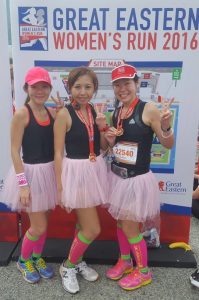 I didn't go to explore the race village at all after the run but just took some photos around and leave for breakfast after that as I'm too slow and Sabrina and Justina have already waited really quite some time for me. As Justina and Sabrina is so much faster than many runners, it's really fun for them at the race village to take photos at the photo booth and enjoy the food like ice cream and yogurt available for the runners as there is no queue because most runners are still running 😆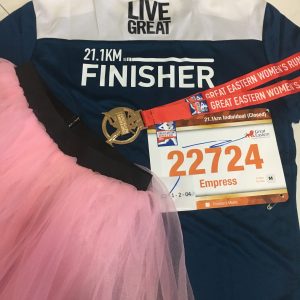 This is really a bad run for me, did my slowest half marathon ever. I should have Did Not Show instead as I am still recovering from flu and cough but I thought it's not serious enough for me to do poorly but I was wrong. Just after a few km into the run I start to feel a little giddy and started walking or maybe it's just that my mental strength is too weak.
Somehow the more you look forward or have expectations to some things, the more disappointed you will get when the goal is not reached. Was actually looking forward to this run since months ago and I actually hope I could get a PB because Newton Challenge gave me hope that I can do it. It's really ok as I think I did what I could and there is always other upcoming runs.
I just hope nobody will think that I look very unfriendly today because I'm literally "dying" during the run. Turns out that I'm very smiley in the photos at least. I'm struggling to finish the run and I feel like I was drifting myself to the finish line and now I really wonder how did I manage to finish the run. But I did. Still a bad run is not the end of the world 😊
[More than 1 week before race]
Woohoo! The long awaited largest women's run in Asia is finally here again! 😁 There's the Princess Dash, 5km, 10km and half marathon category and I participated in the half marathon. Though the Princess Dash category have nothing to do with me, but its part of why I like this run too, after the little Princesses complete the run they get a finisher tiara! So cute right! 😍 It's actually also quite meaningful as we can support by donating to the Breast Cancer Foundation and Women's Health Research and Education Fund and also get a tutu. I don't think I will wear the tutu and run a half marathon, can be quite hardcore so maybe save the tutu for any future fun runs that I may join, it should be quite cute to wear a tutu and run lah! 😆 Because its a run commissioned by Great Eastern, its good that we have free insurance covered on the race day as a part of the runner's entitlement but hope that everyone can stay safe and no need to use the insurance for any claims. What I like best is the official apparels is Adidas again! 😄 But why is race tee and not race singlet? 😤 Or improvised, like YOLO Run, since this is a all ladies run, they can gives sports bra right? Imagine how nice it would be if we were given a Adidas sports bra as an entitlement instead! 😆 It will be good if we were given the option to choose whether we want a race tee or race singlet or let us vote about it at least, just like what Sundown Marathon is doing now is great, let us vote for the design of medal and race singlet 👍🏻 And LUCKILy, Compressport is the official Compression but the event tee is not Compressport but Adidas. I do not have any issues with Compressport just that I really have like A LOT of their race singlets already 😂 And honestly speaking before I started participating in running events just slightly more than a year ago I've really never heard of Compressport 😅 Anyway speaking of brand, how come there isn't any more Nike run or Adidas run? Heard that few years back there is? Hope the running organisers will consider bringing these runs back. Maybe in future like 10000 years later there may also even be LV run, Coach run, Hermes run and etc? 😅
Thank you Justina for helping me to collect the race pack! 😘 But turns out no matter what I still need to go to the REPC venue to collect the tutu because it was not given together in my race pack. The venue for REPC is at Marina Square and luckily I have a meeting there on Saturday so its not a trip purposely just to go all the way to Marina Square just to collect the tutu. And thank you Sabrina for accompanying me and friends really have some sort of "vibe" of attraction, coincidently we met Justina there and of course must take picturea together at their photo booth for the instant photo 😊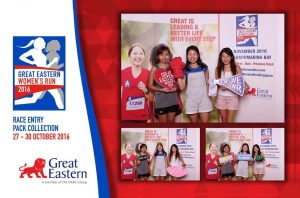 The next day, the last day of REPC was just nice the day of Newton Challenge. The race venue is just nearby so after the run and having our breakfast at Marina Square's Starbucks, we went and take photos together again at the photo booth but this time is with July and Sabrina 😆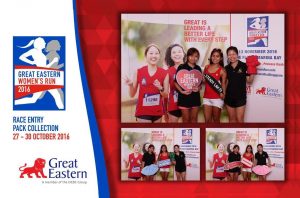 Nowadays many of the running events have photo booths available during the race day and during REPC, I always like these photo booths, they always have cute props uniquely made for the event and the photos can be kept as memories 😁 And they are really efficient, the soft copies of the pictures we've taken at the photo booth is uploaded into albums in their Facebook page, made available to us in just a few days. Really appreciate that! 😊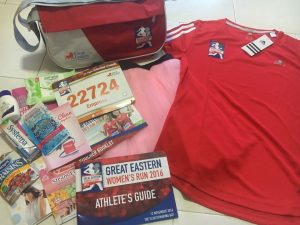 It's one of the runs with many freebies given in the race pack. And all the stuff is put inside the sling bag, the sling bag is also quite nice actually and I'm happy to receive it rather than getting the usual drawstring bag or a plastic bag from the other runs 😁