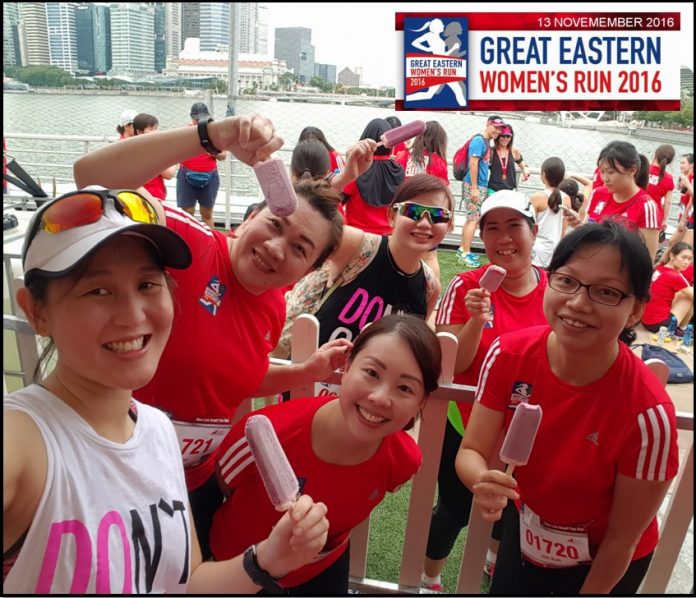 Great Eastern Women's Run (GEWR) is an annual run event which caters to female runners of all levels. It is one of the few ALL women run events in Singapore. I have joined the previous editions of the GEWR in 2013 and 2015 and enjoyed every moment of it.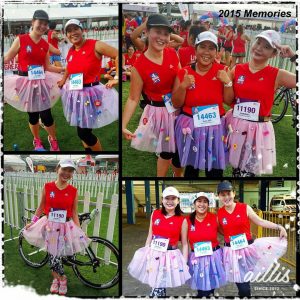 [2015 GEWR fun moments and memories]
This year is the 11th GEWR event in Singapore and I signed up for the 5km category. Race day is always electric and I'll write about that in a bit. Below are some of the things that attract me  to join this run event year after year:
| | |
| --- | --- |
| [Photo courtesy from Great Eastern Womens Run Website] | Meaningful #RuntoLiveGreat Program – As with other years, this year is no different, the #RuntoLiveGreat Program is in its third year. Its main aim is to help first time runners to take their first step towards healthier and better living. What's also interesting about this program is that its participant will receive an GEWR exclusive '#RuntoLiveGreat' starter kit and a customised exercise plan. GEWR also organise various lead up training sessions which eventually will help them complete their run on race day. |
Too bad I'm not a first time participant to GEWR and most of my friends have participated in this event before, but nonetheless, it is a good concept and it's definitely a good stepping stone for first timers. Even if I don't join this program, normal participants can still sign up for the various lead up run activities like kickboxing, training run sessions, cooking class etc. for a small fee.
Awesome Race Goodie Pack – This year race pack design is super cute! It's a small sling shoe bag filled with goodies from the various sponsors! Check out my photo below! Now who wouldn't be enticed!?
The only feedback that I have about this year race pack is the design of the race tee. It is really similar to last year memento tee with a few design tweeks like the 3 stripes at the top instead of the side and the material more breathable to allow air to flow through easier.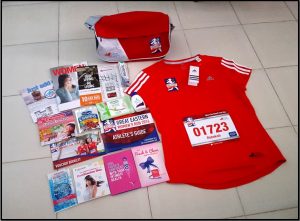 Don a Tutu for a good cause – There's also a charity factor for the GEWR. This year the GEWR is privileged to support the Breast Cancer Foundation and Women's Health Research and Education Fund. Participants can pledge a minimum donation of S$5 and receive a tutu. Participants are encouraged to wear their tutu on race day to support the charity of their choice and there are contests with attractive prizes to be won for the top 10 Most Creative Tutus. I did this last year but this year I did not.
Fun & Interesting Race Pack Collection – Though I had the help of my friend to collect my race pack on  my behalf, she told me that there were lots of photo booths with props and you can get your photo printed, every participant were given a sunflower, lots of vendors were there promoting their stuff etc. Most importantly, the queues moved fast and race packs were given out in a systematic manner.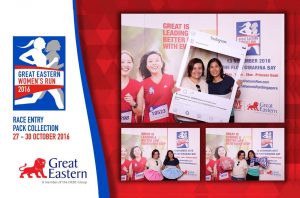 There were also Facebook Contest being held in conjunction at the REPC for the participants who were collecting their race packs. These contest help make things more interesting! I gotta give the organiser for promoting this run event really well on social media platforms.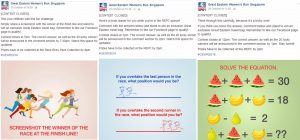 [Photo courtesy from Great Eastern Womens Run Facebook Account]
RACE DAY
I met my friends at City Hall MRT station and walked over to the float! We had all decided to meet by 06:45 hrs as that would give us ample time to walk to the race site and take photos around the race area. My friend, Cheng Yee & I had decided that we would not wear this year event tee but instead, we would wear our recently purchased "Don't Quit"  tee just for the fun of it.  Being ladies, we just love the "matchy matchy" look  🙂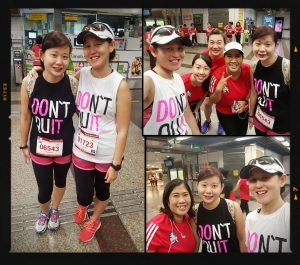 PRE-RACE
When we arrived at the race site, we were surprised to see sooo many ladies out in full force for this event! We could also see the gorgeous sunrise that is happening in the distance. We took photos around the area before using the toilets and depositing our bags. There were ample portable toilets around so there were no snaking queues or long waiting time. Bag deposit and retrieval was fast and efficient.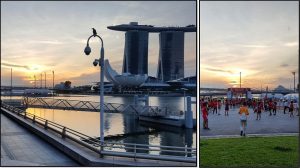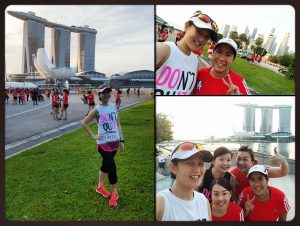 My group proceeded to the START pen area which was situated near the Singapore Flyer. We had to ask one of the volunteers there as we were not too sure where the START point would be. One feedback that I have would be for the organisers to place signage to guide the participants to the START pen area. Yes there was a map that showed us the layout of where the START & FINISH points are but signages help better with facilitation of direction.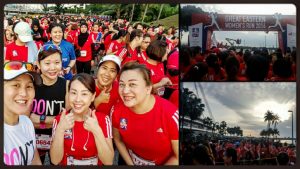 One thing I liked about what the organisers did before the race start was placing a hydration point near the START Pen. This is helpful as sometimes you do feel thirsty and want to get a drink before starting.
RACE START
As mentioned earlier, this year, I signed up for the 5km category and the flag-off was at 07:30 hrs. We only managed to get flagged off in the 3rd wave but thankfully the weather was not hot which made the workout nice.
The route was a familiar but challenging one.  We ran past the F1 pit building towards Nicoll Highway, u-turned back via the Kallang Basin, passing the F1 pit building again before crossing the FINISH line. The difficult part was after Nicoll Highway somewhere after the 2km mark, there were these tunnels which had a very steep gradient which I had to scale not once but twice!! I could already feel myself getting tiring out and had to walk a bit before picking up my pace again. Distance markers were sufficient making it for us to know how long more we had left.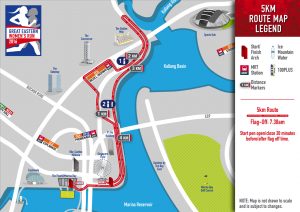 [Photo courtesy from Great Eastern Womens Run Website]
Hydration points were sufficiently place along the route but they were really packed with runners trying to get a drink. I guess maybe the length of the stations were not as long as other events. My friends CY & Kalsom said that they had to wait for sometime before getting their drinks as the drinks were not poured fast enough.
POST RACE
I managed to finish the race in  35 mins (Unofficial Timing). Collection of after race entitlements were good which included a can of 100 Plus, F&N Ice Mountain Sparkling Water infused with Grapefruit, banana and not forgetting my finishers medal! The collection area was very well-organised and clearly labelled so that participants know which lane to follow after they have crossed the FINISH line.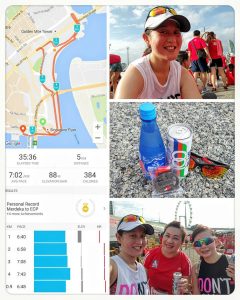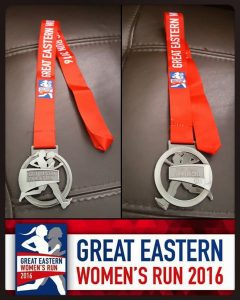 After I've collected my runner entitlements, I headed out to wait for my friends, it was really crowded. After everyone had returned, we had decided to check out the race site to check out the activities that were going on there. There were lots of vendors selling various products and offering some freebies like drinks, ice-cream etc. to entice the participants. There was also a mass Zumba session happening for the ladies. It was a very vibrant race village, just a tad too crowded.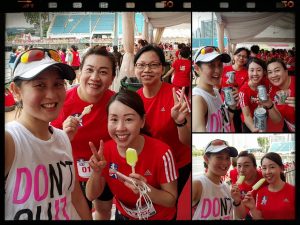 Overall. I had a fun time at this year GEWR! It was super organised and well executed! Big thanks to the organisers on doing a fantastic job! I'm definitely looking forward to next years event and who knows I might actually sign up to do my first 21km then. Super love this year 21km Finishers Tee but till then, great job ladies!!! Congrats on finishing your race regardless which category! Let's all #LearnToLiveGreat & #LearnToFeelGreat!