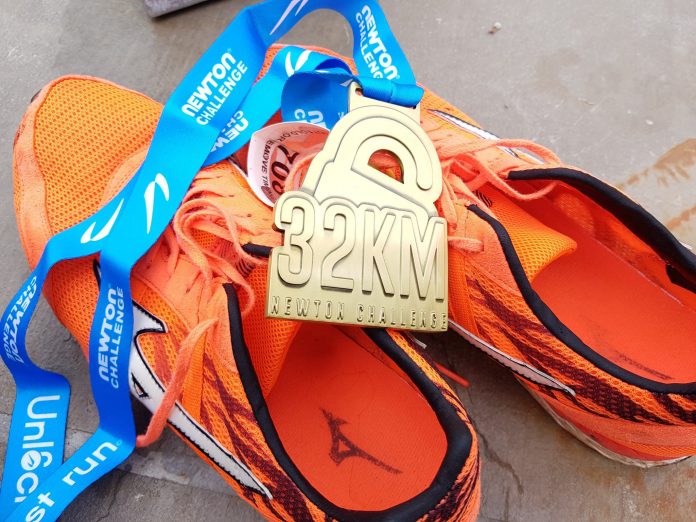 My Race Journal
This year's edition of the Newton Challenge 2016 took place at the Marina Barrage on a very fine Sunday morning with a favorable cool weather and with the challenging ramp included on the final stretch of the race route making it somewhat unique. This is my second time taking part in this race and I noticed that there were a few minor flaws but nevertheless, the entire experience was completely awesome as, again, I achieved another personal record.
Race Eve
Facebook update at around 7 PM regarding the weather alert was good showing that the organizers are monitoring all the possibilities, however, I feel that not everyone is quite active on social media so this could have been easily missed out by some. A SMS rather should have been a much better way of reaching out to runners.
Race Day
With all my running essentials packed the night before, I woke up with only just enough time to gear up, have a quick bite and be on time at the Ang Mo Kio shuttle bus pick up point. I left my house at about 3:20 AM and ran a few blocks scared to miss the 3:25 AM shuttle bus. I regarded it as a warm up but then it was already 3:25 AM and I was still a block away. I felt a bit of a relief when I finally saw the bus at a distance and a few runners on the opposite side waiting for the go signal to cross. I have thought I did run fast enough to catch the bus but I thought wrong because the bus left 10 more minutes later. I have learned from my running friends coming from Yishun pick up point that their 3:15 AM shuttle bus was also late. Furthermore, their 3:15 AM bus hit the road even much later than my 3:25 AM bus which already departed late! How bad of a service was that?! Something must have gone terribly wrong there.
I managed to find my running friends on site despite the massive number of runners scattered all over the place. I felt there were not enough signage also to lead runners to the bag deposit, to the toilets or porta-loos if there were or even to the start line. All I saw was a very long but fast moving single queue leading to the baggage drop. The volunteers are doing a good job here.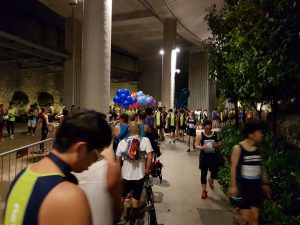 Making this edition unique is the start line wherein you need to make your way up round the marina barrage ramp and down. The down slope of the ramp didn't help to kick start my run because of the narrowness of the ramp itself making it too 'squeezy' for the huge wave of runners slowing down the flow and the bottleneck continued until after the 2nd km mark.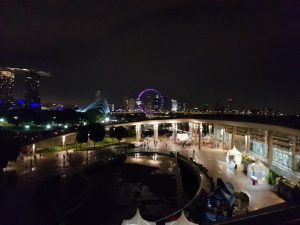 From this part onward lacks guide lights or at least some volunteers as this area is almost pitch-black. It was extremely dark that I had no idea on what I was stepping on. I was pre-occupied though on keeping my pace at 6 mins while having a little chit chat with my running buddy @naturerunshoot so I wasn't really bothered for myself about the unlit path. The bottleneck just started to loosen after this dark area so my concern was the safety of other runners that when one stumbles a domino effect will happen considering the amount of runners.
As compared to last years edition, this year's route is still better. If I remember it right, the whole course last year was the entire ECP requiring us to do 2 long loops somewhere to complete a 32. Hydration points are situated well except that there were a couple of hydration points along ECP where they were on the right side of the lane. Weren't they supposed to be on the left side so that they won't disrupt the momentum of the fast runners on the right? Few feedback from social media sources were 'no bananas' and 'no energy gels' which is quite true because these are basic necessities for long distance runs along with water or isotonic drinks. On a lighter note, generous muscle spray bottles are available on select points.
Aftermath
I was able to finish strong at 3:13 nett timing and I owe it to the training my group were doing to better prepare us for a full marathon coming this early December. A lot of things happened simultaneously after the race but me and my friends chose to gather on one corner and waited for the rest, did some serious cool down exercises and finally queued for the totally awesome food.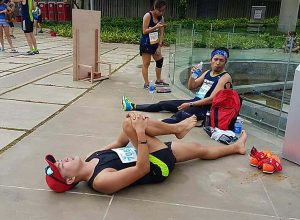 Overall, this year's edition is well organized except for few minor but tolerable flaws. I would definitely take part again next year.