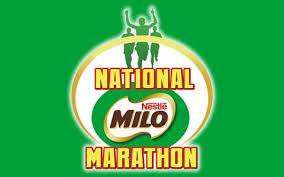 GENERAL SANTOS City – Four-time MILO Marathon Queen Cristabel Martes and veteran runner Anthony Nerza were the winners at the resumption of the regional qualifying races for the 40th MILO Marathon at the Oval Plaza Sunday (October 16).  They will join 38 other runners who met the minimum times to earn seats in the National Finals this December 4 in Iloilo.
Martes, who in the recent past would qualify through legs in Luzon, was unchallenged throughout the 21 kilometers as she won comfortably in 1:26:57 over Monaliza Ambasa (1:32:07) and Criselyn Jaro (1:35:40).  As it stands, all three female podium finishers were the only ones who qualified for Iloilo.
Davao native Nerza, whose claim to fame is emerging as the fastest qualifier of the 2013 season, clocked 1:11:15 as he won his battle with another grizzled competitor in Ireneo Raquin (1:13:13) and Jimboy Lugay (1:13:49).  An inspiring finisher was one-armed Isidro Vildosola, who landed in the overall Top 10 with a time of 1:28:43.
Next week, the MILO Marathon goes to Cagayan de Oro were another banner field is expected.  Two more qualifiers will be held in Butuan on October 30 and Davao on November 6.
Other Winners: Dante Baay and Jenilyn Glama (10 kilometers), Nathaniel Morales and Reanet Joy Llano (five kilometers) and Ronald Donde and Hazel Grace Catalbas (three kilomters).