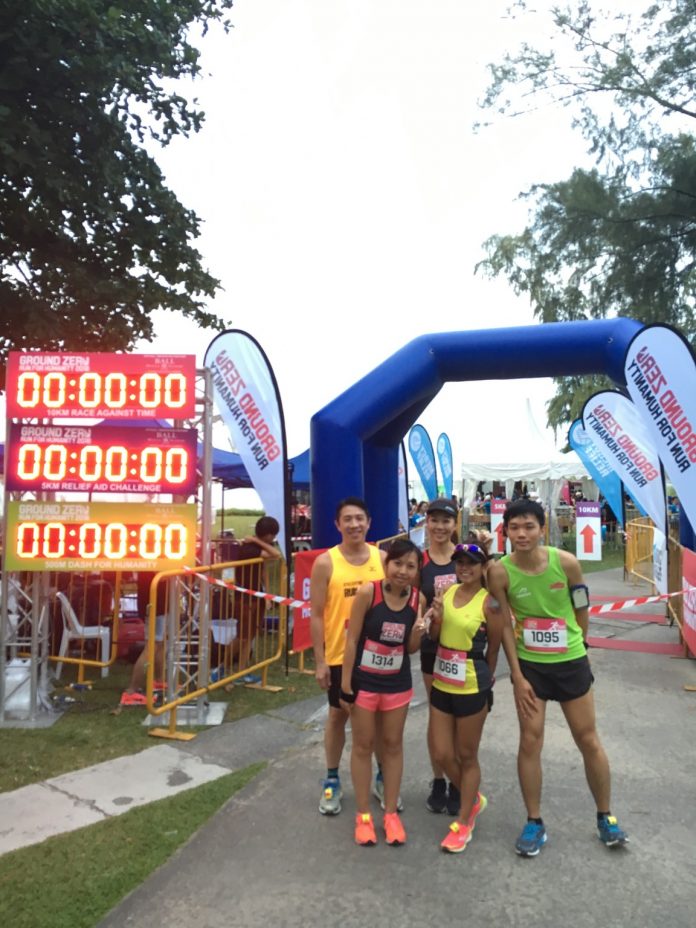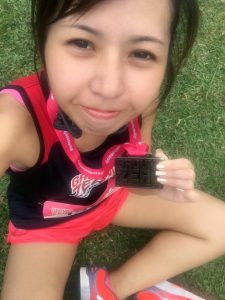 Wheeeeee! Achieved a PB with the help of July and Yi Heng! They could have run fast, but they are really here to pace me and help me complete my run with a better timing. Really thank them both for pacing me and I definitely couldn't have make it without them! 😁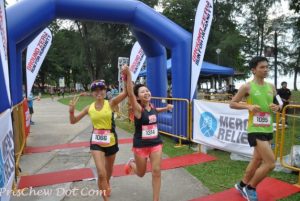 (Photo credit: Pris Chew Dot Com) Love this photo so much! I looked so happy in the photo! 😆
Especially thankful to July, keeps on encouraging me, to keep going and reminding me to drink water at the water point. Thought I couldn't have make it to what I have aimed for because at the beginning of the route it was sandy! 😱 My previous timing for Pocari Sweat run is 1 hour 9 mins plus, though this time I'm only 1 minute faster but 1 minute IS A LOT! 😆
Thank you Kelvin for helping me to collect my race packs and for being our "personal baggage deposits counter" for letting us put our belongings in his car. There is no baggage deposits available but some of us really have a lot of barang barangs to bring such as fresh clothes to change into, especially I lived so far, must change away my sweaty clothes if not when taking public transport back people will faint ah! 😂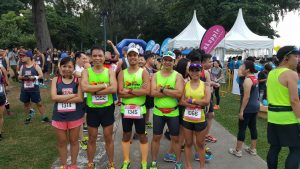 Lucky me! This is a free slot won from a contest I've participated on Instagram 🙂 This is a charity run and to raise awareness humanitarian relief efforts within the region in times of disaster, also benefiting families in Singapore. I didn't want to register for this run because its too far for me to travel. I remembered last year after Newton Run at the same venue, it is a really torturous journey home. The race venue is at East Coast Park and I live in the North. To travel there is so troublesome and to take a taxi is so expensive nowadays but if I were to take bus or the MRT it will be too rushing for me since the flag off time is 7.30am. But since this is a free slot won from a contest, I don't mind paying for taxi 😆
There is 3 categories for this run, the 5km, 10km and 500m kids dash. Somehow the 5km route seems more tougher because everyone's gonna carry the relief pack. I am running the 10km category. We have the option to carry the relief pack, it contains some food items which will be donated to the low income families in Singapore after the run. No matter what, it's already prepared and will be donated right? 😂 So I run or no run with it doesn't makes any difference right? 😆 Plus the relief pack is super heavy, weighs about 5 to 7 kg some more leh! If I carry the relief pack I can guarantee I won't be able to make it within the 1 hour 20 minutes cut off time. It's for the experience lah, but seriously carrying 5 to 7kg and run is no joke. Kudos to those who carry the relief pack and run! 💪🏻
Early in the morning, like around 5am received a message from the event organiser informing that there might be a delay in flag off time as there were lightning, but then got another message that flag off will proceed at the usual timing. Luckily weather is good, and during run there is no sun and its breezy and cooling 😊 If not usually by 8am will be quite hot and humid when the sun is out. We were flagged off on the dot at 7.30am.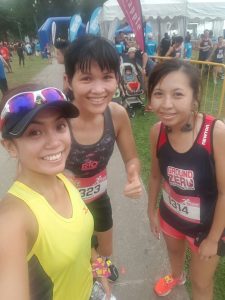 Get to know Yvonne, she's a fit mom and she's really fast! Congratulations for coming in third! 😄 Theres a lot of fast running mummies out there! Really very inspiring! 😁 Got to know that she usually runs on threadmill, maybe that's why she's fast! What I feel good about threadmill is that we can set the incline level, which is good for the leg strength so when running on road, upslopes will be easy to beat. Maybe I should start running on threadmill, set a faster pace to run too, it's either I run or I fall 😅 Hope ActiveSG will put more threadmills in the gym, 20mins on threadmill where got enough? Too bad I'm learning pole and the fee to learn it is too expensive. Expensive but worth it! One month of the pole class fee is almost equivalent to 2 months of gym fee! 😭 But threadmill had become torturous for me, last week while I was in KL I ran on a threadmill and my eyes were glued on the threadmill, counting every second, every calorie and every 0.01m 😂
There's not a lot of runners for this event. Maybe partially because of the race location is quite not accessible, but efforts were made by giving promo code of $5 discount to runners who's taxi-ing down or taxi-ing away by using mobile apps. I didn't download it at first when going but it's actually quite easy to use. When leaving the place I tried to get a taxi using the Comfort Delgro mobile app as its really hard to get out of East Coast Park unless you got your own transport or is taking the public transport.
All the water at the hydration point is not cold and there is no isotonic water at the hydration point. Or maybe there's isotonic drink at hydration point just that all the water I grab is water? 😅 Honestly speaking, it's the first time that I didn't complain silently in my heart or complain out to my friends about water not cold. Maybe because it's a charity run so I didn't mind, or maybe because it's part of the event that in time of disaster there is no cold water so there is no cold water for us? 😅 But the hydration point at the ending point provides super cold water and isotonic drink which is good enough already! 😊
Though more directions sign boards should be placed to guide the runners as some runners missed their podiums because there isn't a clear indication of the route and they ran extra distance. The crazy part is they run so much extra distance, they still come back as the top few runners to finish the race! 💪🏻
Usually if I run by myself, I'm not very motivated and I will walk. But today, I feel the "push" from July and Yi Heng. And I'm very prideful to say that I didn't walk but only at hydration point, only slowing down for a few seconds and carry on. Although many parts during the run I really feel like walking that's why I keep telling July and YiHeng to go ahead and I'm very touched they still run by me. It's really very heart warming.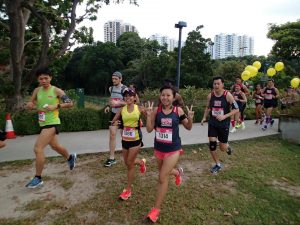 (Photo credit: Chin CK) Though we wanted to stay ahead of the 1hr 10mins pacers, but they overtook at 8km, but still I tried to keep up and we ended only a few seconds after the 1 hr 10 mins pacers, finishing in around 1 hour 8mins plus 😊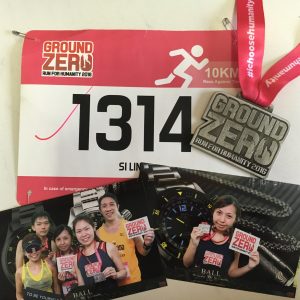 When I got my race pack from Kelvin this morning and look at my bib number and the first thing I thought of after seeing 1314, which in Chinese words is "一生一世", it means forever. Maybe it's a sign that I should run forever. And the finisher medal is really nice! 😁 Design is simple and I really like it a lot! 😁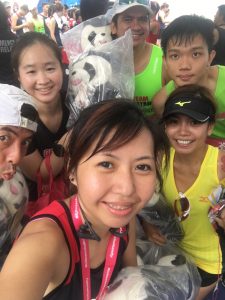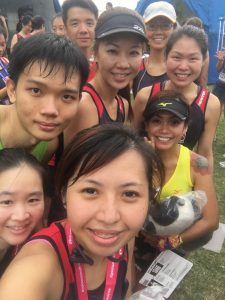 Its really fun at the race village, there were games stations, photo booth and even a live band with good music! Many people were all crazy with the cute panda plush toy given out at the games booth and July is the first player who've gotten all the 5 ice cream sticks into the cans and she wins 5 panda plus toys! Congratulations! I only managed to get only one, so kind of July to give me 1 of her pandas so 2 of my nephews can have it 😊
So after the runs, we looked for Chee Beng and Justina for breakfast surprising Justina with a birthday cake 😊 It's her birthday tomorrow and due to all of our schedule we can only manage to have all of us to meet up and celebrate in hawker centre 😆