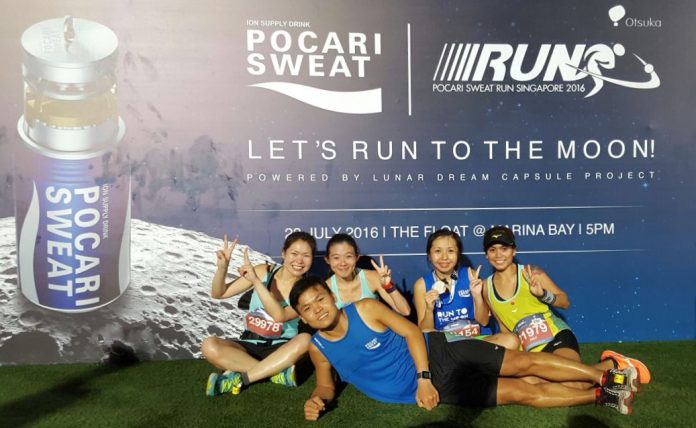 About Pocari Sweat Run 2016
It's the 5th Pocari Sweat Run and the slogan for this run is: Run to the moon. Which is because after this run, the total distance covered by the runners for the Pocari Sweat runs all these years is the distance enough to reached the moon. And the first thing that comes to my mind is the quote: Love you to the moon and back. So maybe that's the slogan for the run in a few years time when the distance covered by the runners is able to make it back to Earth? There are two distance runners can choose to run, 5km and 10km. I'll be running 10km and hope that I can complete below 1 hour 10 minutes and that means 1 hour 9 minutes and 59 seconds and I'll be happy! And thank you Just Run Lah for the race slot! Join Just Run Lah team of bloggers for chances to get free slot for some of the races!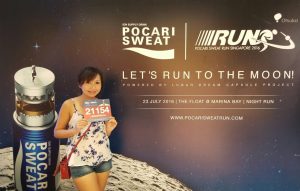 Race Entry Pack Collection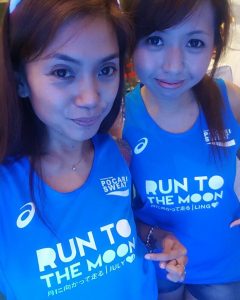 We love our customised personalised race singlet so much! 😍 Thank you p_ease! There are two designs we can choose from to be printed on our race singlet and we can print on both the front and back of it with our own text too. Luckily our race singlet are not affected by the delay as some runners are unable to get their race singlets in time for the race. As this is the first time July and I participates in the Pocari Sweat Run, we are not entitled to the jacket that is given free to the Pocari Sweat run loyal runners. We collected our race entry pack on the second day of the REPC and there is no queue at all while I heard that some of our friends had queued for more than 1 hour on the day of REPC! 😱 There is also a photo booth where we can get our photo printed out in astronaut suit, it's so nice!
Race Day
It's Saturday and I have pole class. Last week due to Mizuno Ekiden run, I have to sacrifice my pole class. But it's totally worth it! Enjoyed the run with friends! 😊 Sometimes I really dread to skip pole class because it means I will missed out a lot. There is make up class, but that instructor is too hardcore so I'm actually scared to attend her class! 😭
After pole class, headed to Starbucks to meet my friends for something light before heading to the race venue at The Float together. The flag off time for 5km is at 6pm and 10km at 6.30pm. The race route is the usual scenic one running through many tourist attractions: The Float > Esplanade > the Merlion > The Marina Bay Sands > Gardens by the Bay > Marina Barrage > Gardens by the Bay East. The u-turn point is already at 6km mark so the way back is shorter, turning towards the finish line after Gardens by the Bay and through Helix Bridge to go back to The Float.
Once we reached there I saw Jasmine Goh, she is one of the elite runner who really motivates and inspired me a lot in running, and she really encourages me to be better in running. I always feel very inspired and motivated after talking to her and congratulations on her podium in the 10km category! 😁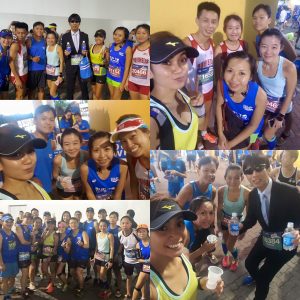 As we were still early, after some photo takings and chit chat around, my friends and I were there to see the 5km runners flag off. After the runners do a very cute warm up with the Pokemon music, they were flag off on time. Then we head to the start pen for our turn to be flag off. I'm seriously glad I did not feel unwell as it is so packed while we are waiting to be flag off. Usually if I stand too long in a particular place without any movement will cause me to have near syncope. It's some sort of fainting spell which I think is because I'm anemic. I didn't join the the Pokemon warm up because any movement will cause me to bump into anybody 😂 I can't breathe and it's so stuffy. Taller people will get fresher air I think 😆
Justina and July is flying and I lost them very shortly after flagged off. All of my friends are motivating and inspiring me in running. Although Justina is unwell, she still manage to finish the run in 53 mins! 👏🏻👏🏻👏🏻 I'm more of a leisure runner and they are the chiong type 😆
I didn't stop at any water point again and July says I should start drinking water in runs because we need water so we will not be exhausted. Which I think is true as I'm really exhausted. Maybe it's like same logic of those F1 racing cars, after some distance there is a need go to the the pit stop to change tyres, add fuel to carry on to go fast? I was actually hoping to end below 1 hour 10 mins by following the 65 minutes pacers but I lost them since the beginning near the Marina Bay Sands as was slowed down by the bottlenecks. There is really too many runners in the this run and some of the paths are quite narrow where runners will just bump into one another easily.
The run is good till the last 4km is quite stressful for me because I was still hoping I can chased up the pink balloons but it's too far away and not possible with my pace but I really hope to complete before the timing I have set out for. When I'm at the helix bridge, I can see the finishing line and I look at my time, I still left with only 3 minutes to the end point if not it will be a time that is more than 1 hr 10 minutes so I pick up my pace and chiong. I crossed the finish line at 1 hr 9 mins 50 something seconds 😅 Still it is within what I had set out for and its my PB! I'm happy! But I wonder is it that for the runs I didn't push myself hard enough so I always run at 7mins pace, a manageable pace for me where I'm not struggling to catch my breathe. Only minutes before the run I finally get myself a Garmin watch, hopefully with this watch, I can track my heart rate and speed more accurately and improve on running.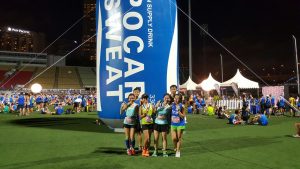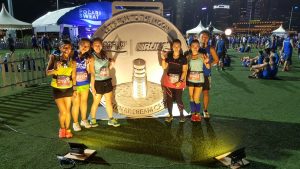 Seriously happy to receive the bottle of super cold bottle of Pocari Sweat when I finished the run. My friends had already completed their run long before me so I looked for them in the race village. There were so many nice photography spot especially the giant can of Pocari Sweat 😆 And I simply love the medal! It's really nice!
After run of course must eat! 😆
Shape Run 2016
As July and I didn't sign up for shape run, we decided to go for a recovery run around the area to support our friends who are running. We didn't really check out the route but we have an estimation of the route and we were actually hoping at first to be back at the finishing point to welcome our friends back. We thought that the finishing area should be around the Float too. We start out from City Hall MRT station running towards Padang then towards Esplanade. Just nice when we are at the Esplanade running towards the Float and wondering whether we have run at the correct place because we see no runners at all when a cyclist cycle pass saying: First runner coming back! We were wondering first runner? We are getting excited and it's really the first runner of the 15km category running pass us in the opposite direction. I felt really lucky and awesome to see these elite runners running and they are still going strong when they had already ran at least 13km. And we started to see more runners and we are getting more excited and alert because we will be seeing our friends shortly as Justina and Sabrina are also running the 15km category. And after a while we really saw Sabrina and Justina at somewhere near the F1 pit building and we u-turn back shortly after them running towards the finishing point. Thank you RunningPics for the picture of July and me enjoying the Shape Run 😆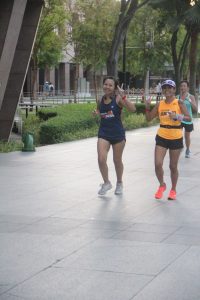 While we were near the Fullerton hotel, another cyclist rides pass us and this time, they are opening path for the fastest runner of the 10km category. And it's Vivian Tang, she is really impressive and fit and that she gave me a very strong impression as I remembered her from Ekiden run. I was there in the 2nd runner pen waiting for July, the first runner of my team to come back. Vivian Tang came back as the first women runner of the first runner in the Mizuno Ekiden Run last week 😁
When we were running near Bay Front, nearing the finishing line, we spotted many boyfriends and husbands around the area waiting and supporting their girlfriends and wives to come back from their run. We can't stop feeling that how sweet are they right! ❤️
Sometimes runners out there is really there to motivates and inspires other runners and for them to look up to. While July, Sabrina and I went to Starbucks for breakfast, Vivian Tang came in and we manage to get a photo with her 😊
And thank you Sabrina and July for accompanying me all the way to Queenstown to get myself a new pair of running shoes 😊 I've fully utilise my pair of new balance running in it for more than 800km and it's torn already too 😅