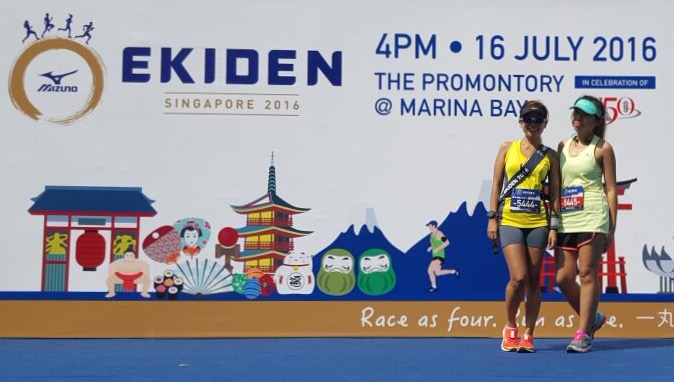 Our Team name is Hunk and Babes 😂 Coming up with a cheeky team name is not easy 😂 With the 4 of us, July, June, You Kai and me in a team completing the distance of a full marathon (42.195km) in a form of relay 😁 The run will start at 4pm. Why? Why at 4pm? At a time when the Sun will be roasting us for sure? July and I were the first 2 runners and we were wondering how roasted we will become 😂 Our 3rd and 4th runner do not need to be around so early. But we have to wait for the last runner to finish the run to collect the medals for the team 😊 Although we were saying the first two runners gotta run under the Sun and get burnt, but the the last two runner is very pitiful too, have to run with a sash soaked with all the other runners sweat 😂
For the month of July and August is packed with a race almost every weekend 😱 Which is really a lot of REPC to deal with actually 😭 July and I went to collect our race pack on the day of compressport run after.
The both of us decided that we can walk to Velocity from Nicoll Highway MRT station to collect the Mizuno's race pack. We realised that the time difference is not much between taking public transport there and walking there.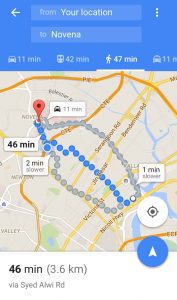 It is also not that far away and we started off our journey to the west (my phone's GPS tells me head west the moment I start the GPS 😂) after breakfast with our friends at a nearby hawker centre not far away from compressport run race venue. It's a little more than 3km walk after a 10km run but we are not complaining at all and is enjoying the walking and chatting 😁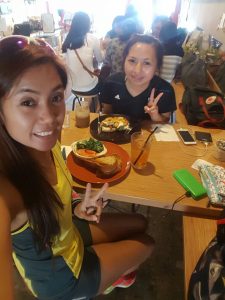 On the race day, July and me meet earlier at Tanjong Pagar to have a light lunch first before we meet the rest at 3pm at Downtown station and walk to the race venue together. The Sun is really scary. We were gonna to be so toasted, cooked and baked by the Sun. Deposited our bag and explored a little around the race village and take pictures. And of course must take picture with the giant Mizuno shoe 😆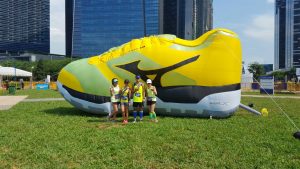 Shortly, the first runners have to be flag off soon and Justina and I went to the side to see off our first runners and go to the transition area. We were watching the TV in the tentage on the live update, this super fast guy is running at 3mins something pace! Wow! It makes me think of a saying in Chinese "刀手三分速" which means running with hands in chopping posture at 3 mins pace if I never translate it wrongly 😂 Maybe I will run like this if I'm ever chased by a lion or Sadako 😅
It is great that there is live updates and we could also track our team mates or any other runners as long as we know their name, team name or bib numbers using our phone. Justina and I were the second runner of our team, shortly after the flag off of our first runner, we proceed to the transition pen shortly. Met many other running friends who were also the 2nd runner of their team. And of course must take wefies 😁
We were there welcoming the fastest runners to return. I felt like I was attending 'Star Awards'. The runners coming back to the transition pen is like running on a red carpet as Justina tells me about how superb some of these runners are. Many of the runners who returned from the run is very very very drained. I believe is the scorching hot sun and these hardcore runners is pushing their limits too. Especially some are competitive runners where timing is important and run fast to deliver is the sash to the next runner is a very important mission. Once they pass the sash to the second runner, their legs are allowed to give way and they can faint immediately 😔 Although I respect their determination and the drive of running fast but I would never want to run to the extent my body can not take it and hurt myself. The feeling of running sick is horrible.
Before hand, I let You Kai the third runner of the team know that I'm not a fast runner because I worried that he may wait too long long or wonder had I got lost or missing in action. Told him I will take an estimated time of 1 hour 10 mins to complete because that's the timing I used for Compressport 10km run. But I took 1 hour 14 mins, distance is about 10.4km which the timing to me is not that bad. I won't complain much about the Sun because of the visor I wore is giving me the illusion that it is not that hot actually 😅
My speed are quite constant I think except I walked all the up slopes 😂 I don't really know my pace because my running app on my phone is not accurate that's why I finally decided after so long to invest in a Garmin after which I'm happy to be receiving it in a few days time! 😊 So there was this one girl, around my age who I started to noticed after 1km or 2km point Because I think since the beginning of the run we go off together. I was always looking at her back view from as near as 2m away or up to 50m away 😂 It's like a sort of motivation to keep on running, tell myself I could not lost sight of her because it will means I'm slowing down. Somehow she motivates me and discourage me at the same time. LOL 😂 Because her speed is not constant, she chiong and then she walks. So like countless of times I over take her the she overtakes me again. But during the time when she walks I feels like walking too 😭 It is only at the last km, I finally manage to overtake her.
I manage to spot her in the race village after some time and I went to her and congratulate her. Tell her that I was following her to motivates me and she said she is also actually following me too! 😁 It feels awesome right, runners motivates each other 😊
It's nice and a relief when I reach the end point and saw You Kai there, ready and eager to start his run. There was a first runner just now after returning and the second runner is not waiting there 😱 He was there so for so long like 5 minutes till I start my run his second runner is still missing, hope that their run had carried on smoothly.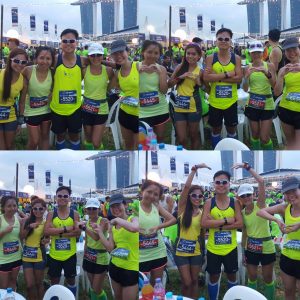 After the run, July and I went around to see what we can buy using the coupons we have earlier bought during the race pack collection. I feel that the food and drink is too expensive but I like the matcha ice cream, simply like ice cream especially after a run in a hot day.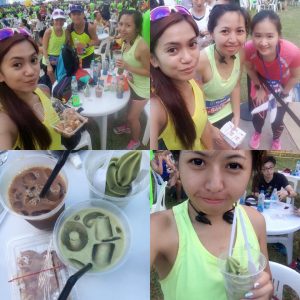 When you are enjoying yourself, time pass by very fast. I don't feel the wait for the 3rd and last runner to finish their run. It's like after some food and photo taking and June, our last runner is back in a blink of an eye! 😆 The medal is just simply gorgeous!