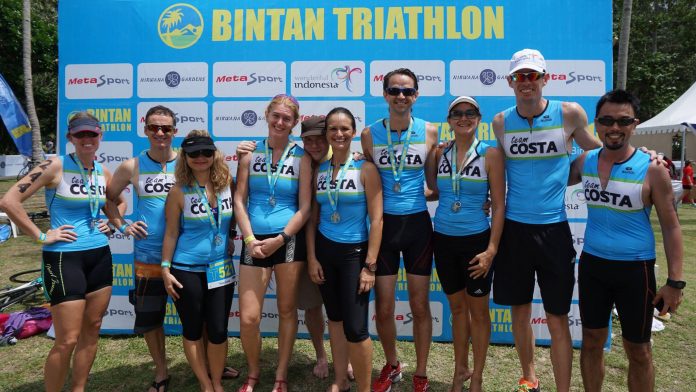 Ten Team Costa members participated in the Bintan Triathlon event, covering the Olympic, Sprint, Sprint Relay and Swim categories.
We began the weekend on Friday morning by congregating in the condo lobby. Luggage, kids, helpers and non-cyclists departed for Tanah Merah ferry terminal by taxi whilst the rest cycled via East Coast Park in order to transfer their bikes to Bintan.
With bikes and luggage checked in, we looked forward to our destination Bintan Lagoon Resort, a familiar location to most of us who have holidayed there before. It was an easy 90 min journey followed by a reasonably quick immigration clearance, especially now that Visa on Arrival payment was no longer necessary.
Once checked into our rooms, master-planner Chris organised all our bikes with the hotel to be tagged and shuttled to the race venue the next morning.
The event organiser, Metasport, arranged for regular shuttle buses to be available between resorts to transfer their triathletes to and from the event which was held at Nirwana Gardens.
Using the shuttle service we travelled to the event to collect our race pack which consisted of a bib, timing chip, singlet, tee, cap and towel. We watched the mandatory pre-race video briefing. It described the course, do's and dont's, in case of emergency and race precautions to be taken.
From here we wandered down to the event location to get a feel for the course and watch Michiel swim his 1km race.
The swim course was set inside a sheltered bay in clear and balmy waters. The bike course routed from north-west to north-east of the island, whilst the run tracked along the shoreline, up several hills and through a forested area.
Following is a recap on each participants's race experience:
1km Swim – Friday
Michiel hails from the Netherlands. A swimmer all his life, the add-on 1km swim in the bay was an opportunity to participate in a race without completing a full triathlon.
Getting his swim out of the way on Friday, Michiel spent the rest of his weekend supporting his wife, Cindy and the rest of the Team Costa crew.
The swim route was kind of like an arc, heading out from the right of the bay. Following the buoys the route headed across to the left of the bay, followed by a sharp turn to lead the swimmer to the centre of the bay for a straight swim back to shore.
Whilst the water was calm and balmy, according to Michiel the buoys acting as markers were too far apart, making it difficult to see the route's direction that was further emphasized by the setting sun in his line of vision. Michiel worked around this by focusing on a landmark across the bay and using it as his point of direction.
Sprint Distance – Saturday
Michelle, Cindy, David and Veronika participated in this category which was made up of 750m swim, 20km bike and 5km run, whilst John (cyclist), Zuzana (runner) and myself (swimmer) were the Sprint Relay Team.
Saturday morning started with a bright and sunny day. Catching the shuttle bus to the venue we collected the bikes from the depot, set ourselves up in the transition area, got the body marking and with some time left took a dip in the clear and balmy water.
Conversely, Singapore was dealing with rough weather thereby delaying the ferry from departing the terminal. Filled with daytrippers participating in the event, I could imagine their anxiety level reaching new heights, worried that they'll be late for their race. The organizers were great and delayed the Sprint flag-off by half hour.
The men's wave was the first to start. Joining his fellow competitors, David flagged-off at 9.30am followed by the women's wave and relay teams about ten minutes later.
As the swimmer in my team, I held it together and swam side by side with Veronika and Michelle with Cindy only slightly behind. This lasted about 250m at which point I realised that yoga 4-5 times a week is really paying off for Veronika as she broke away and pulled ahead. Shortly after Michelle did the same (another yogi) and left me in the dust. Perhaps I should have trained for this instead of just 4 swims two weeks before the race.
Piling out one after the other we moved into the transition area for the bike segment. John was ready and waiting for my timing chip to be strapped onto his ankle. That's essentially how to pass on the baton.
With my racing part over, I was pleased I survived the swim with minimal training and could now turn into the paparazzi, watching and supporting my friends.
Veronika and John exited transition together, followed by Michelle and Cindy. From here they cycled across 8-10 hills with elevations of up to 33m. Cycling speeds ranged immensely. For instance, Michelle a strong cyclist averaged 29km/h with maximum speed as high as 54km/h, whilst John and David averaged 22km/h with a maximum speed of 44km/h.
It was a tough cycling route given how flat Singapore is with no hills on the East Coast where we reside to regularly train on. John's description of his ride was "click, click, click" uphill gear change followed by "click, click, click" downhill gear change repeat, repeat, repeat.
Anyway, it wasn't long before Michelle slid into transition having clocked up 20km in an impressive 42:08min, followed by an unassuming Cindy, who I think is a closet cyclist at 46:18min. Her downhill riding was described as "woohoooo, give me more speed". The rest of them finished their cycling in the 50+ minutes range.
Having survived two-thirds of the triathlon, John passed on the baton to Zuzana for the final leg. Michelle and Cindy were long gone and we hoped to see everyone finish the cycle before racing to the finish line to see them all complete the final leg of the race.
Cool as a cucumber Michelle floats in like a butterfly in 30min, placing 9/30 in her category and 2nd in cycling. Cindy followed suit placing 12/29 in her category and 3rd in cycling. When David came around the final bend he found an extra bounce in his stride and breezed around other competitors to the end. Shortly after Veronika finished as well.
When John and I saw Zuzana on her final stretch, we flanked her like bodyguards and ran together the remaining 100m across the finish line. It was a sensational feeling to be completing the relay event together, realizing how much more pressure was on each one of us to deliver on our part and not let down the other team members.
With the Sprint category finished there was an interlude in the racing scene until the afternoon when the Olympic Distance started at 1pm. It was Stan and Chris' turn.
Olympic Distance – Saturday
Pre-occupied with supporting their wives throughout the Sprint Distance race, both Stan and Chris had probably started their own race a bit off their game. Running out of time to gobble up some lunch, both of them entered their race a little undernourished for the distances they had to complete which included 1.5km swim, 40km bike and 10km run.
Whilst we missed their swim (too busy gobbling up our lunch and cold beer), we made it back in time to see them exit transition with their bikes about 8min apart. Finding a spot on the side of the road we settled in and waited for both of them to whizz by. Given the downhill location and potential speed it was fortunate we knew what they were wearing in order to see them far enough in the distance to start cheering and photographing. As they flew past us for a further 5km turn around, we were able to see them on the uphill as well as prior to their turn-off into the transition area.
From here we had a short walk for another position to see them on their run. Not particularly pleasant route as the first section of the run is already on an uphill. Not even enough time for their muscles to switch gear from cycling to running. Chris is a pretty solid runner who typically covers 14km from work to home at an average 4.6 pace. It's definitely an environmentally friendly form of transportation and free of charge. Stan on the other hand is a solid cyclist whose weekend typically starts with a round the island bike ride that covers approximately 120km. He gets home for his coffee before I even blink an eyelid.
As we see them off on their run, we vie for different locations in their route to keep catching them to cheer and photograph of course. Having to complete two loops on their route, we moved around chasing them like the paparazzi.
The greatest cheers of course came as they crossed the finish line with Chris placing 19th at 2:46hrs, and Stan placing 40th at 2:55hrs.
As we returned back to our resort and a short rest, we celebrated the night away with dinner and drinks on the beach. I don't think we had left the island before discussions around Bintan Ironman in August started surfacing.
The camaraderie and team support during the race made for a terrific weekend away. Somehow we keep getting drawn into events we are completely unprepared for, yet our boundaries are constantly challenged and shifted.
Three years ago was my first foray into fitness and racing completing my first 5km event. Since then, along with my fellow Team Costans, we have competed in marathons, half-marathons, numerous triathlons and cycling both locally and internationally. Each time a race is complete, the stakes seem to go up never quite satisfied with the status quo.
With the Bintan Ironman looming only weeks away, the future of Team Costa will be in its diversity, challenges and sheer camaraderie and good fun.
Cheers