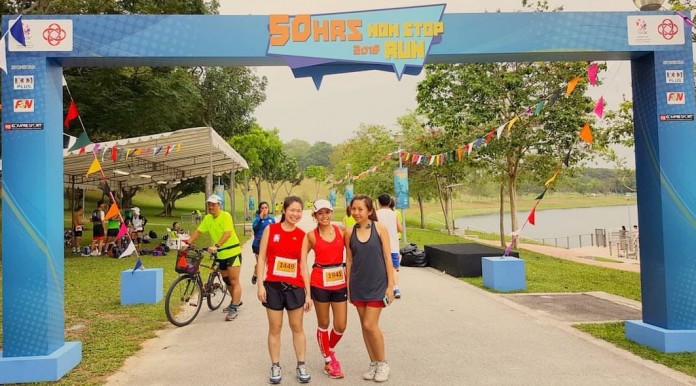 I want to thank July and Sabrina that I am able to complete the 43km! Thank you both for encouraging me and motivating me and make the distance seems shorter and always checking up on me whether I'm ok 😘😆
Photo credits: Running Shots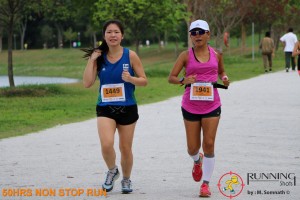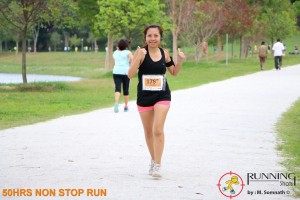 Day One
Don't know is it me or is there anybody else have the same thought as me. The first thought I have when I reach the event site is: Why is the run in clockwise direction? 😅 I really don't like running in clockwise direction when running in loops. No special reasons but it just feels weird to me. Maybe I have some OCD. Or maybe it is something related to turning left or right. Running in stadium tracks is also in anti-clockwise direction right, sure got special reason behind it?
50 hours non stop run doesn't mean crazily run 50 hours non stop. This is a fun run and the runners are given 50 hours to complete 43km, which is equivalent to 10 loops around Bedok Reservoir. 50 hours non stop, means the run continues even in midnight! 😆 Upon completing 43km, there will be a total of 3 medals. Runners will get their medals after 3, 6 and 10 loops. So if the runners doesn't want to run so much can just run 3 loops to collect 1 medal or 6 loops to collect 2 medals. Runners who are hardcore of course can run more than 10 loops, but no extra medal will be awarded. 😆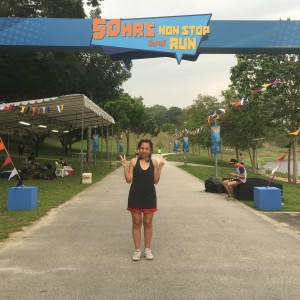 There is no baggage deposit so I didn't bring much things just T-shirt and slipper to change and put my bag in their tentage. But if my T-shirt went missing I think I will cry because it is my one and only Standard Chartered Marathon 42.195km finisher Tee, the tee I get from the only marathon I've ever participated. Didn't know when will I have the courage to sign up for a full marathon again 😂
I only ran 3 loops and collected 1 medal and decided to run the next day and Monday if I can't finish it in 2 days. I had wanted to run more but I don't want it to be so painful the the next day because I attended a very fierce fitness class earlier on. It is always guaranteed bodyaches and blue blacks the next day always. Love running with my friends but sometimes I very stress to run with them because they are very fast but they are super nice, assure me can run my pace with me but I paiseh to have them wait for me 😂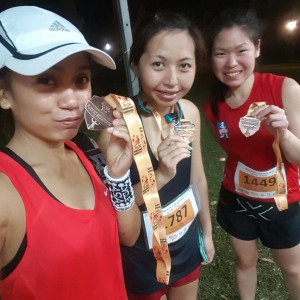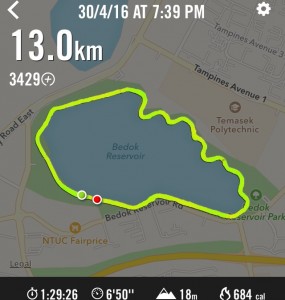 The race fee is cheap so I don't have much expectation. But every time in a run the water not cold makes me very sad 😭 I miss my secondary and primary school days sports events, I remembered there is always the Milo van! Please, any upcoming running events can be so kind to get the Milo van as a sponsor? Milo is like the most delicious drink!
Day 2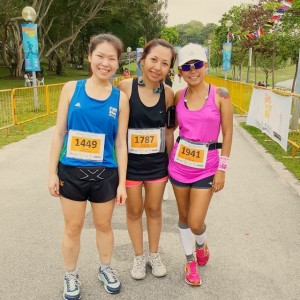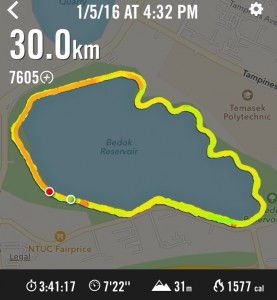 Seriously is run die me! Not going to run any 0.01m longer 😭 Mentally torturous run and really pushing boundaries. My sports bra strap is giving me two very painful abrasions after my 4th loop. It's really ouch! Then I tell myself this is nothing! I saw a picture before that a guy nipples is bleeding while running a marathon, that must be much more painful! Be positive! 😆 I gei kiang wear a super short ankle sock, then kena abrasions at my ankle. Till before I start my 6th loop I changed into slipper and run in it because the pain is really not tahanable anymore. I thought why not?Got runner wear slipper in marathon also right, good inspiration 😁 Till the last 3km, I walked, totally no more motivation 😂 Weak right? Only last 3km only but never bite my teeth hard and end it strong. If combine my timings for yesterday 13km and today's 30km I did a PB! But I know it's not counted like this lah 😆 Last year's SCMS I use 5hr50mins to complete 😂
Still, I can't believe I got the courage and push myself to complete the remaining 30km today! Must be running with friends who motivates me! 😁 This is my longest distance this year! It's similar to completing a Newton Run. If to compare to my Newton Run last year ending 32km in 3hrs 59mins, the timing for this 30km is not bad already. I had hope that I can complete the remaining 7 loops today but I'm not sure whether can I do it or not if not I can just come back the next day to complete the remaining distance as my longest distance this year so far is a half marathon run 😆
Reach there earlier to start running because I don't want to burden July and Sabrina to wait for me too long. I ran my first loop of the day with Nina, it is my first time seeing her. But she's familiar because we are on each other's Instagram. We were complaining to each other about the sun. See: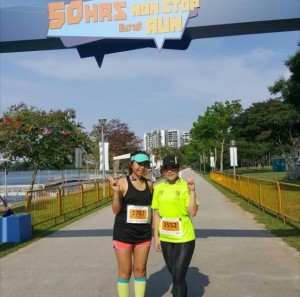 It's 4 plus when I run my first loop. But ya, I'm trying to be positive again. I tell Nina that let's imagine that we are in a very cold place! Zero degrees! It really helps me because I'm scared of cold actually and I don't feel the heat or the sun anymore 😆 I'm really good at consoling and comforting myself, which is something not good. Like I always tell myself that its fine to be single, so what if scrolling through Facebook are all proposal photos, wedding photos, photos of babies ultrasound? What if marry already then realised I have a abusive husband or after a few kids then one day my husband just says he don't love me anymore and get a new girfriend 20 years younger is even worse right?
Overall, Bedok Reservoir is quite a good place to run in, can enjoy the scenery but the terrain is quite tough to run in, it's sandy. The difficult part is everytime when I'm opposite of the floating platform, I look at it with pleading eyes, it seems so far away 😭 But yes, luckily I've already cleared the distance 😆
Day 3
Luckily wake up with no leg pain or any where pain other than the site of abrasions. All my abrasions from all the previous runs and other fitness torture heals already but look like patches of ugly darken skin which will not go back to flawless skin again 😭 One day I shall tattoo and cover up 😁 Am also happy that I don't waddle like a penguin 😊 Still admiring the hard earn medal 😆