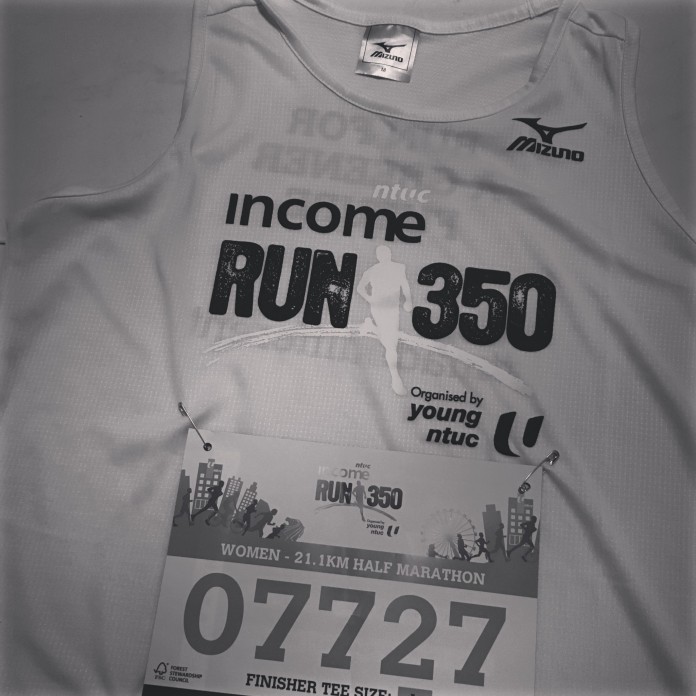 I should be running the NTUC Income Run 350, by right I should be running now, it's 6.42am I should have about 8km to the finishing line thinking about the medal and the finisher tee.
But I was sick, no one knows how sick I am except me. It's day 5 of my diarrhoea. Yes, day 5. It started on Wednesday morning when I had diarrhoea, I thought it's just a diarrhoea so I reported to work as usual. Till I feel sudden nauseous and giddy then I went to see the doctor. I was crying (I don't do that often) until so jialat While waiting for the doctor I think people who saw me might think I have depression or what. But it is just the nausea feels so bad. There goes my Wednesday to Saturday, sleeping, forcing food down my throat to sustain life, rolling on bed here and there and going to the toilet and nothing else. To be honest, I never thought that I would be so sick for so long, I run regularly, I thought I'm a fit person. But it's not not a matter of being fit or not.
I was looking forward to my 3rd half marathon. But these few days I lost 3kg, didn't eat a lot, still no appetite, still have diarrhoea, still some giddiness. I am in no condition to run a half marathon. I was still telling my running kakis that I will go run tomorrow and look forward in seeing them when my family tells me it is a bad idea, there is so many upcoming runs in a year. I decided to stay home rest when my Sister suddenly says: You know there is a incident where a runner shit on his pants during a marathon? Plus you are having diarrhoea!
Then just nice when I had already change my mind on going, Jerry messages me in regards to a post in my Facebook saying that I will go to run tomorrow: You don't cherish your health or life one hor? Then I get a very good scolding and nag from him. Jerry is a guy who I have never met before, we know each other from a dating app (I was on it only for a few days till it makes me feel that I would rather be single forever and then deleted that app). Somehow, he is someone special and we keep in touch. We have been chatting for about a year and a half but we have never met and I'm ok with that. I still have things I want to do and complete but I don't know what he thinks. Maybe he secretly has a girlfriend already. I like talking to him, he is someone who makes me grow. There, he pointed out my childishness and selfishness, which makes me very angry and irritated. But I can only apologise and say how stupid I am that I still want to run.
My heart and mind tells me yes but my body says no. I'm already childish and selfish that I want to go at first, if I go I will be extremely childish and selfish because I will be putting myself at risk and trouble the medics or other people to take care of me if I really pengsan in the run. I was too sick that I forgot to be considerate to people. Although it's really sad that I couldn't run but ya, there will still be other runs coming up and health is more important!
2XU Compression Run 2016 [HM]
I want to say Thank you to 2XU's Official photographers! 2XU Compression Run is one of the largest running events in Singapore, got offical photographers to take pictures for the runners but this one good no charge for the photographs unlike another one, wanna suck the runners hard earned money(maybe some people earn easy money) >< Some of the races I go my photos really is very cannot make it one. But I have quite a lot of nice pictures this time. Maybe is because I learned to have awareness to the photographers and cameras already.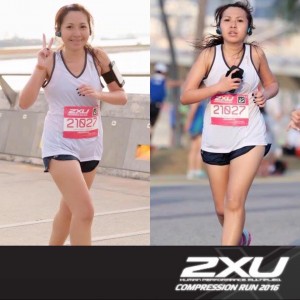 So this is the difference between whether you notice got camera or not. The machiam spasm face on the right is just the last few metres to the finishing point whereby I'm using all my eat milk strength to chiong to get my time chip scanned! ><