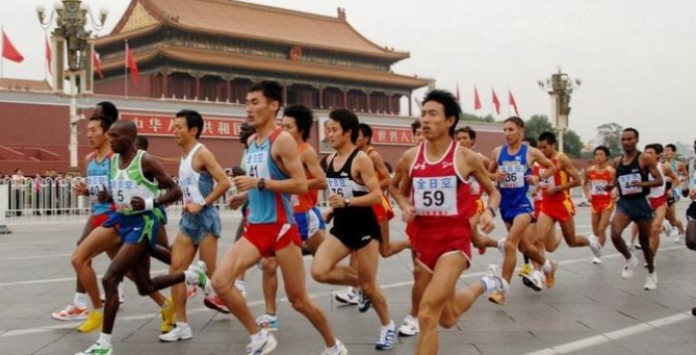 4th, Top 25 Destinations – World, Tripadvisor 2014 Travelers' choice
The Beijing International Marathon is an annual marathon race held in October in Beijing, China. The race was first held in 1981 and has been held every year since. The race begins at Tiananmen Square and finishes at the National Olympic Sports Centre stadium. In addition to the main marathon, there is a 10km run, amini-marathon and a half marathon.
Three interesting facts about Beijing:
On an average day in Beijing, air pollution is 5 times higher than the standard of safety set out by the World Trade Organisation.
Beijing's most popular surname is Wang, with an estimated 11% of the city sharing the name.
The Forbidden City has 1,000 rooms. Located at the north of Tiannanmen Square, which is the largest square in the world. It is entirely made of wood and has very intricate designs.
Two close-by races you may be interested:
The Beijing International Triathlon is a world-class, Olympic distance triathlon in the Fengtai District of Beijing. The race features a 1.5 km swim in the picturesque Qing Long Lake, a challenging 40 km bike race from the Park to Qian Ling Mountain and back. Finally, a fast 10 km run through the beautiful trails and pathways of Qing Long Lake Park.
The Great Wall Marathon is an annual marathon race held in May along and on the Huangyaguan Tianjin section of the Great Wall of China, east of Beijing. Since it first start in 1999, the race has grown to several hundred participants. The course is much tougher than traditional marathons with participants challenged by 5,164 stone steps and many steep ascents and descents.
One recommended running route:
Beijing best running route is in the Olympic Forest Park. For serious runner who wish to escape the buzz and fumes of the city, the Olympic Forest park which is Beijing's largest park, is a welcome retreat. It's perhaps the only place in Beijing with marked off paths for walkers, runners and cyclists with a concrete trail extending 3k, 5k, and 10k. Vehicles are banned from entering and it's free to enter.