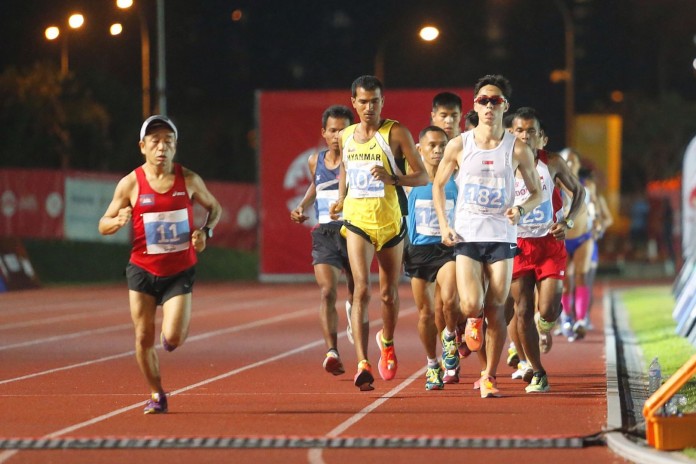 This weekend, news surrounding the upcoming SEA Games 2017 in Malaysia have been cooking up a storm among the athletic and running community in Singapore.
It was revealed yesterday (20 February 2016) that organisers for next year's SEA Games in Kuala Lumpur have dropped eight track and field events from its initial shortlist of events. This would be the first time in 16 years such an exclusion of events have happened at the biennial meet.
The men's and women's marathons, 10,000m and 3,000m steeplechase events were not included in the list of 38 track and field events proposed by the Olympic Council of Malaysia (OCM). The men's decathlon, and women's heptathlon events have also been left out.
This is likely to weaken Singapore's gold medal hopes. The men's marathon has delivered golds at two straight Games, with Mok Ying Ren winning at the 2013 SEA Games in Myanmar while Soh Rui Yong took gold on home soil last year.
"We did some analysis, and found that we wouldn't have enough participants for these eight athletics events." Low Beng Choo, OCM's secretary general, told TODAY. "Whether the events will be reinstated depends on the appeals that come in."
Running events were not the only ones to face the axe. OCM president Tan Sri Tunku Imran Tuanku Jaafar had also confirmed that five sports – canoeing, fencing, judo, triathlon, and bodybuilding – have been provisionally dropped from the list of 39 sports that could feature at the 2017 SEA Games.
Mok Ying Ren has shared his thoughts on Facebook and also started an online petition to bring the long-distance running event back to SEA Games:
Soh Rui Yong had also shared his opinion on how this affects the competitive environment for our regional athletes:
Featured photo credits: Ernest Chua/TODAY