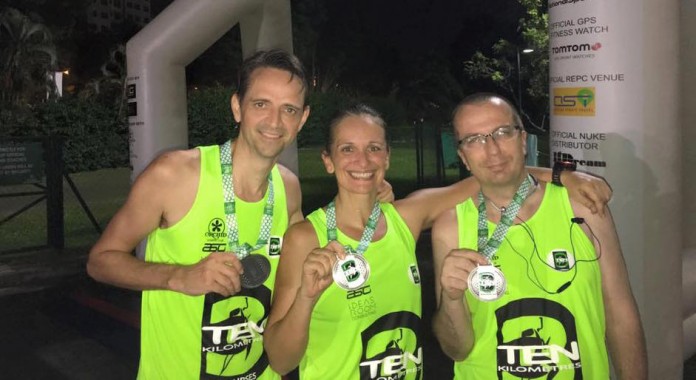 When I registered for the 3Ten Golf Course race, I had this romantic notion of gentle undulating hills, amongst the beauty of a golf course and the surrounding Sungei Seletar Reservoir.  I haven't run a 10km race since February, about a month before I fractured my foot.  I figured three months would be plenty of time to train up to 10km.
Somehow I managed to entice my husband to join me in this race, even though he keeps telling me that running doesn't stimulate him but he keeps allowing me to register him.  Then I messaged my friend Remek and said: "Hey check out this 10km golf course race.  First one in Singapore.  It's only the day before we fly out to Australia.  What do you think?"  His response was plain and simple: "If you do it, I'll do it" and that sealed the deal.  He figured it was a great way to finish up the year with a bang, a final finisher medal and then get on a plane out.
Kids Dash
Whilst the Kids Dash was meant to be 1km long it turned out to be only 560m.  That didn't deter the kids from having fun and if anything they sprinted all the way to the end.  As I was waiting for them the volunteers handed me a bunch of finisher medals and just asked me to hand them out.  It was quite a privilege to hang the medals around the kids' necks.  A small personal highlight.
But I think the kids' highlights were the carnival activities like blue fairy floss, popcorn, games and Star Wars quizzes (lucky they'd seen it already).
Pre-race training sessions
Somewhere in late October, as the haze started clearing I figured I had better start training for this race.  With six weeks to go and not a clue how to train myself up for this kind of distance in a short period of time, I took to my iPhone App Store and went searching for an app that might give me a clue.  There I found MyASICS app input all the requested data and started myself from ground zero.  Meaning the first week I had to run 4 x 1km runs at a pace slightly above a shuffle.  Mentally that was necessary.  With an extensive injury recovery I wanted to begin at slowest possible pace.  If I can toughen my mind, my body will follow.
Hubby joined me throughout this training program and it didn't take long before I realized I was holding him back.  With his long legs the shuffle was excruciatingly slow.  Since John only joined me in races to keep me company this time I encouraged him to run his own training sessions, find his own pace and for the first time run his own race without needing to stay by my side.
It was wonderful to see his fitness kicking in and his pace accelerating.  Whilst we would always start together, we would meet back at home and over a cold drink we would upload our data to Strava and discuss our experiences and ooh and ahhh over his continuous improvements.
As the training weeks melted away, the distances increased and so did the confidence in being able to complete the race without stopping or walking.
Racing day
About three days before the race, John promptly pointed out that golf courses may be undulating but not the romantic version I held in my head.  And so with a little trepidation and a good amount of nervousness along with John and our friend, Remek, we flagged-off at the back of wave three on a balmy Saturday evening.
For the first kilometer or so, I was literally the last one in the race. I guess I was bringing up the rear.  Shuffling along next to another participant we maintained the same pace for a while until my legs warmed up and started moving along bit by bit, passing other runners (a novelty for me as I'm usually the one being passed regularly) and settling into an easy and comfortable pace that I maintained for the remainder of the race.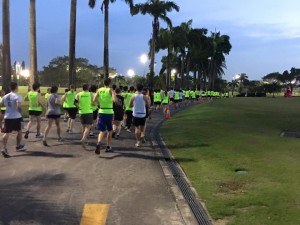 As the route weaved and tracked up and down the endless collection of hills by the 3rd km, I was surprised that I was less than a third of a way through the course.  It felt that I had run so much further and that's perhaps due to the fatigue I was already feeling in my ankles. I remember thinking "this is gonna be a loooong and painful run".  The distance kept accumulating but there was no rest from the hills.  Just as you got down one hill, so the next one crept up on me.  I was looking for the straights to give my legs a little rest but they were few and far between in very short distances.
However, I stuck to my guns and whilst the pace was a slow shuffle, I maintained it so I could last the course and make sure I kept running it.  I lost sight of John and Remek ages ago, so when I came across John on the opposite side of my route, I knew he was keeping an excellent pace and he was a good 2km ahead of me.  I never saw Remek till the end but he indicated that he went out a bit too fast, not accounting for the endless hills and after burning himself out a bit too early he had to pull back and settle into a pace that was a little slower than what he was used to.
By the 5th km, I was grateful for the water station and whilst I was originally going to stop for a rest and recuperate my legs, I decided against it as I was making good progress and I didn't want to lose my pace mojo.
Turning the last bend on the golf course, I knew I had reached the furthest part of the route and I was finally on the return stretch to the finish line.  It was still 3km away but that meant that I had covered 7 already.
Now it was a matter of keeping the legs moving whilst they were feeling like jelly.  Anxiety was creeping into my subconscious, I so desperately wanted to finish the race without walking that at times, I was sure I was tossing my body upwards just so my legs would flop their way forwards.
When I reached the rear of the golf driving range, I knew I had about 600m to go and in a final spurt of energy, I opened my stride increasing the speed not realizing that the final 200m was a complete uphill run.  Someone ahead of me just quit running and started walking but I pushed on huffing and puffing until I crossed that finish line 1hr21min after starting.
I'm no Paula Radcliffe (the fastest female marathon runner) that's for sure but it was an inspiring comeback after a difficult year of injuries, and not so flash races.  This race for all of its hills has given me the necessary encouragement to keep going and keep attempting future 10km races.
As for hubby, he completed his first ever 10km race in 1hr3min.  Given the terrain that was a great effort on his part.  Whilst Remek finished in 1hr9min.
With a cool finisher medal in hand it was chow time and a much deserved cold beer.  Off to our local hawker centre we feasted like kings and quenched our thirst, finishing our racing season on a high note.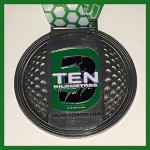 Cheers