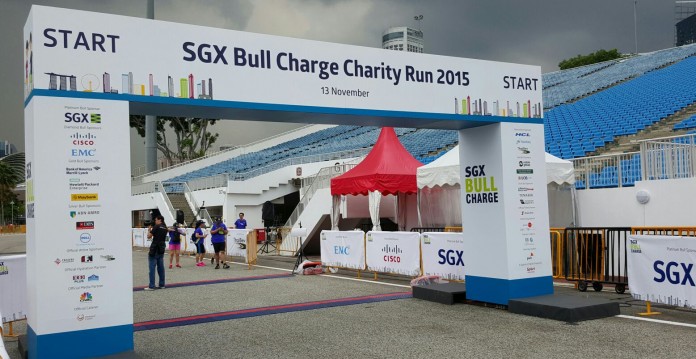 The 12th SGX (Singapore Exchange) Bull Charge 2015 Charity Run saw many working professionals bull-dozing through the busy financial district area of Singapore on Friday, 13 Nov 2015, in their sports attire and signature SGX Bull Horns Caps.
As the final event of SGX's fundraising efforts this year, where other events include the Charity Golf and Charity Futsal, SGX aims to raise $2.5 million for their adopted beneficiaries. One interesting fact about the SGX Bull Charge -it is the only corporate charity run that brings the financial industry and all SGX-listed companies together for a common cause – to empower communities through financial literacy and promote sustainable societies. (Update: A total of $2.9m has been raised this year!)
There are 2 race categories: 3km Chief Challenge and 5km Mass Run. Chief challenge run is only open to CEOs or chief of companies and their participation is at a sponsorship fee of $5,000 per runner. Mass Run allows employees of SGX-listed companies and the financial industry to participate and head for a meaningful after-work run!
As a first year participant, I was looking forward to racing with my colleagues and buddies in this meaningful race and experiencing a rare opportunity of running on the busy roads of the CBD area during peak hour (6pm!)
Race day – Sunshine came in time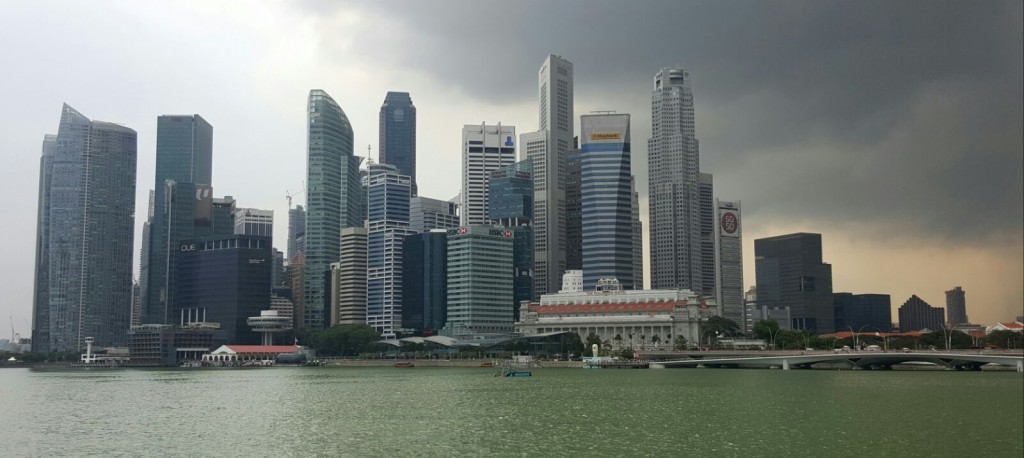 One of the worst things that can happen on race day is none other than a race cancellation or postponement due to inclement weather (yes, the series of race cancellation due to haze season still haunts us all). As you can see from the photo, the sky above Marina was already filled with dark clouds and there was slight drizzling around 3:50pm. The flag-off timing for 3km Chief Challenge is scheduled to be at 5:45pm and 5km Mass Run at 5:55pm. The race organizers made a good move of sending out event notification texts to race participants about the weather and provided a final confirmation text an hour before the flag-off time.
And lucky us, the skies cleared up just in time for the flag-off! Check out the routes below: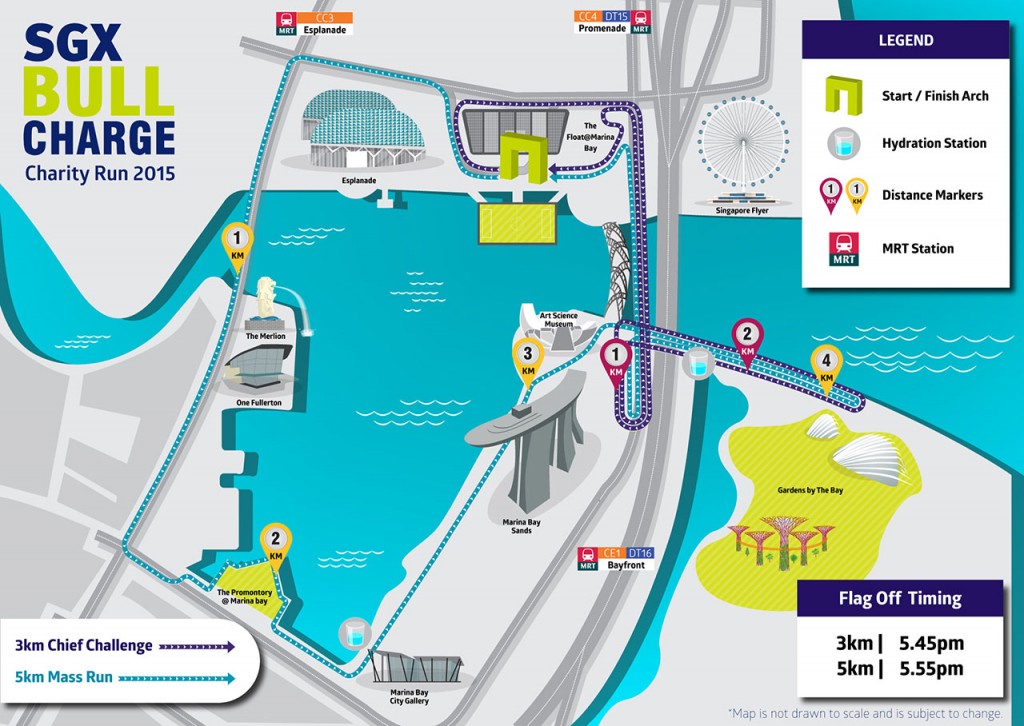 For a 5km race, hydration is not really a big issue but there were sufficient drinks along the course. Due to multiple road bends and turns, I've seen many runners cut corners and running out of boundaries to overtake during the race. I know such issue is rather trivial in non-competitive, mid-scale races but I do hope that runners run safe, right and proper.
Overall, the route was quite fun and challenging because it involved a few slopes up and down bridges, stairs and multiple running surfaces – concrete, tar and pavement.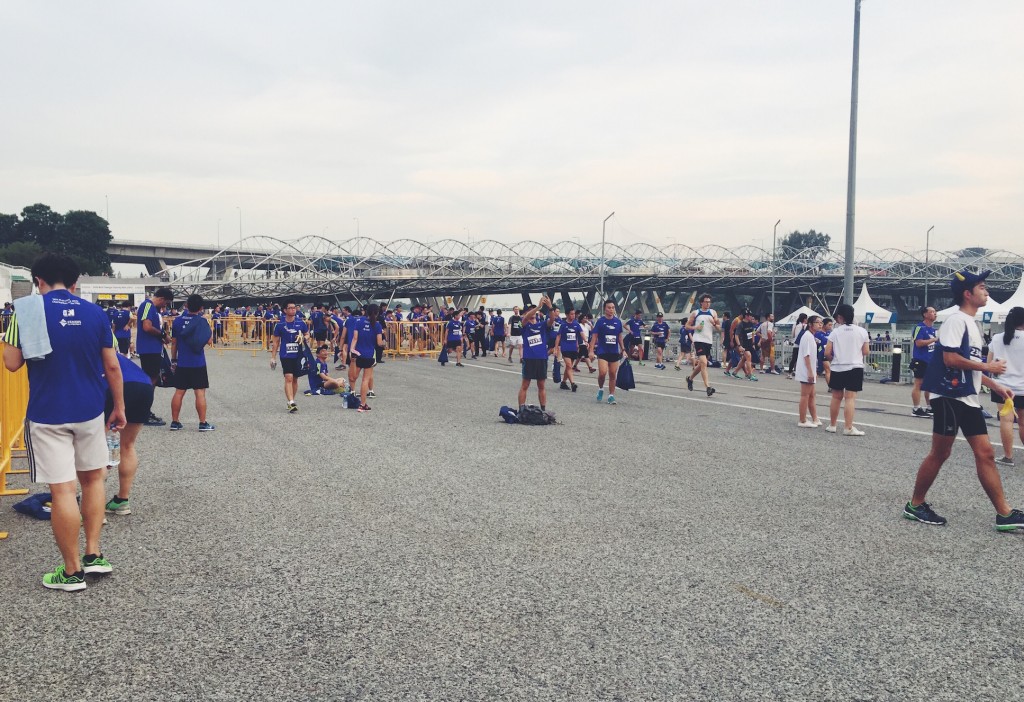 All finishers were given a goodie bag containing vouchers and daily care samples.
Post-Race Carnival
I've heard my colleagues saying that the post-SGX Bull Charge carnival is one of the best race carnivals they've been and I do agree with them! There were plenty amount of pasar-malam themed food and games booths in celebration of SG50. The atmosphere was lively and I even managed to bump into my university mates as well!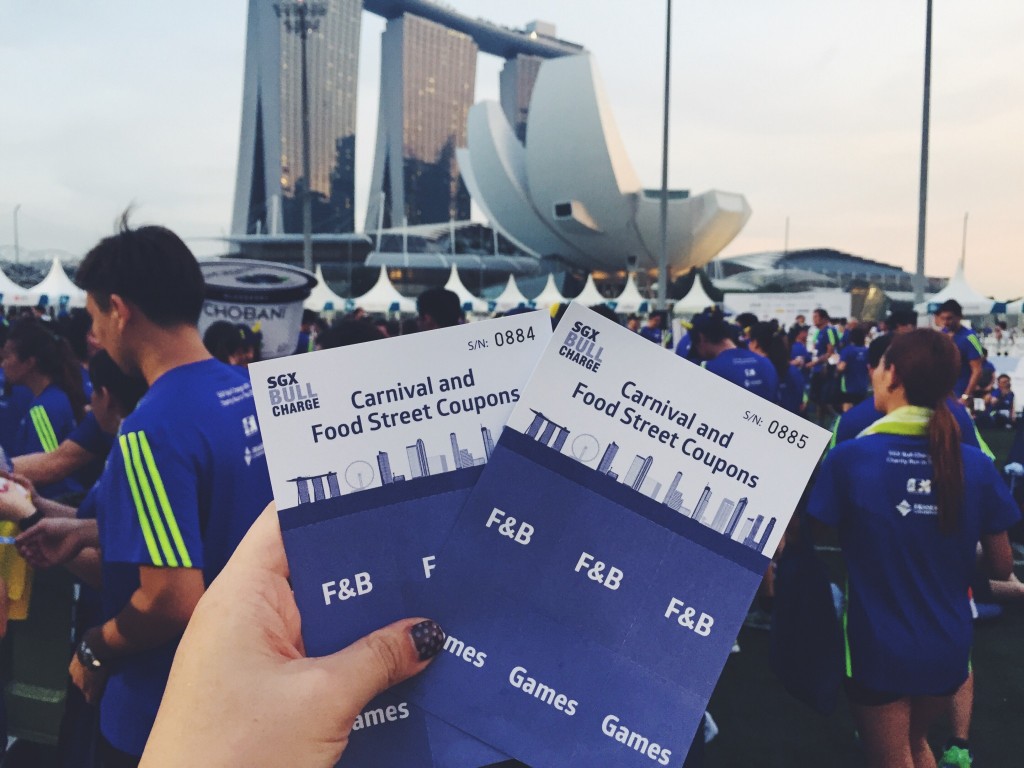 Overall, the SGX Bull Charge 2015 Charity Run was well-organised and a great way spread the sports culture and inculcate social corporate responsibility amongst working professionals. I would love to take part again next year as a even speedier bull-girl!