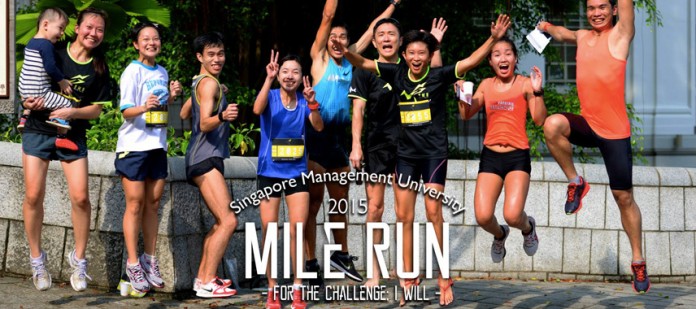 As always, the reviews I write here attempt to provide an objective recount of a participant's experience, while my personal blog is also available to browse here. For now, do look out for the font in italics that are aspects of a race which I deem important to participants 🙂
Race Pack Collection
Collection was held at World of Outdoors (Plaza Singapura) over the weekend on 12-13 September 2015 from 11.30am-7.30pm. This was a small race – from my estimate, attracting closer to 300 participants – hence the venue was sufficient (and convenient!) to accommodate the volume of participants.
My Race Category

To be honest, the only reason why I decided to register for this race was the price. The registration fee initially put me off despite the attractive possibility of running around Fort Canning Park, a fresh route for me. However, priced between $33-$37 (Early Bird) or $38-$42 (Normal) for the competitive categories (variable prices depending on whether one selected the Individual, Team of 2 or Team of 4 category), it was too pricey in my opinion.
Having said that, there was a remarkable 50% discount for the first 50 participants who registered on our Nation's birthday. My interpretation of that is that the sign-up rate was lower than intended – hence this offer. Nonetheless, I I welcomed the offer and purchased my Individual Men's Open race slot at $21.
The Race Precinct

With my category's reporting time at 7.15am, I was able to catch the MRT while arriving with sufficient time to spare. Much more, in fact (more on this later). The race precinct was conveniently located at the Lee Kong Chian School of Business, which was a short walk from Bras Basah MRT or City Hall MRT. Baggage deposit only commenced at 7.00am and this may have taken awhile due to the limited counters available. Restrooms were available at the building. It is noteworthy that the starting point was actually a walk away – participants were to be briefed here before proceeding over to the start.
The race briefing started late. It was only around 7.30am that a briefing was conducted, in spite of a 7.15am reporting time. Thereafter, runners were organised into waves (I heard waves of 20 – but my wave only had about 8 runners?) before being led off to the start point.
The Race
Being in the first wave, we were flagged off at 7.40am (factoring in the time walking to the start and subsequently receiving a short brief on the route). The race was conducted in a "Nett Time" fashion, whereby rankings were based on a participant's Nett time (due to the wave starts) instead of Gun Time, unlike almost all other races. This was probably to accommodate the narrow route which could be hazardous. Consequently, this meant having fewer participants to run alongside though personally, I would have enjoyed more company.
The race route took us all around Fort Canning, with its notable challenges being the ascents and descents, in addition to some sharp turns and even a series of intermittent steps which was a potential hazard. The race consisted of 3 rounds of the approximately 1.6km. There was a single hydration station serving both Gatorade and water, though since participants were running in loops, participants would pass it thrice. There weren't distance markers, though with each round supposedly being a mile (supposedly), one could probably make estimations.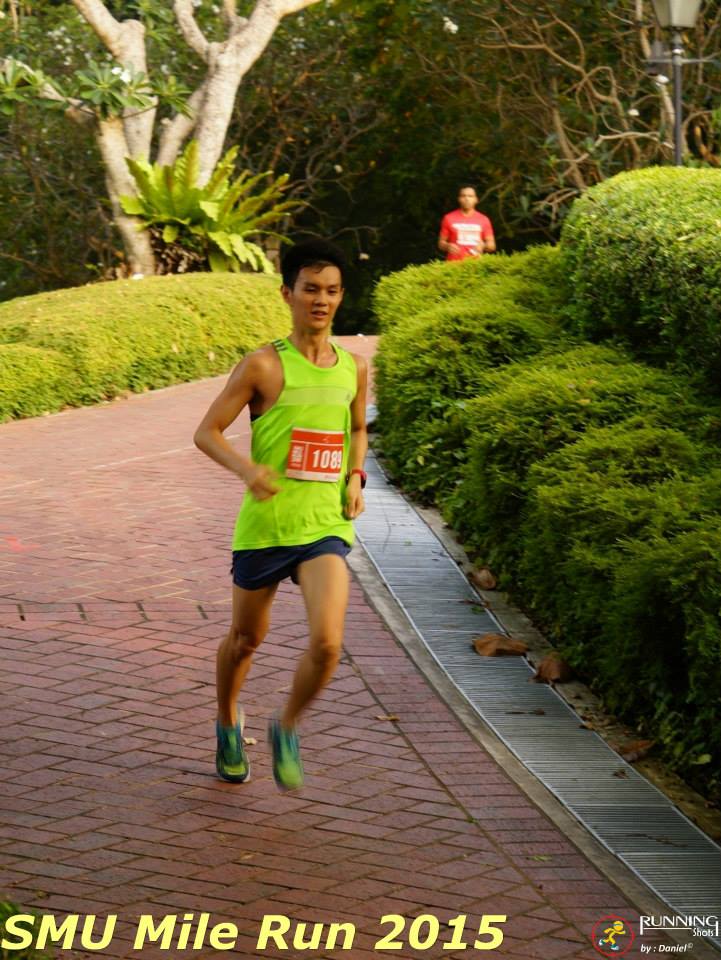 Due to the various wave starts, I began my second round just as another wave was beginning. As a result of the narrow route, there was a degree of congestion despite the small waves. Nonetheless, runners strung out before long. With runners of different waves distributed across the entire route, it prevented any overwhelming congestion. However, this came at the expense of having runners of similar calibre to compete with.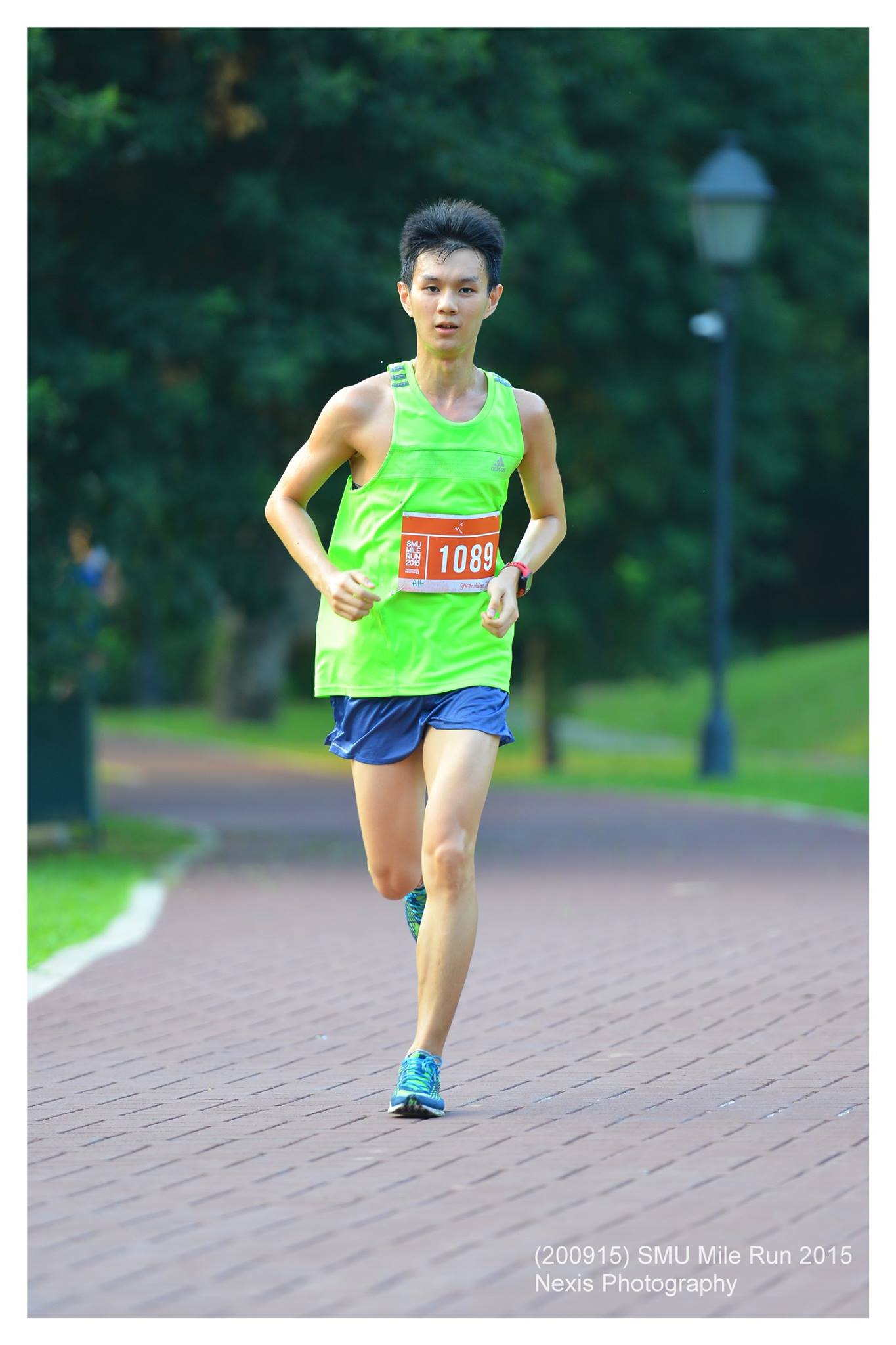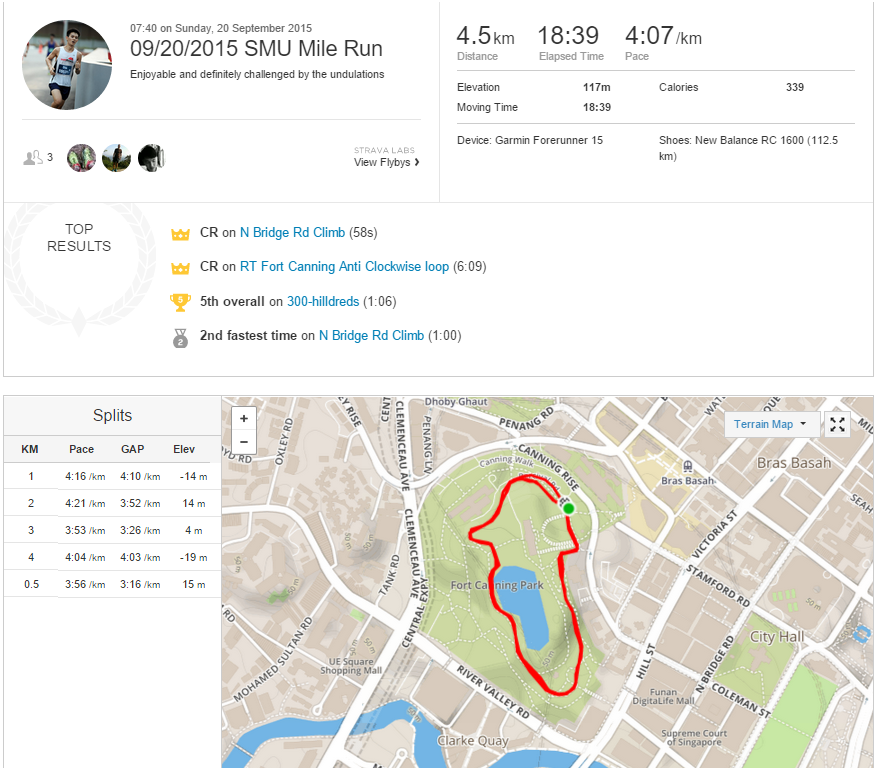 Post-Race
Participants (or supporters) could linger near the finish to wait for other runners. One of the benefits of a race in loops was how a supporter could cheer on runners without having to move an inch. However, runners wishing to collect one's entitlements had to return to the LKC School of Business.
Upon returning, a Finisher's Medal was handed out. There was also a supply of snacks and drinks (lots of unchilled Gatorade and water) available in a "buffet" style, whereby participants could freely take from the bountiful supply. In addition, there was a live performance going on, a FitBit booth, a photobooth, an ice-cream cart and a popcorn machine. Or rather, those managed to catch my attention. Oh not forgetting, lucky draws for FitBit merchandise.
Last but not least, I would like to commend the organisers for the swift release of Race Results – provided just hours after the event! With that, I conclude my review of this race!:) Feel free to check out my personal experience of this race here.
Cover photo credit: SMU Mile Run's Facebook page.