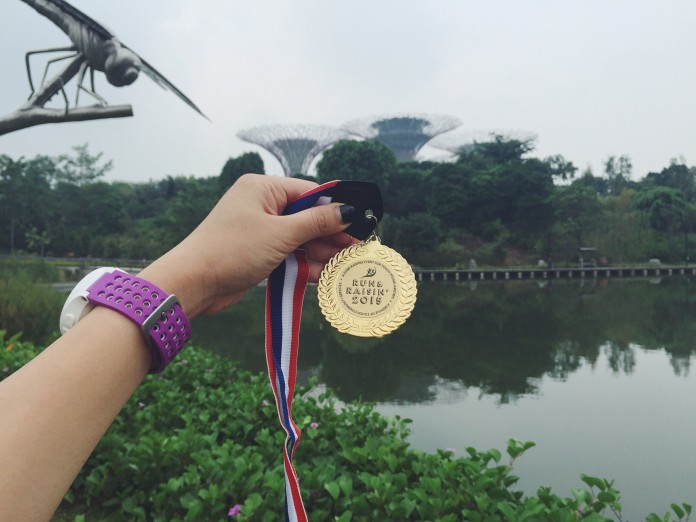 Race concept: Charity Run
The Run & Raisin' is an annual charity run and carnival organised by TOUCH Young Arrows (TYA) since 2011 and they aim to raise $300,000 to benefit needy children and families under the care TYA. Also, they aim to increase public awareness of TYA's work in the community, as well as promote family bonding and a healthy lifestyle.
I have always wanted to participate in a charity run because you get to help to contribute both money (entry fees, carnival coupons) and effort (running the race) at the same time!
Race day: Perfect weather, friendly runners and adorable volunteers
The 7am flag-off was done on-time and smoothly, and most importantly, there was no scorching sun or heat! The Guest Of Honour also joined in for the 10km competitive run and that was super sporting of him as well.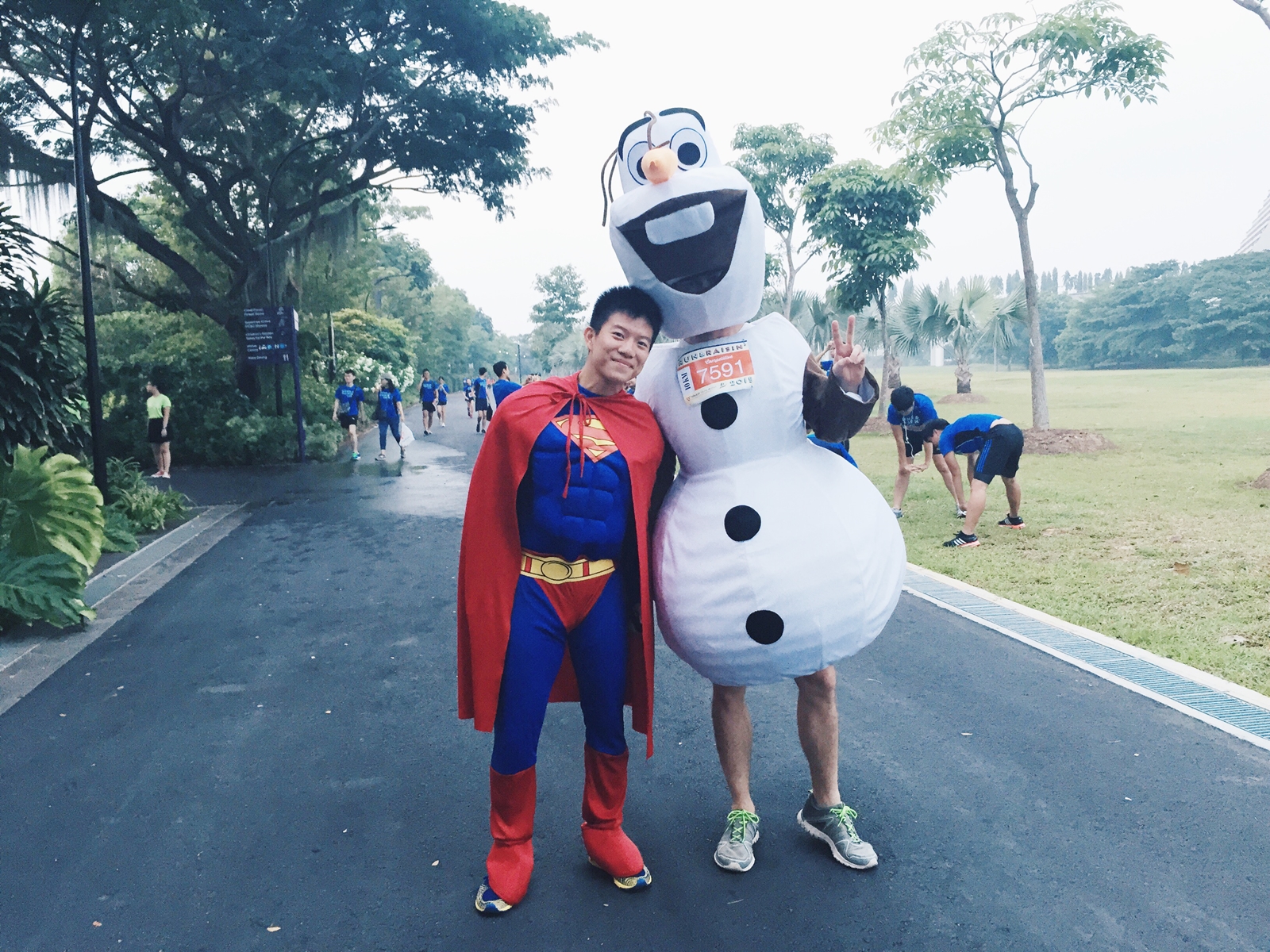 These runners attracted a lot of attention along the way with their adorable costumes and their effort to run in these bulky and uncomfortable attire in the name of charity deserves a thousand thumbs up! Their presence instantly brightened the entire atmosphere of the race.
Another interesting observation I made from this run is that the participants are generally much more friendlier than other races I've been to. I came across a few who held out their hands for a Hi-Five and shouts of "Jiayou", "Come on!" from participants crossing paths with me. To have such encouraging and friendly runners in a competitive race is really rare and I highly recommend runners in races to do that more often!
Race route: Multiple running surface, helpful volunteers and needs more distance markers
The 10km race route starts from the Silver Gardens of Gardens By the Bay and leads up to the Marina Barrage, towards and under Benjamin Sheares Bridge and then a U-turn at the Tanjong Rhu Park connector. The route after the Sheares Bridge was unique as we had to run across a sandy path, and then after the U-turn, we had to cross the same path but ran on grass to give way to on-coming runners. The different running surface was a fresh addition to the typical pavement/tarmac road races in Singapore.
Cones were placed throughout the beautiful route but I experienced some problems of on-coming participants crossing over to our paths at the area after the Sheares bridge. There were many cyclists and park users this Saturday morning as well so we had to be alert and careful. Thankfully there were sufficient and well-trained volunteers, mainly youths, who were allocated at many points throughout the race route. Most of them cheered us on and some went the extra mile to place speakers and played music to motivate runners. Drink stations were well positioned and enthusiastic volunteers were standing in rows, holding out cups of water for all runners.
One suggestion I would give is to include more distance markers along the route because there were many turns throughout and it will provide additional motivational boost for runners too.
The post-race carnival was fun-filled where participants and the public can enjoy games, food and nice music! And many runners went around taking photos with the picturesque backdrop of the Supertrees, flora and fauna of Gardens by the bay. Kids from TYA also put on a great performance and the audience were super supportive as well. I had a great time with my fellow running buddies and friends!
Reflections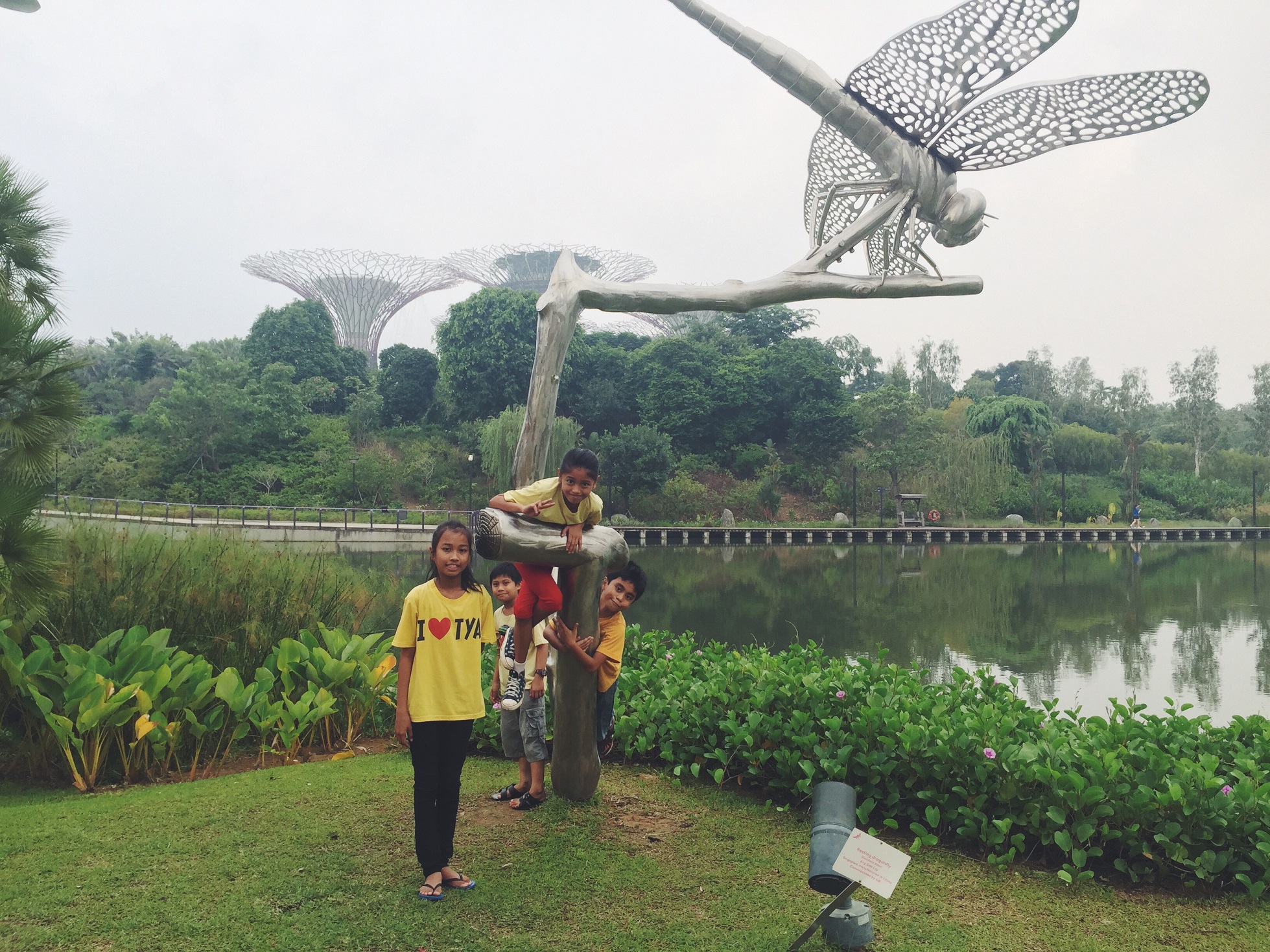 One very important lesson I learnt today- always tie laces properly. I made the mistake of heading to the starting pen without checking on my shoe laces and ended up running with a dangling shoe lace for 1km and stopping at one point to tie them up. Trivial things like these can interfere with your run in ways you would never have predicted and it is always good to check and double check.
On a lighter note, I managed to achieve a new PB today thanks to the favorable weather, fun race route and the happy mood I had while running today! Overall, Run N Raisin' 2015 was very well-organised and I believe everyone headed home with high spirits, having done something for charity and taking another step towards a healthy lifestyle. Congratulations to all finishers and winners of Run N Raisin' 2015!