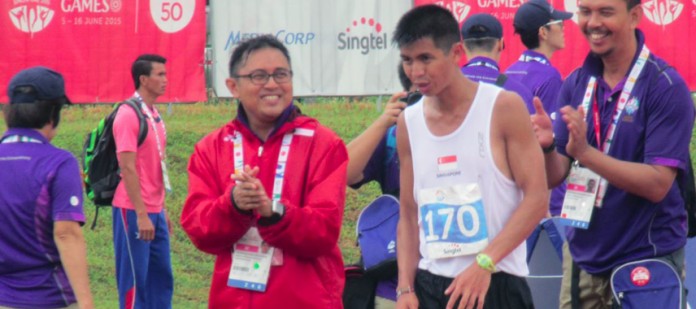 Last Sunday, our marathoner Ashley Liew finished the race with a time of 2hr 44min and got the 8th place in Men's Marathon event at SEA Games 2015.
Today, JustRunLah! brings you 5 facts that you probably didn't know about his race!
1. Ashley suffered a pull on both his hamstring at 2 separate times in the race so was forced to stop twice. He fought on to finish the race in 2hrs 44min 02secs.
2. At one point during the race, Ashley found himself leading the field. His rivals had took the wrong route. But instead of taking advantage, Ashley decided to wait for them.
3. Last Sunday would have been his mother's 61st birthday who passed away in 2010 due to colon cancer.
4. In his last lap around the practice track, he saluted to all supporters who have made it in the rain to support the runners.
5. Although in pain, he went on to thank all the supporters around the practice track after crossing the finishing line.
On behalf of Singapore's running community, a big Thank you, Ashley for making us proud with your performance and sportsmanship!
For an in-depth interview with Ashley, click here.